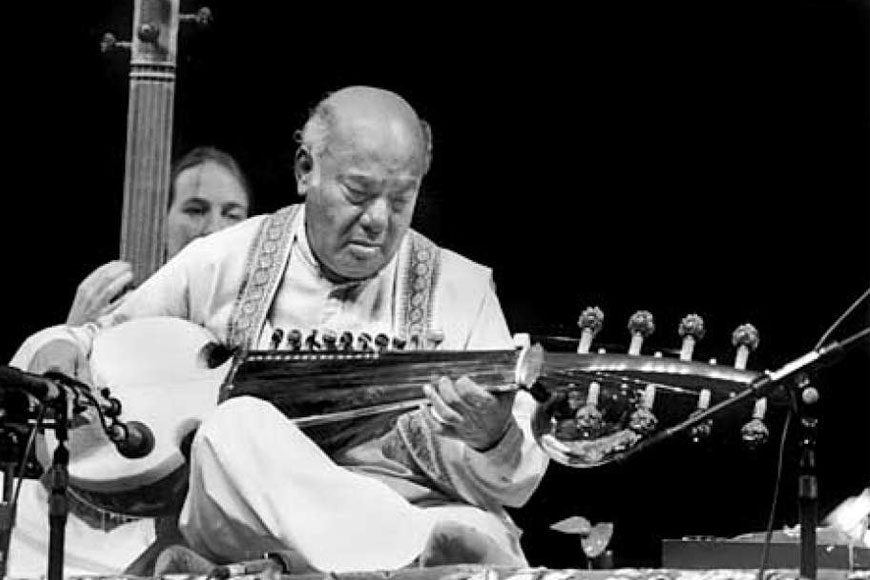 Robishankar r Ali Akbar shune bhalo lage bhore kuashay ghore phirte
One of the reasons why I liked the legendary song from Mohiner Ghoraguli was this last line. To me it was an intense imagery I could relate to, a reality which was a part of me and many Hindustani classical music lovers' experience during winter time for many decades. It was the 80s when the lives of classical musicians were not the same as in the time of YouTube and commercialization of art. Musicians did not have to constantly negotiate challenges of trying to reconcile music excellence with the more prosaic demands of earning a leaving.
It was a time that produced unparallel musicians, who helped popularize North Indian classical music in the west. Pioneer amongst them was Ustad Ali Akbar Khan, the foremost virtuoso of the sarod instrument, whose dazzling technique and gift for melodic invention not only carried forward an illustrious musical lineage but became a valuable reference for our rich heritage of Hindustani Classical music.
Born in 1922 in East Bengal, presently Bangladesh, Ali Akbar Khan (Khansahib) began his studies in music at the age of three. He studied vocal music from his father and drums from his uncle, Fakir Aftabuddin. His father also trained him on several other instruments, but decided finally that he must concentrate on the sarod and on vocal. For over twenty years, he trained and practiced up to 18 hours a day. His father was a legendary task master. This meant that Khansahib was groomed to be a musician of the highest degree.
He was not as flashy as his brother-in-law Ravi Shankar, but he had the ability to play a single note, or a simple passage of notes, and draw out amazing depth. That's why he was able to get a world of emotion and color out of 'Malasri,' which is often called a three-note raga. That, for me, stands as the calling card of the genius of Ali Khan. The illustrious son of Ustad Alauddin Khan had many first in his career. He was once described by Menuhin as 'the greatest musician in the world'. He was the first to cut a long play record of Indian classical music in the US and to give a sarod recital on American TV. Khan was also the first Indian musician to receive the MacArthur Foundation Fellowship in 1991 and was nominated for Grammy Awards five times between 1970 and 1998. A recipient of Padma Vibhushan and Padma Bhushan, he gave his first public performance in Allahabad at the age 13 and made his first gramophone recording in Lucknow when he was in his early twenties.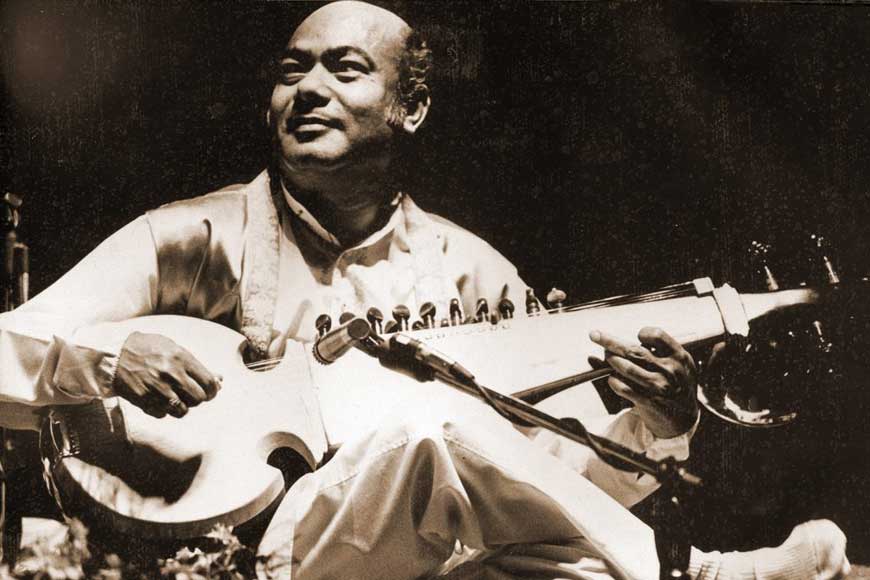 Ali Akbar Khan composed and recorded music for films throughout his career. He composed extensively in India beginning with "Aandhiyan" by Chetan Anand (1953) and went on to create music for "House Holder" by Ivory/Merchant (their first film), "Khudita Pashan" (or "Hungry Stone") for which he won the "Best Musician of the Year" award, "Devi" by Satyajit Ray, and in America, "Little Buddha" by Bernardo Bertolucci.
In 1967, he founded the Ali Akbar College of Music, which moved to Marin County, California, the following year. He then maintained a regular teaching schedule of 6 classes a week, 9 months of the year for the next 40 years.
No assault of modernity that changed the Hindustani music's eco-system in some very fundamental ways could touch him even remotely. The beginning of experimentations with classical ragas in the form of 'fusion music' started and some of his guru bhais indulged in them and used their flamboyance and playing skill to attract people. But Ali Akbar Khan maintained an austere demeanor onstage while being loyal to his old school learning and belting out passages of extraordinary intensity from his instrument.
This he maintained in all his public concerts, one of which was Dover lane Music Conference, to which me and hundreds like me have been privy to. There were days when he struggled with his instrument unable to generate resonance in the audience and there were days when his rendition of raga Bharivai made us feel the break of dawn even when there was mist outside the concert hall.
Such was his power of music. Such was the extraordinary intensity that he could exude from his sarod.
No wonder the last line of the famous Mohin's song resonates in me today, yet once more, on his 98th birthday.