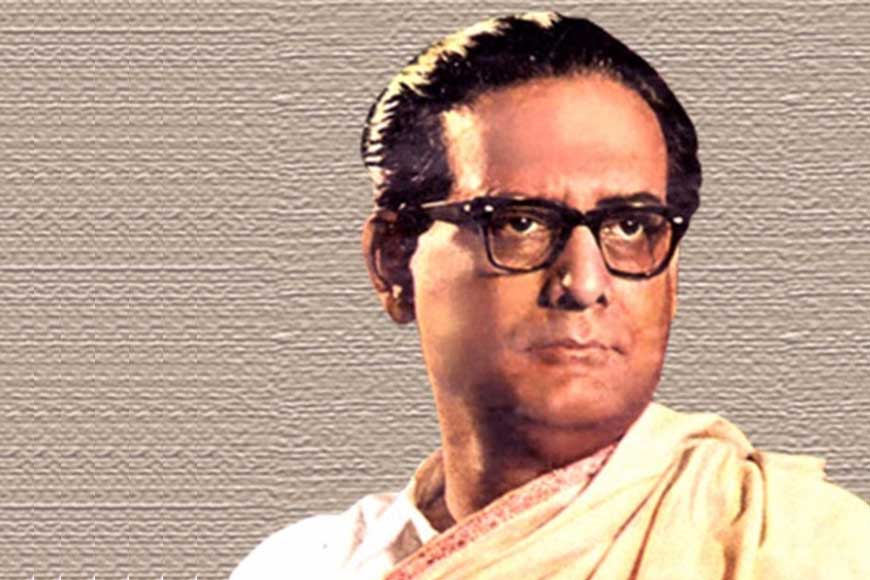 Do you remember that famous Mrinal Sen movie Neel Akasher Neechey (1959), based on the travails of a Chinese street hawker of Calcutta in the backdrop of India's freedom struggle? What many of us are not aware of is that this movie was produced by none other than legendary singer Hemanta Mukherjee. Hemanta Mukherjee, that deep baritone, that heavenly voice that had mesmerized audiences across India, be it the Rabindrasangeet he sang or even the Adhunik, and the Bollywood numbers. Who can ever forget Yeh nayan dhale dhale, the voice that oozed of pain and romance combined in a rare mix.
But we cannot forget Sen's movie too that went onto win the President's Gold Medal – the highest honour for a movie from Government of India. In the late 1950s, Hemanta Mukherjee had decided to venture into movie production under his own banner called Hemanta-Bela productions. The first movie under this banner was Neel Akasher Neechey. Later this production house was renamed as Geetanjali Productions and it went on to produce several Hindi movies.
A shot from Neel Akasher Neechey(1959)
Born in Varanasi, Hemanta Mukherjee later came to West Bengal for his studies and joined Jadavpur University to pursue Engineering. However, he quit academics to pursue a career in music, despite parental objection. He briefly tried his hand at literature and published a short story in the prestigious Bengali magazine called Desh, but by the late-1930s he was committed entirely to music. Under the influence of his friend Subhas Mukhopadhyay, Hemanta recorded his first song for All India Radio in 1933. His music career was primarily mentored by musician Sailesh Dattagupta. In an interview on television in the early 1980s, he had mentioned how he received classical music training from Ustad Faiyaz Khan, but his tutelage was cut short by Ustadji's untimely death.

In 1937, Hemanta cut his first gramophone disc under the Columbia label. The songs were Janite Jadi Go Tumi and Balo Go Balo Morey. The lyrics were written by Naresh Bhattacharya and the tune and arrangement was by Sailesh Dattagupta. Thereafter, he had a sustained output of non-film songs from the Gramophone Company of India up until 1984. His career as a film playback singer began with the Bengali film 'Nemai Sanyas' released in 1941. After that he never had to look back as far as Bengali movie industry was concerned, but for him to attain a wider audience, he had to work in the Hindi film industry. And his first Hindi film song was in the movie 'Irada' released in 1944 under Pt. Amarnath's music direction.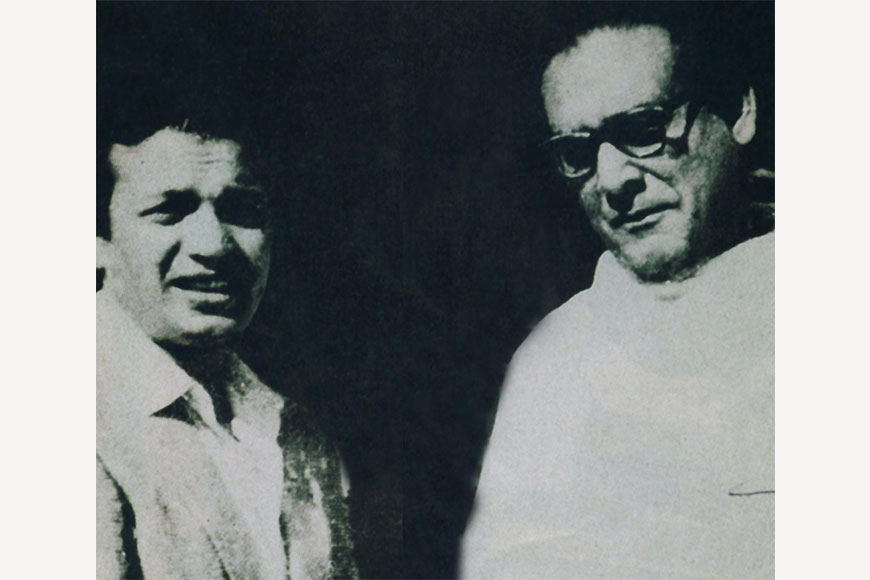 Hemanta Mukherjee with Uttam Kumar
But Rabindrasangeet was his forte anytime. His mellifluous voice simply blending with Tagore's songs that had a deep philosophy. His first recorded Rabindrasangeet was in the Bengali film Priya Bandhabi (1944). The song was Pather Sesh Kothaye. May be, we do not know the end to the road, but we know wherever it leads to, Hemanta Mukherjee's heavenly voice will always accompany us down generations.