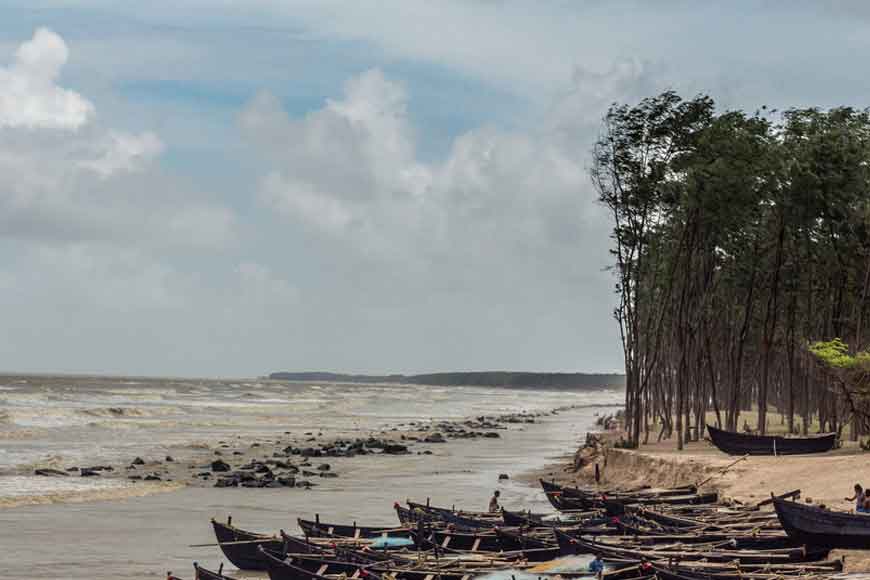 Dark clouds looming in the horizon infused with intermittent rain. A peep at any Bengali kitchen would invariably be met with a whiff of Khichudi and fried Hilsa. Tagore's paean to monsoon Shawon gagane ghor ghana ghata/ Nisheethay amini re... comes to mind as clouds wander to distant lands pining to travel to the unknown. You must be wondering where to go to, and dance in the rains? Why not head to the beaches of Digha?
West Bengal prides itself of many small and large beaches, dotting the stretch of Bay of Bengal,bordering the state. Digha, Shankarpur, Mandarmuni, Tajpur, Udaipur, Talsari, Bhogpur, Chandpur-Shoula, Bankiput, Junput, Neechkasba, Kadua, Baguran-jolpai, Bhaguran, Haripur, Petuaghat, Bahiri, Gopalpur, name any and they are all monsoon hotspots. The sky enveloped with sinuous intimidating clouds, rain falling in sheets, sudden lightning cutting across the dark horizon and the rolling waves crashing against the beach – with these sights and sound you re-discover and wake up to the beauty of the sea during monsoon.
Coastal fishing yields very high quantity of catch during monsoon. So, you can sit on the beach and enjoy snacking on freshly-caught fish, cooked according to your choice. In addition, you get myriad street foods like icecreams, jhaal-moori etc. crowding the beach, only too happy to appease you.
You can visit Digha for a two-day trip during monsoon and will be surprised to discover a new facade of your familiar beach resort. You can walk along the sea beach or watch the rolling sea from the balcony of your hotel. Similar to Marine Drive in Mumbai, here too, you can sit on the concrete seats running parallel to the beach and get drenched when huge waves suddenly dash on the boulders.
The hotels will have a sumptuous spread of hilsa, crabs, lobsters, mango fish and many others, for you to pick and choose. Go to Digha estuary, at a distance of approximately two kilometres from old Digha town. From July to September, the three months during monsoon, deep sea fishing trawlers loaded with hilsa anchor in the estuary.
If you are looking for some peace and tranquility in a secluded beach away from the maddening beaches of Digha, you can head towards Shankarpur. This place is well-known as a fishing port and if there's warning of brewing depression at sea, all fishing trawlers head to Shankarpur for safe anchoring. The lush green tamarisk aka salt cedar trees come alive and look beautiful against the vast stretches of yellow sand beaches. Take a vehicle and get out of Digha and head for Mandarmani, Udaipur, Duttapur and Talsari.
Those who do not want to visit Digha, Mandarmani or Shankarpur can opt for Tajpur, Bhogpur, Junput, Bankiput, Neechkaka, Chandpur-Shoula, Baguran-Jolpai, Kadua. Tajpur is located at a distance of about 187 kilometres from Kolkata and takes eight hours to reach there by bus. You can hire a motorised van from Balisai and reach Tajpur or take a coastal trek from Mandarmanito visit Bhogpur beach. But there is no provision for staying at Bhogpur, so you can bring your own transport. Junput, Bankiput, Chandpur-Shoulcan be accessed from Contai aka Kanthi.
How to Go: Take a bus or train to reach Digha or take a long drive. Shankarpur is situated at a distance of 16 kilometres from Digha. You can also take a Digha-bound bus or train and get down at Contai aka Kanthi. From Contai you can visit the beaches and villages lying in the vicinity.