India's first female mechanical engineer who changed the face of the industry, was a Bengali - GetBengal story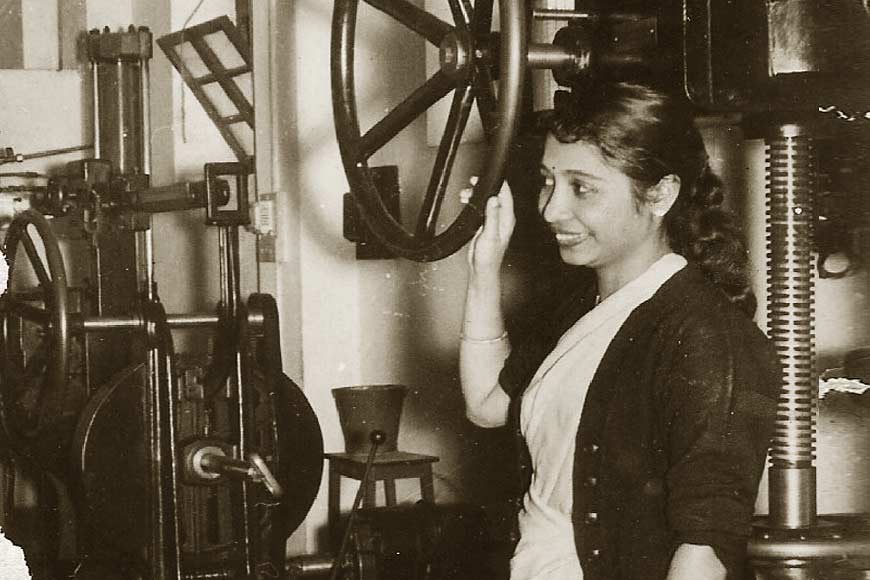 First Indian woman to work in an ordinance factory
Mechanical Engineering – the study of mechanical systems has always been thought of as a field, only men can be interested in. Regardless, just like any other field of life, women have conquered this battlefield too by making their place in this male-dominated arena. Way back in 1951, Ila Majumdar did not know she was making history. However, she did – as the first woman engineer of Bengal, and the first woman to graduate from Bengal Engineering College, Shibpur (now Bengal Engineering and Science University).
Women were already making a name for themselves in the field of medicine. Kadambini Bose Ganguly (18 July 1861 – 3 October 1923) had been a trailblazer by then who had smashed the glass ceiling and shattered all stereotypes to become one of the first women graduates from India. Ila Majumdar emerged as Bengal's first female mechanical engineer and the first female alumna of Bengal Engineering College.
Ila Majumdar was born to a family of six sisters and two brothers, at Madaripur village, Faridpur district, East Bengal. Her father Jatindra Kumar Majumdar, a Deputy Magistrate (Bengal Civil Service) in undivided Bengal, was a pillar of strength, who encouraged young Ila in all her endeavours. Her mother was a homemaker. Since Ila's father had a transferable job, she spent her school days relocating from one place to another. When she started riding a bicycle at the age of 12 and learned how to drive a jeep at 16, she created quite a stir to which her friends, family, relatives and neighbours raised eyebrows.
Ila joined Ordnance Factory Dehradun (OFD), a factory specializing in the production of Military Optical Instruments.

Here she created another milestone as the first woman engineer to work on a heavy engineering production floor.
Ila's family finally migrated to Calcutta in 1945 and settled in the city. Ila appeared for her Matriculation examination as a private candidate, two years ahead of the right age. She was always a bright child and very good in academics but secured second-division marks in her secondary examination. She was extremely upset but was determined to improve her grades. She joined Ashutosh College, Calcutta for her ISC and secured a first division.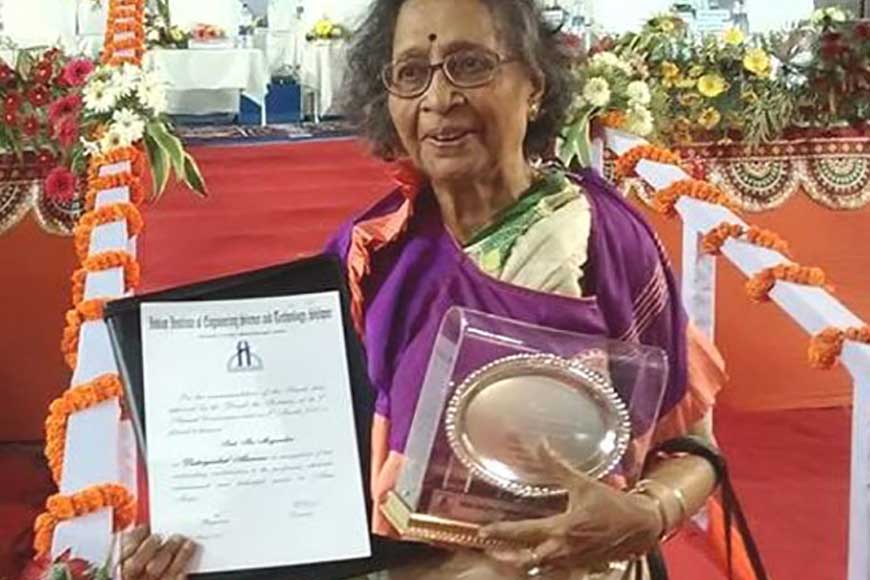 First female mechanical engineer of India
In those days, very few women opted for a career and those who did, usually opted for medicine. It was only in 1947 after Independence, that the then-Education Minister, Nikunja Behari Maity, opened the doors of Bengal Engineering College, Shibpur for women. Ila took the medical entrance test and cleared it with flying colours. However, engineering was in her blood and she wanted to pursue technical education. She cracked the entrance test at Bengal Engineering (BE) College too. Since BE College did not have any infrastructure for girl students, she was called for a special interview at a later date. Two girls got through the entrance examination. However, the other girl, Ajanta Guha dropped out in the second year.
Majumdar wanted to take up Civil engineering but the then-Principal of BE College suggested she study Mechanical Engineering to which she complied. The faculty was very protective of her, especially after she became the only female student in the college. She was the lone girl student amongst 800+ boys and it took some time for her classmates to adjust to her presence. Often hundreds of boys peeped to watch the sari-draped lithe figure dealing with the drawing board and T-square.
Ila was allotted one-room accommodation on the ground floor of the Principal's bungalow (now called the White House). Then she was allocated a room on the left corner side of the library (the present-day Gymnasium). She lived in that large room all alone with Matron, Usha Chowdhury. Their food used to be delivered from Downing Hostel. The paucity of funds often compelled Majumdar to skip her breakfast in her hostel.
Finally, in 1951, Ila graduated as the first woman Mechanical Engineer of India. After graduation, her Principal insisted to join Glasgow-based Barr and Stroud Company for an apprenticeship. Majumdar was initially hesitant fearing her travel abroad would entail a lot of expenses. However, on her father's assurance, she went abroad becoming the first engineering woman apprentice to travel abroad.

Ila joined Ordnance Factory Dehradun (OFD), a factory specializing in the production of Military Optical Instruments. Here she created another milestone as the first woman engineer to work on a heavy engineering production floor. She lived alone in the staff quarters. After a six-month stint at OFD, she took up a lecturer's post at Delhi Polytechnic in 1955. Within a short time, she published two books, 'Applied Mechanics Through Worked Examples' and 'Hydraulics Through Worked Examples.'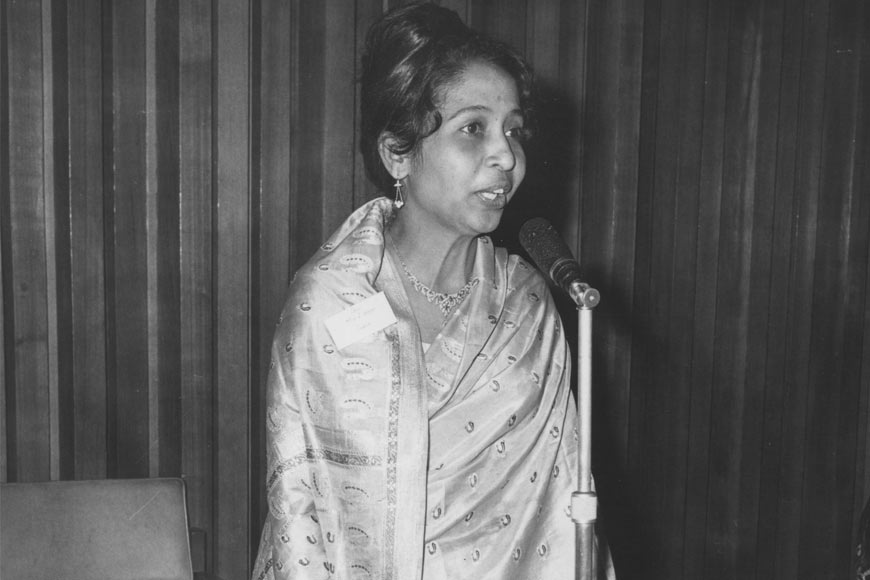 Ila Ghosh Majumdar in Cambridge University
After her marriage in 1959, Ila moved back to Calcutta where she joined as a lecturer at the Institute of Jute Technology, and then as the Principal of Women's Polytechnic on Gariahat Road. Initially, only two courses were offered at the polytechnic - architecture, and electronics, which were felt to be more conducive for female students. The response was overwhelming. In 1967, she attended the second International Conference of Women Engineers and Scientists held in Cambridge, UK. In 1985, she was appointed the Chief Administrative Officer (CAO) in the UNESCO-sponsored project to set up Mahila Polytechnic in Dhaka, Bangladesh. Her appointment came through difficult stages as the West Bengal Government did not want to release her and she too, was initially reluctant to take up the assignment, as she was required to relocate to Dhaka. However, it was her never-give-up attitude and the challenge to prove her worth the honour that prompted her to take up the one-and-a-half-year contract.
Ila Majumdar Ghosh breathed her last in November 2019, at the ripe age of 90. A brave woman of substance and determination, Ila Majumdar was once asked if she faced gender bias in her long and successful career, to which she said: "Of course, I have faced gender bias all the time in my professional life. I think it will take a long time to change the mindset of society, and there is no other way to bear it. But it hurts when the cases of selection/promotion come, the authorities find flimsy excuses not to offer a woman her rightful place as they feel she is not supposed to boss over men."