Did you know Rabindranath himself wrote his wedding card?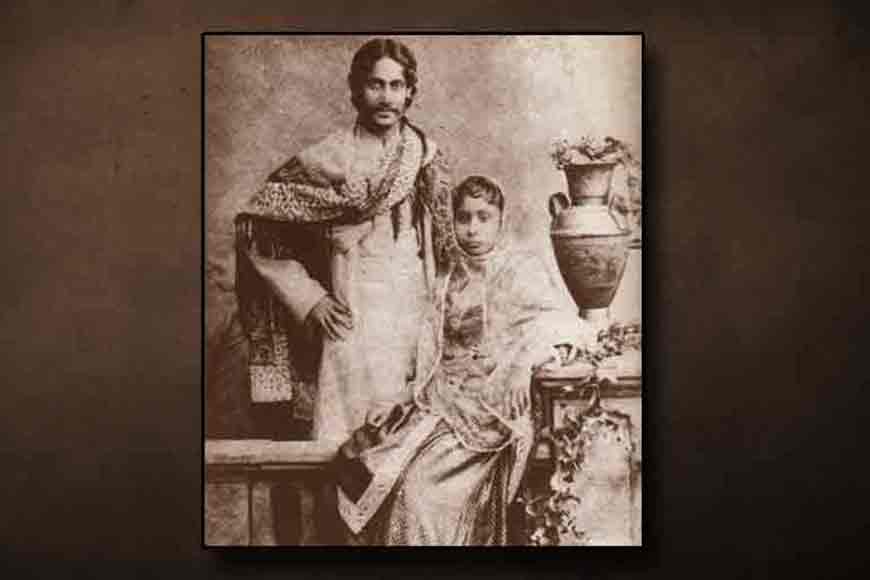 Rabindranath was 22 years, 7 month and 2 days old when he married. According to custom, the groom goes to marry in the bride's house, but Rabindranath wished to get married in his Jorasanko residence. Accordingly, arrangements were made to fetch the bride and her family members to Kolkata. According to Prashanta Kumar Paul, author of Robi Jeeboni, Maharshi Debendranath paid the travelling and all other expenses of Benimadhab and his relatives. Benimadhab was Rabindranath's father-in-law. All these expenses have been neatly written in the estate cash register. Wedding invitation cards were also printed and dispatched to friends and family members who stayed in far off places via post. Rabindranath had invited his close friends including Dinesh Chandra Sen and Nagendra Gupta to attend his wedding with a queer hand-written note. It went like this:
On Sunday, 24 Aghrayan, on an auspicious day, my soulmate Rabindranath Thakur will get married. On this occasion, we solicit your gracious presence in the evening to witness the ceremony at Debendranath Thakur's house.
Yours' faithfully,
Rabindranath Thakur
On the right-hand side of the letter, a colourful embossed line said: 'I was waylaid by hope to reach out for the mirage (Ashar chholone bhuli ki phol lobhinu haai). Though Debendranath was one of the pillars of Brahma religion, his son Rabindranath's wedding was solemnized following Hindu rituals held in Khulna region. This could be due to two reasons: the Tagore family originally hailed from Khulna, and later on, most of the brides of the Thakur clan hailed from Khulna-Jessore region. The pre-wedding rituals like Gaye-holud and Aiburo-bhaat were all followed.
Rabindranath's nephew Abanindranath wrote in his book, Gharowa "after the Gaye-holud, the boys of the other house (No.6 Dwarakanath Tagore Lane) would be treated to Aiburo bhaat by their aunts first, who lived in the adjoining house (No. 5, Dwarakanath Tagore Lane). My mother (Soudamini Devi) invited Rabi-kaka for Aiburo bhaat. She was very happy since the bride was from Jessore and Rabi's mother was related to her. She made elaborate arrangements. Robi Kaka sat upstairs in my aunt Kadambini Devi's room. All my aunts sat surrounding Robi Kaka. He draped a gorgeous shawl and looked magnificent like a Mughal Badshah. By this time, he was a famous poet. My aunts kept asking him, if he had seen his bride, whether he liked her or not. Robi kaka kept his head low as he ate. He couldn't say a word and we could see he was feeling embarrassed."
Hemlata Devi writes, "He looked very simple like the boy next door and his wedding was a very plain affair. Nothing of the pomp and splendour one associates with marriages. There was a gorgeous Benarasi shawl, a family heirloom which would be draped by the groom of the family when he went to wed. Rabindranath entered the inner part of the mansion (Andarmahal, meant for females) from the western part of the balcony. He entered and stood on a wooden podium. Baro Ganguly-r Stree, who was related to Notun Kakima (Kadambari Devi), came forward to perform the groom's welcome rites. She was wearing a jet black striped Banarasi saree.
The bride was brought and she was made to take seven rounds and then they went to the sprawling courtyard for Sampradan ritual. After that, the bride and groom settled in the Bashorghor. A room had been decorated and kept ready for Robi's wife. The Bashor was organised in that room. As soon as they all sat in the room, Rabindranath began playing pranks. His aunt, Tripurasundari asked him to sing a song and added, there's nobody here who can sing so mellifluously as you, so why don't you treat us all to a song? Rabindranath complied and began his song: Aa mori labonyomoyi Key o sthir soudamini/ Purnima-jochhona diye maarjito badankhani… and looked mischievously at his aunt who felt very embarrassed and sat sheepishly as she was defeated in her own game by Rabindranath.