What was Tagore doing at Kashimbazar Rajbari?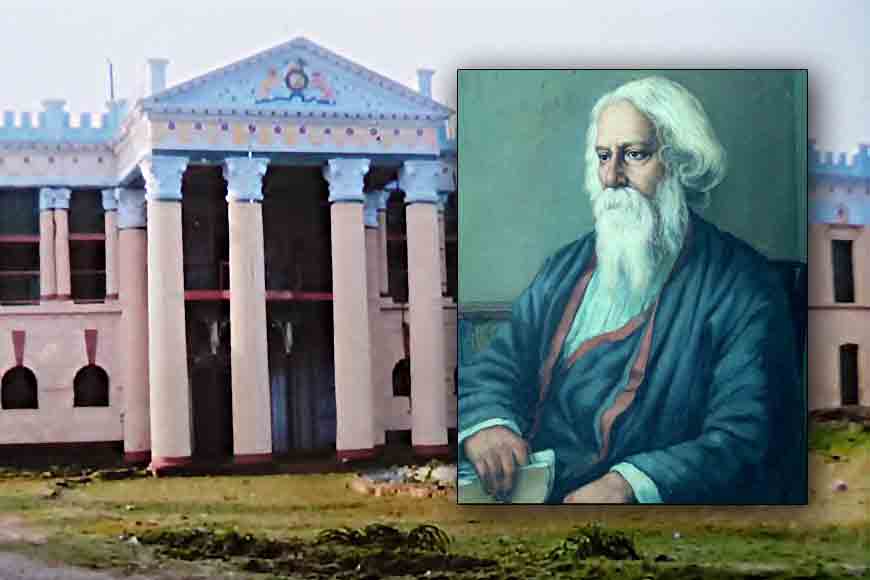 At 10 o'clock on the morning of 2nd November 1907, Rabindranath Tagore along with a few senior litterateurs, set out from Kolkata to Kashimbazar near Baharampur in the district of Murshidabad. The occasion was Bengal Provincial Literary Meet. The poet was also accompanied by his trusted servant Bipin. He stayed at Maharaja Manindrachandra's palace at Sripur. The meet took place over 3rd and 4th November and he left Kashimbazar on the morning of 5th November. Naliniranjan Pandit was also at the house when Tagore visited and later wrote in his memoirs: "Rabindranath was sitting in a room on the first floor of the house and had been offering words of advice to a few volunteers and youngsters who had gathered there. After his speech, they started pleading with him for singing a song. The poet sang his well-known song Oyi Bhubanomohini."
Though Nalini babu wrote that the poet was on the first floor of the house, as per the a write up in the Bengali, "The Maharaja located them in a quarter set apart from other honoured guests." The meet took place under a big decorated pandal. "Above their head was a small scarlet velvet shamiana richly embroidered with golden and silver filigree work, there was a cushioned chair with rich embroidery work interspersed with diamond for the President."
About his experience of living at Kashimbazar, Tagore writes: "I returned yesterday after spending four days at the Baharampur Literary Meet. The excess of these few days coupled with bleeding due to piles have made me both ill and tired." A few days letter on 8th November, the poet writes to Shirish Chandra Majumdar: "I arrived here after having done with Baharampur's din and bustle. Talk talk talk. I simply cannot bring myself to like it anymore at this age."
The Sripur Palace now belongs to Manindrachandra's present heir. The building has been recognized as a heritage structure.
(Source: Rabindranath and his many abodes)