Hathkhola Dutta Bari Pujo is steeped in tradition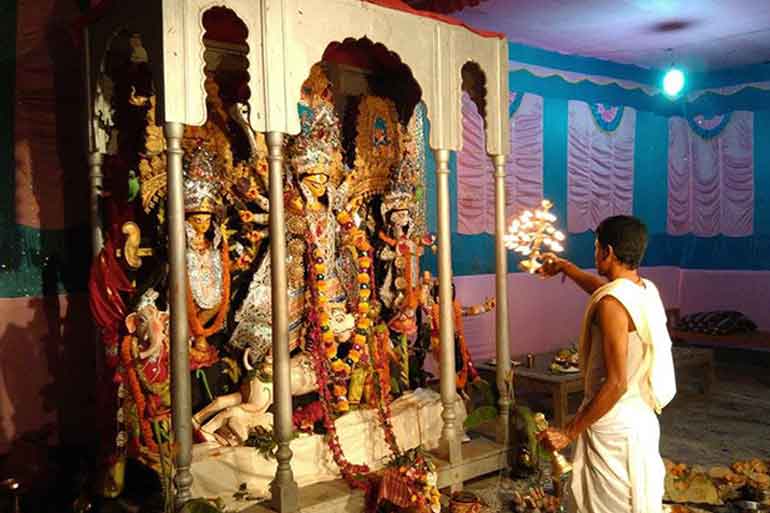 It was Ramchandra Dutta from the Dutta Chowdhury family of Andul, who settled in Kolkata by the end of 18th century. The original residence built by Ramchandra Dutta has been taken over by the Ghosh family, who are the successors on the daughters' side. They are continuing the Durga Puja, originally started by the Dutta household. The Durga Puja was started by Jagatram Dutta, who was the manager at the export-import department in Patna warehouse of East India Company. He moved from his ancestral house and built the palatial building at 78 Nimtala Ghat Street and started worshipping Devi Durga in 1785CE. Since then, the Durga Puja at Hatkhola Dutta household is being continued with great splendour.
The Thakurdalan at Madanmohan Dutta Lane consists of two porticos with three arches each. The arches are beautifully decorated with floral motifs which are in a dilapidated state today. With the passage of time the elegant architecture is gradually on the way of destruction. Devi Durga idol is Mahisasur amardini with Matha Chauri Chaal in the background. And the lion is the traditional Ghora-mukhi Singha or horse-faced lion. Kumartuli artisans used to paint the draperies first and then start making the idols. The draperies were made by artisans themselves and then put on the mud idols.