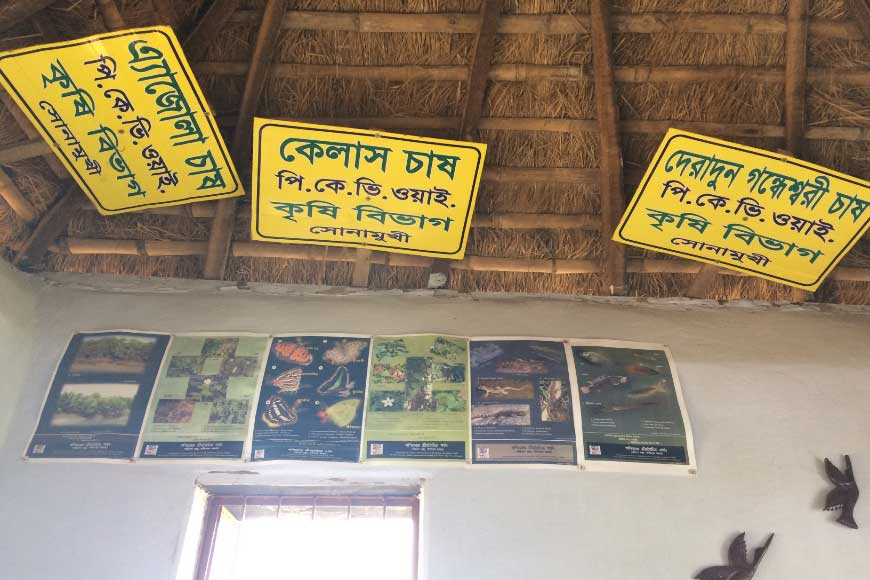 Hardly did I imagine while taking a cab from Durgapur, that my quest to explore Bengal's traditional paddy would end up in a quaint mud hut, tucked amidst serene fields, with walls depicting a passionate tale of a farmer's son, who left his home to grow lost varieties of Bengal's indigenous paddy. Little did I know, when I left a sleeping Kolkata behind, on an early morning train to Bankura, that I would lose myself gazing into the innocent eyes of a young boy, whose carefree spirit and nimble feet gave me a sense of freedom that had lost its way years ago, in the urban humdrum of Kolkata.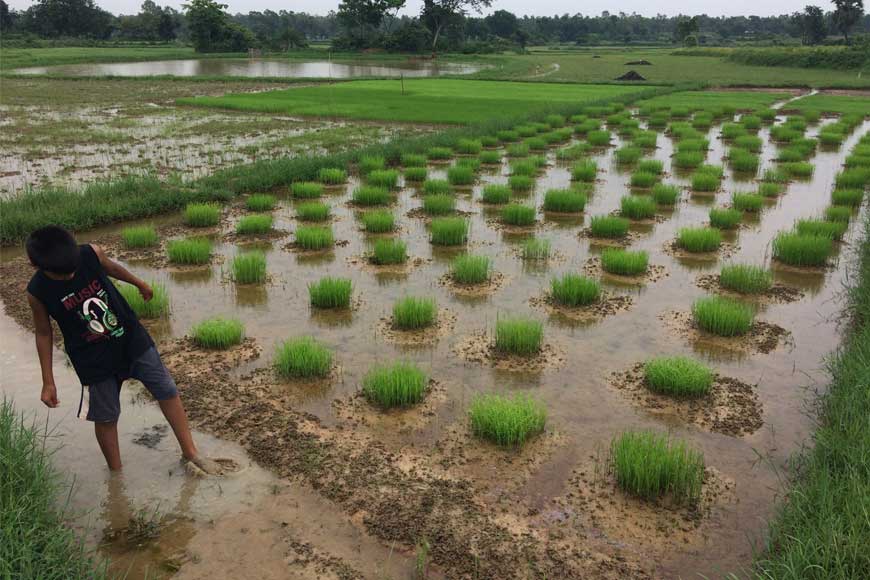 Bhairav's son aranya
I discovered not just how a cluster of farmers in a serene remote village of Bankura are tirelessly growing more than 50 varieties of Bengal's indigenous paddy organically, but rediscovered my long-lost freedom, across swaying paddy and corn fields of Panchal, with monsoon clouds looming in the horizon. Aroma on the ground, romance in the air! Not to mention the gastronomical delights I was welcomed to, after meeting the man behind this paddy revival tale.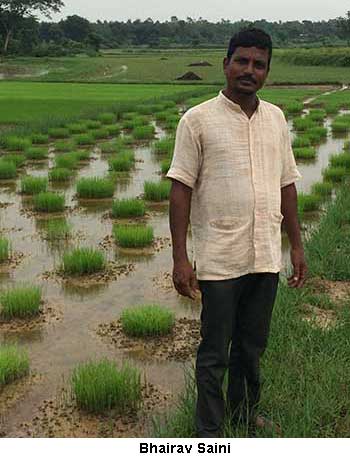 Bhairav Saini is a typical son of the soil. Slim, dark with rough hands that bear signs of tilling, he appeared at first sight like any ordinary farmer of rural Bengal. But one look at his sharp eyes reflecting the commit-ment of his mission to save folk varieties of Bengal's paddy, made me realise, Bhairav is no ordinary farmer. He is a dreamer. Else how could he leave his father's farm and take the risk of growing low yielding variety of indigenous paddy, experimenting with organic farming techniques of no pesticide, no fertiliser mantra? Trained and mentored by Dr. Debal Deb, the iconic agricultural activist and practitioner, Bhairav leads a bunch of farmers to carry forward his ideology. It was also his commitment and concern for the health of his family and fellow villagers that made inspired Bhairav to revive indigenous paddy that have a high mineral and vitamin content along with other health benefits.
Speaking to him was like interacting with an astrophysicist before launching of a new satellite: the same passion of producing something new that would benefit the community at large. He not only experimented on his own farm, but has successfully inspired fellow farmers over the last 12-14 years to give up growing hybrid, pesticide-laced poison seeds and move on to organic paddy farming. Today, 50 farmers grow more than 50 different paddy varieties that were almost on their way to extinction on 150 bighas of land."Our paddy is low cost as we do not use pesticides and fertilisers, but our own organic manure. Also, they fetch a higher price than pesticide laced hybrid varieties."
They all looked contended at their success. For them, it is a revolution, a moment of pride, when people from far-off Haryana and Chandigarh buy their Kaala bhat (black rice) or Gandheshwari (aromatic rice). Despite frequent attack of wild boars and herds of elephants descending from adjoining Dalma hills, result-ing in huge crop losses, these resilient farmers keep on producing what they think is a missing link between Bengal's past and present agricultural renaissance. Their passion runs so high that they even named their paddy seeds in a typical Bengali style: Bohurupee, Chamatkar, Leelabati, Durga bhog, Oli, Radha-Tilak, Radhunipagol, Kalo nunia, Katari bhog, Kalash ---- reflecting nuances of the ever-sweet Bangla dialect.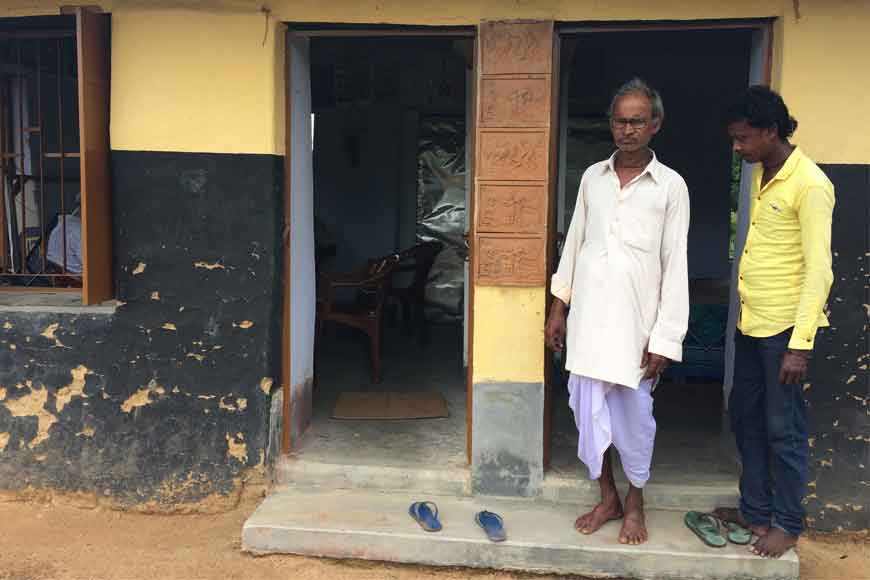 Fellow farmer Kanai Dey
Well-known seed conservationist Debal Deb, had initially helped Bhairav and fellow farmers in seed transfer and now they exchange seeds on barter. Even the village music teacher, an exponent in Bishnupur gharana music, the only classical music gharana of Bengal on a way to extinction, gave away his cupboard to Bhairav to make a seed bank.
Leaving the paddy fields, I reached an experimental corn field, where 21 varieties of corn is produced through sustainable organic farming. They closely monitor their yield and do not use ground water that might be contaminated with arsenic or lead. Instead, they depend on monsoon for irrigation. Bhairav's 8-year-old son led the way to their home. Full of childish mirth, he ran along enthusiastically showing off their Gir cows that had the longest ears I have ever seen. For an urban dweller like me, it was difficult to keep pace along the wet, red laterite paths, splashed with monsoon mud, leaving traces of a morning shower.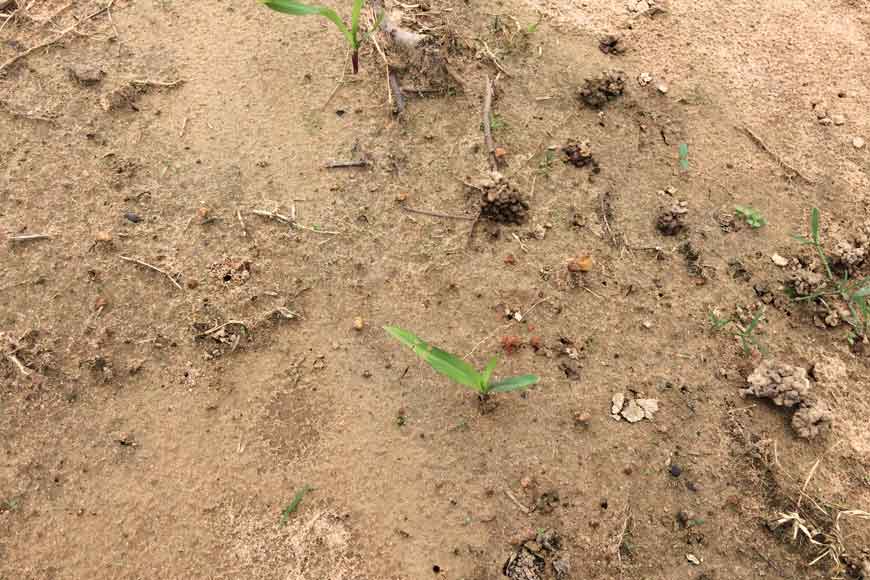 Experimental Corn field
But all effort was worth it, as we were welcomed by Bhairav's wife to a sumptuous organic feast. If I ever got a chance to recite Tagore's Krishnakali, I would surely make this homely bride stand in the middle of her husband's organic fields staring at dark clouds that could make the soil more fertile and sing to her a rendition of Kalo harin chokh (Black eyes like the shy deer). She served us Dehradun Gandheshwari, with potol bhaja, teeler bora (sesame seed), posto aloo (potato in poppy seeds), saag bhaja, rounded off with 17-18 types of wild mushrooms eaten by nearby tribals, cooked in mustard paste. Greedily I gorged on that super organic meal, and realised its superiority and easy digestible quality. Fellow farmer Kanai babu mentioned, he has Kalash daily, that has cured his acidity. I fed on their hospitality, passion and love too, as Bhairav's son showed me his Tenida books and a harmonium that he plays to the tune of a Nazrulgeeti.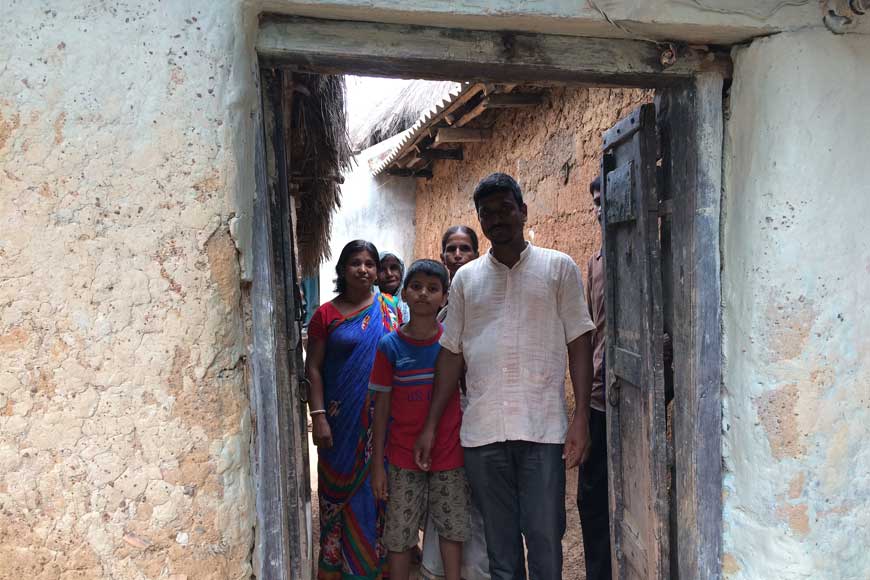 Bhairav's family
As dusk would soon descend, Bhairav lit the solar lamps, that too spoke of the rustic charm of my mother-land. As I drove back to Durgapur, along an equally picturesque motorable road lined by dense forests of Sal and Pial, I looked out of the window of my yellow ambassador taxi, straining my eyes to catch a glimpse of some wild animal. Who knows, someday when I return to this land again, I might be greeted by a herd of elephants, as this region is an elephant corridor between Jharkhand and Bengal.
I left with not just memories, but with a dream to introduce Bhairav's organic produce to the urbanites of Kolkata or take our next generation on an agricultural tour, to enjoy the carefree like Bhairav's son. As the old ambassador sped along, every bit of this travel ran high on a nostalgic rush, even my vehicle, the endangered ambassador. Am sure I shall dream tonight of the mud hut and seep in the aroma of Bhairav's organic paddy.