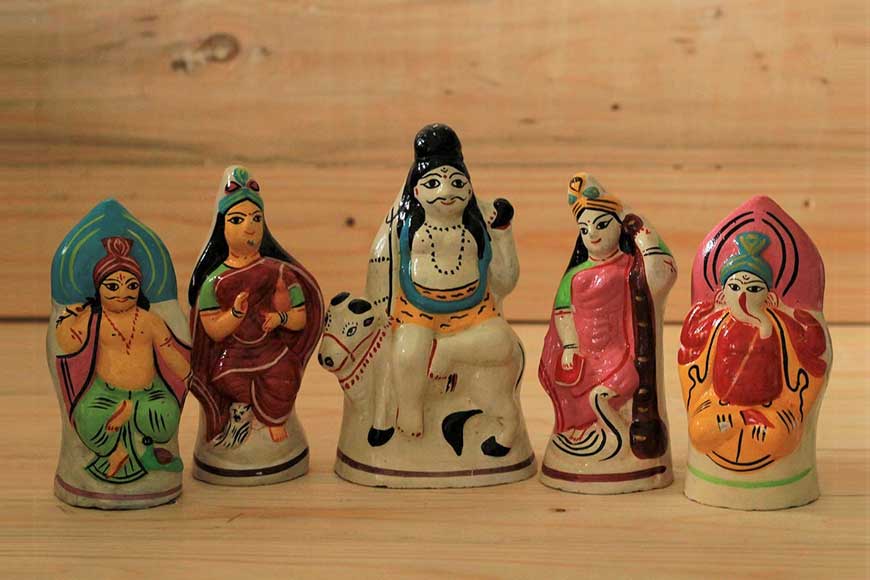 Jaynagar Majilpur are ancient settlements and the gateway of Adi Ganga, Sunderbans. The twin towns are famous for Jaynagarer Moa, a seasonal Bengali sweet delicacy prepared from date- palm jaggery and Kanakchurkhoi. But this area is also famous for its exquisitely crafted fired clay dolls.
Crafting clay dolls is an ancient art form of Bengal. The diversity found in this indigenous art form is amazing. Dolls crafted in various parts of Bengal have distinctive features that make each of them unique. The dolls of Krishnanagar, for instance, are unique in their realism and the quality of their finish; which truly represent a breakaway from the traditional form. Realistic recreations of everyday life, work, mood and character -- farmers, weavers, rag pickers, basket makers, and umbrella makers -- are yet other specialties of Krishnanagar dolls. While in Midanapore, we find Patua-dolls, Shilet dolls, Hingli dolls, Musk dolls, Jhum Jhumi dolls which are indigenous forms. So are Tasu and Goalini dolls from Malda and Murshidabad districts. The Tepa putul or hand-pressed dolls are another very popular form but Majilpur clay dolls belong to a different genre altogether and truly possess an unmatched appeal that sets it apart from other dolls of Bengal.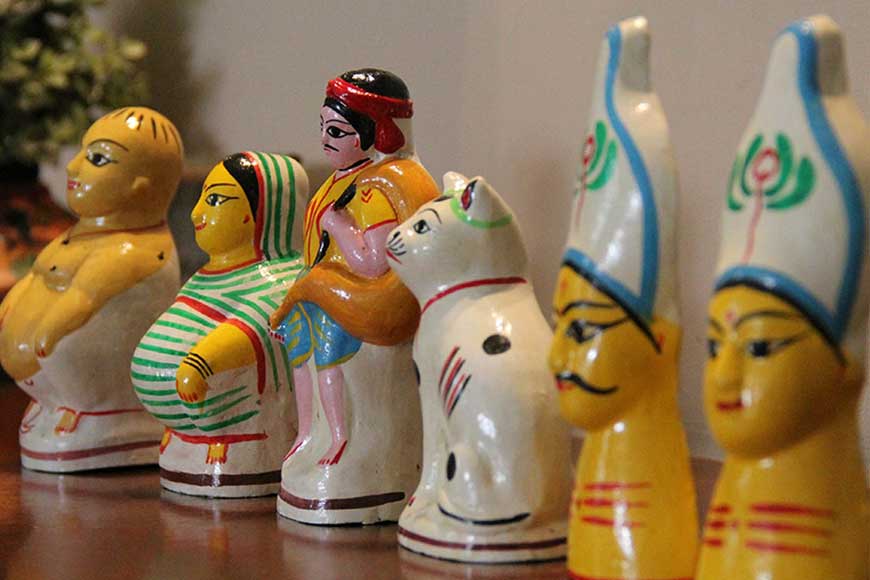 The method of crafting the Majilpur dolls is different. They are not solid -- their insides are empty. The two parts of the dolls are joined together. The idols of gods and goddesses which are used for offering puja are not fired. Instead, they are dried in the sun and then painted. Other dolls, however, go through the usual firing process. The figures are rounded, painted with vibrant colours and Garjan oil to enhance the lustre. Also, brush strokes similar to the ones used to draw Kalighat patas give a unique identity to the Majilpur dolls. With the demise of master craftsmen, Manmatha Das and Panchugopal Das, this unique art form is almost on the verge of extinction.
Majilpur dolls available at www.thebengalstore.com Click here
What is indeed attractive are the eyes of these dolls which are drawn differently. Traditionally, the clay models of Bengal depict big, wide, elongated eyes that look similar to bamboo or neem leaf and referred to as potol-cherachokh. Panchugopal's grandfather, Haranath Das, imbibed the style in his dolls and that became the standard form. Haranath was an expert artist who could draw eyes brilliantly with a single brush stroke. His dolls had uncanny resemblance with Kalighat patas.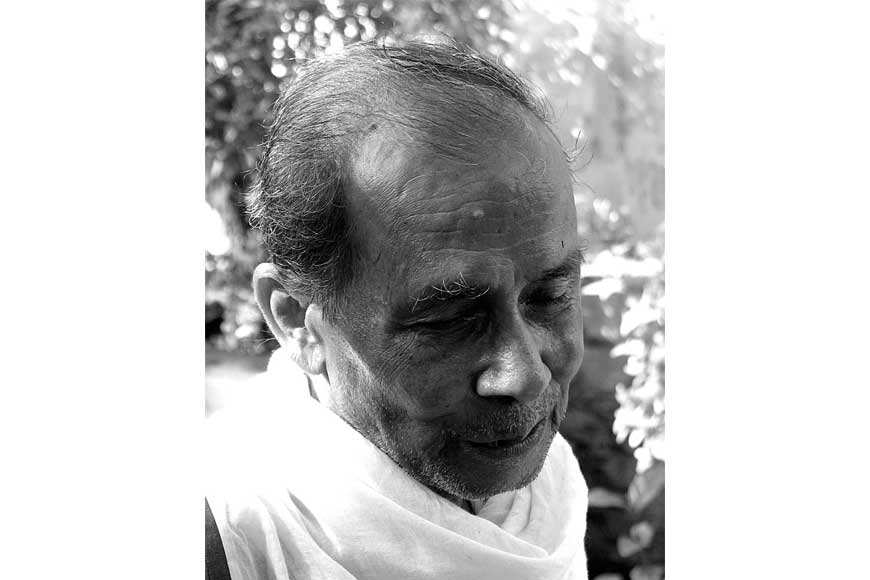 Panchugopal Das
Son of the soil, Panchugopal Das was born in Bosepara. His deftness with creating artifacts and dolls with clay was noticed from a very early age. A simple man, Das was the very epitome of a born artist, perpetually lost in his world of creation. Locals knew him by his pet name Babu. He used to make large Durga idols in his inimitable style. Panchugopal did not have any formal training in doll making.He watched his uncle, the legendary craftsman, Manmatha Das, make paper-thin moulds of dolls. Manmatha Das had made around 105 moulds during his lifetime that included divine figures of Narayan, intoxicated Shiva, Kali, Nundy-Bhringi, Radha-Krishna, Saraswati, Krishna-Kali, incarnation of Vishnu as Baraha Jagannath, Balaram and Subhadra, Ganesh, Jagaddhatri, Durga as little Ganesh's mother, Krishna's mother Yashoda, Krishna annihilating KaliyaNaag etc. He also created moulds of ordinary people like Bene Bou, Babu-Bibi, Mem, Munshi, peon, milkmaid, soldier, Buro-Buri, inebriated man etc. Animals and birds were also part of his vast repertoire of moulds. A distinct trait of Majilpur dolls is the crafting of folk deities which are specific of the Sunderbans like Dakshin Ri, Bonbibi, Narayani Ateshwar, Panchanand, Baro Khan Ghazi, Basanta Roy, Peer Gorachand, Jhola Bibi, Shitala, Kalu Roy etc. These deities are still worshipped in local villages and the demand for these dolls has not waned. Majilpur's unique craftsmanship is retained amid these villages of Sunderbans.