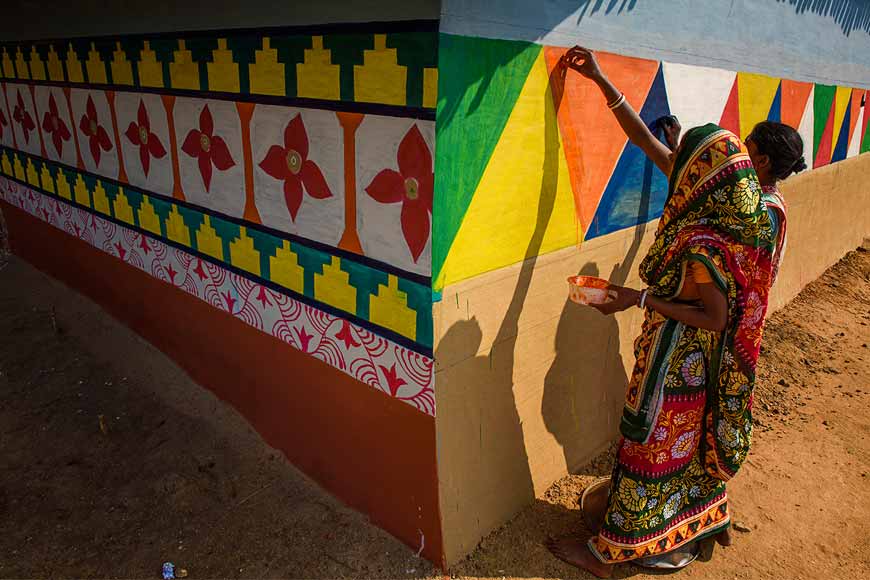 Apart from a variety of decorations on clay walls, there was a long prevailing practice in rural areas of Bengal of displaying paintings on walls. This form of folk art was introduced and have been taken primarily by rural population. Even today, folk paintings can be seen on the walls of clay-built houses in many villages of Midnapore, Bankura, Burdwan and Purulia districts. Village women use sheer skill of their fingers in producing these wall paintings with a rare simplicity and honesty reminiscent of the spirit of ancient times. Although these wall paintings are mainly seen in villages inhabited by tribal groups like Santhals as well as by Sadak and Mahato communities, wives of farmers, blacksmiths, potters, ironmongers and scavengers are also deft at this art form.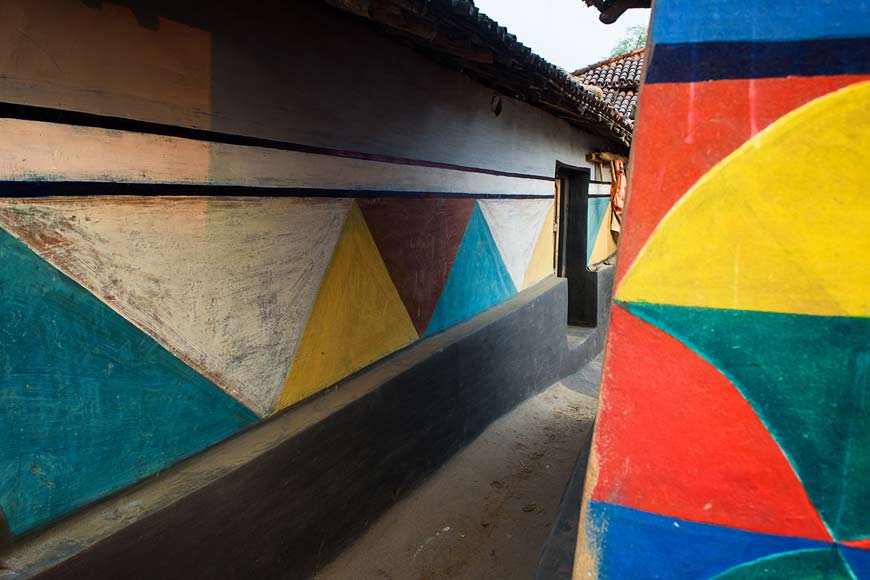 Among the scheduled caste or people of mixed Hindu origin, this work of wall painting starts every year before Durga Puja or Kali Puja. The colours used for wall paintings are gathered locally, for example red ochre, white chalk, yellow banak, ink made from soot and red dice and indigo purchased from local shops are used in the job. In addition to this saffron and blue are mixed to achieve a green colour of painter's choice. Brushes prepared with jute are used for applying paint on the wall, while final work is done by wrapping a torn piece of cloth around the finger. A coating of white chalk is first applied on the wall as a base over which designs are drawn as per plan with the use of different colours. The main thing of this painting comprises creepers, flowers, trees and birds. A blooming lotus is commonly seen among the flowers. Apart from this, various geometric patterns are also another attractive feature of these wall paintings.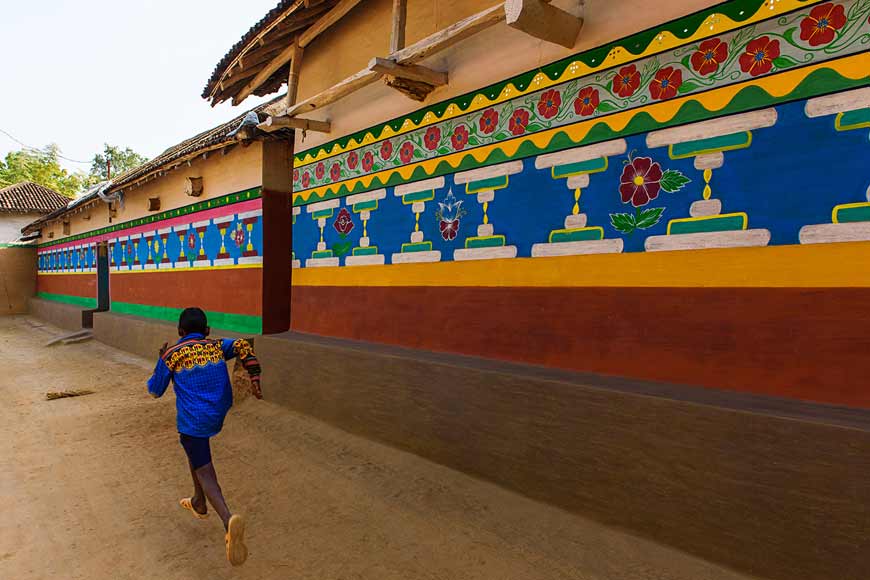 Santhal tribe plays a big role in development of this art. It is to celebrate their Bandhna Festival during Kali Puja that this tribe undertakes fresh paintings on the walls. Large contingent of this Santhal tribe dwell in various areas of Birbhum, Bankura, Burdwan and Midnapore districts of West Bengal. Despite many changes in their ways of life, after shifting from isolated areas surrounded by hills and forests, more civilized environments, there has been no break in their dedicated attachment to the art of wall painting handed down by their past generation.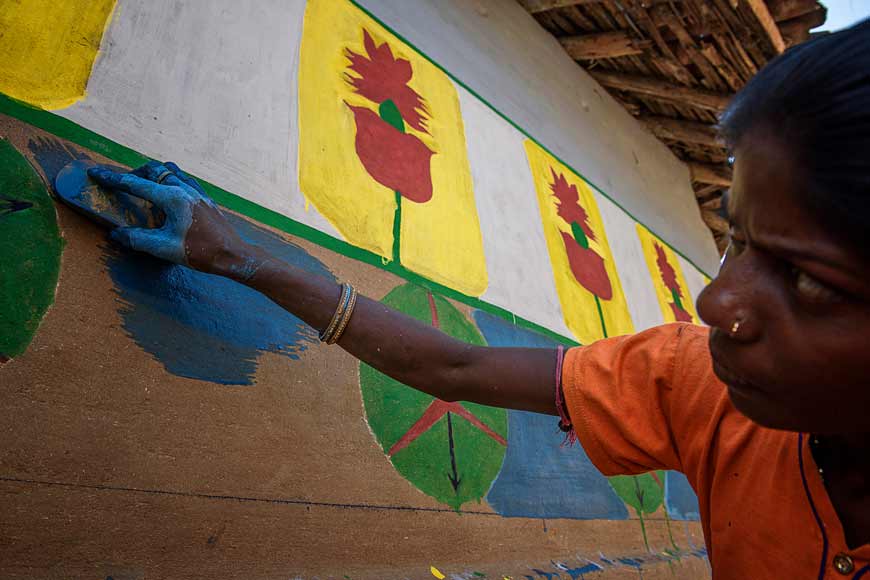 In the paintings drawn on walls by Santhal women, it is observed that barring some variations in the application of colour, the subject matter of these pictures are related in most cases to geometric figures such as triangles, squares, parallelograms and trapeziums. In some cases, we see trees decked with flowers, leave and creepers accentuated by floral displays of many colours like a lotus in full bloom. At times, the entire wall is covered by a single colour without any design, while deep ash colour is applied to the plinth level, sometimes the entire exterior walls including the plinths is painted in a dark black shade which is obtained mingling ash with water. It becomes easy to identify cottages of Santhal tribes from the typical colour of their walls. Another type of wall finish is found in Santhal villages where there is no application of colour. Thick coats of clay blended with water are first applied on the walls with torn pieces of cloth. Then while coating is still damp, the selected design is carved on it with use of fingertips. Later when the wall becomes dry, the finger carved design comes out clearly on the surface which becomes an exclusive display of art without colour. These wall painters may not be experts in the art of drawings, but the simplicity with which they bring out philosophy of their uncomplicated lives through their work make their creation worthy of consideration as singular instances of folk art. Regrettably no steps have been taken till now to identify or collect specimens of the large variety of wall paintings prevailing all over West Bengal despite their strong influence in portraying the strength and simplicity of rural folk art of this state.
Some exquisite fresco paintings in colour have been found on temple walls in two different locations of West Bengal. One of them is a painting on the divine activities of Krishna drawn on the walls of Shyamsundar Temple in Bohodu village of South 24 Parganas and the other on the walls of Vrindavan Chandra Temple of Guptipara, Hooghly. Both display the picture of many deities amidst assorted flowers and creepers. It is debatable if these paintings conform to the prevailing style of the time when they were drawn. Rather they were drawn in the form of traditional art with application of commonly used ingredients, as was the practice in those days which itself was a special feature of the art of folk painting in West Bengal.
(Adapted from Folk Arts of West Bengal and the Artist Community by Tarapada Santra)