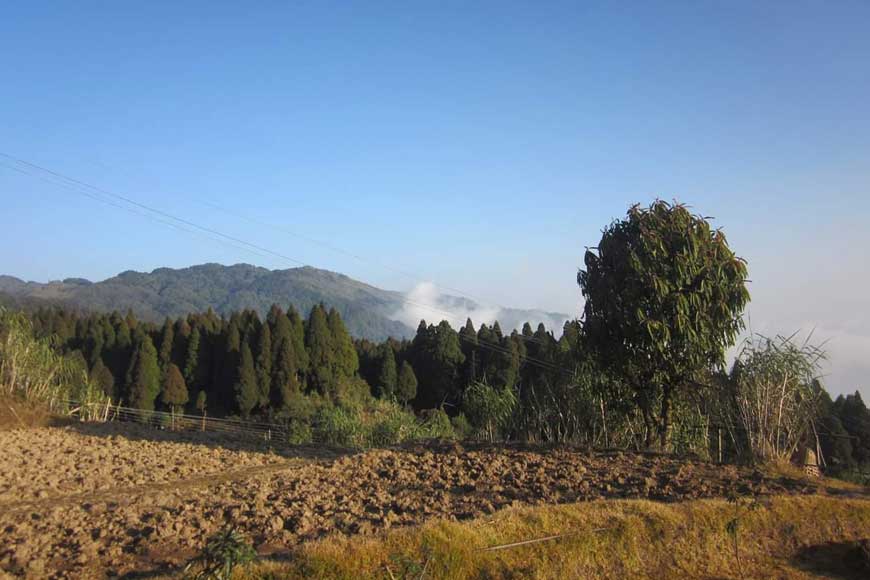 Ajanta Sinha is a veteran journalist and compulsive traveller, who has retired to the mountains of North Bengal after a lifetime of working in Kolkata.
The drop in temperature is evident as soon as you step on to the New Jalpaiguri station platform. The feeling intensifies as you emerge from the station. Under clear skies, we set off in our car toward Sukhna forest, the landscape changing rapidly. Our final destination is Bagora, a small village near Kurseong, at an altitude of 7,150 ft. A quick snack of tea and omelettes from a roadside stall later, we are off in earnest, accompanied by Nepali songs on the car stereo.
From Sukhna forest to the Pankhabari road, from plains to hills. Numerous hairpin bends finally take us to Kurseong, by which time a dense coating of fog has enveloped everything. Bypassing the congested town, the driver turns right onto a road over which the car bumps and sways. The importance of this uphill road is considerable, for it leads not only to Bagora, but to Chimni, Latpanchar, and Chatakpur, and is therefore a fairly busy tourist route. And yet, the neglect and disrepair are obvious.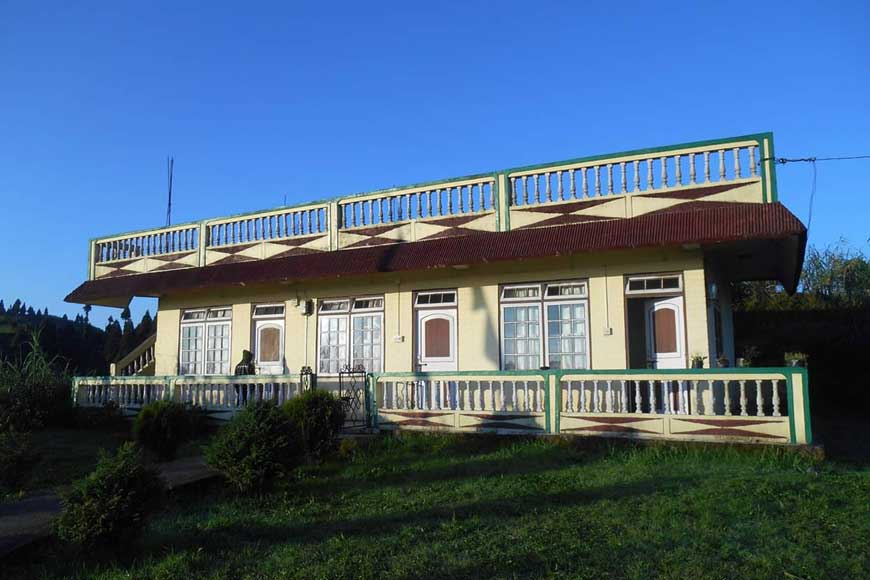 Diki's Homestay
Matters improve slightly as we climb further. And the pine forests grow denser. Already, a mist is descending over the treetops, as the sky turns murky and we arrive at our destination, Diki's Homestay, our home for the next three days. By now, the rain is torrential, and the wind so strong we can barely stay upright. Escorted in by a youth with a large umbrella, I settle my luggage and go into the washroom to turn on the tap. The freezing water immediately turns my hands to ice, but said youth is already at my door with a vessel of hot water. By the time I have washed, put on several pieces of warm clothing, and stepped out, the skies have cleared up again, and the sun has reclaimed its place.
Sitting in the verandah with a cup of tea, I look out across the wide-open horizon. Across the field in front of me walks Tiger, his tail wagging as he comes right up to me. Later, I learnt that Tiger is the extremely caring, self-appointed guardian of every guest who comes to stay. He goes wherever you go, and biscuits make his tail wag even more furiously. That apart, my other visitor is a small boy from the village, whose name I no longer remember. He speaks no Hindi, I know nothing of Nepali, but we communicate just fine.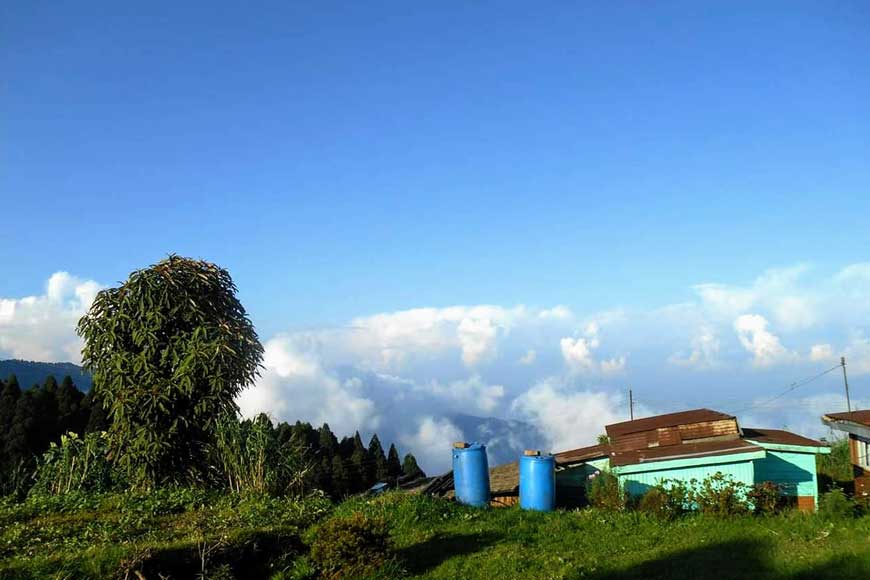 On the level below mine lives the owner of the homestay, a young woman who runs the entire operation like clockwork. The dining room is on this level, too. After a hearty lunch of rice, daal, egg curry, 'rai shaak' and mashed potatoes, I realise I need a nap. Eventually, shivering under two blankets, I do fall asleep.
As soon as I awake, I step out. The room next to mine is occupied by a noisy group of young men who have just returned. I wander around on my own, noticing that the house is located on a small plateau-like piece of land, which gives one a clear view as far as the eye can see. Surrounded by pine trees, the area has a backdrop of wavy hills. Climbing the stairs to the terrace, I am captivated by the magnificent sunset, the western sky blushing like a new bride, with the chirping of homecoming birds forming the background music. The peace is indescribable. Once twilight falls, I return to my room. Roti and chicken make up the dinner menu, and I'm in bed by 9.00 pm. The absolute silence is sometimes broken by the sounds of celebration next door, as I lie shivering in the cold bed, falling asleep at some point.
Very early next morning, I wake up to excited yells from my fellow guests. Quickly getting some warm clothes on, I emerge from my room to find out why. And I realise what the 'perfect moment', what we call 'brahmo muhurto', means. The point where the sky meets the earth is still shrouded in darkness, but just above the horizon, like a flame spreading slowly outward, is a red wave of colour. He's rising! I rush back into my room for my camera, and then watch with the others, spellbound and silent, as the light gradually dispels the darkness. No words, not even a photograph, can adequately describe the beauty of the moment. It is best kept hidden forever in memory.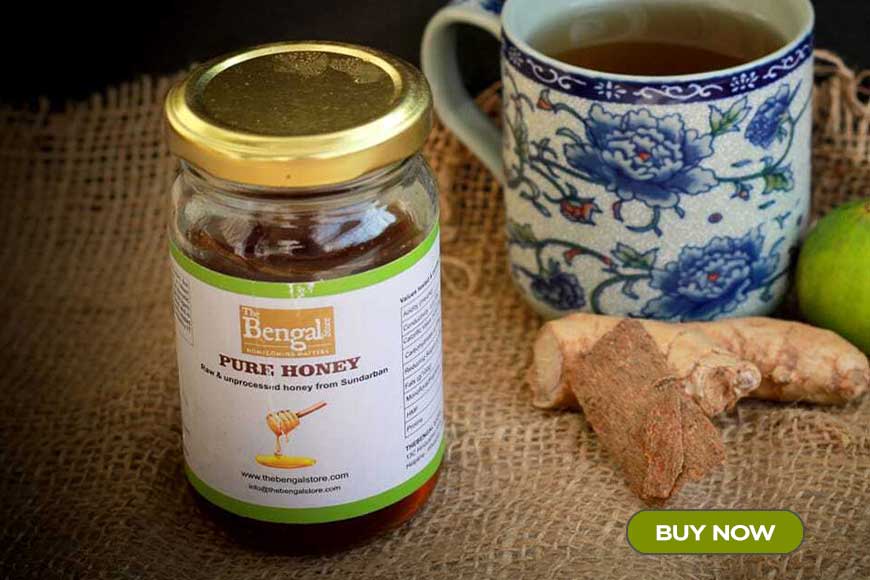 Once I've had tea, I walk out onto the grass to find that the dewdrops of last evening have turned into ice particles, which means the temperature must have dropped below zero during the night. The skies are crystal clear now, and fields bursting with green vegetables are easily visible. Bagora is the highest point in Kurseong, so you have an unobstructed view in all directions. On a really clear day, you will also have a perfect glimpse of Kanchenjunga, though my difficult relationship with this handsome peak means that this time, too, it remains unseen. In the evening, you will see the lights of Darjeeling, Kalimpong, and Kurseong from the terrace, while a short walk takes you to Zero Point, which is an Army base camp. The view point here offers a magnificent view of the river Teesta, rushing through a valley.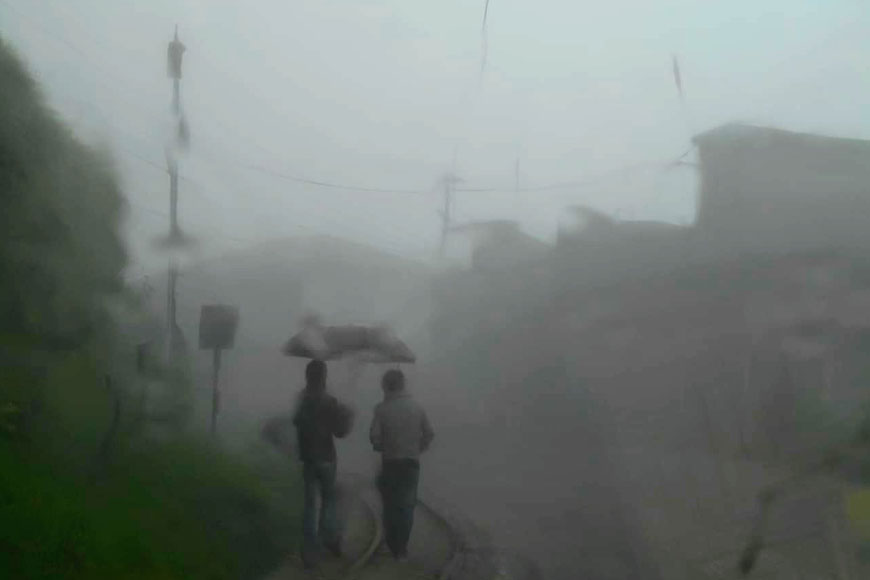 The area around Bagora is full of trekking routes, which will take those interested to Sitong, Latpanchar, Chatakpur, Chimni. Close by is Dow Hill forest. In all directions, the pine forests and other ancient trees offer solemn solace. The route to Chimni has an old Kali temple too. In spring, the valley turns into a riot of colourful flowers, but Bagora is rhododendron heaven anyway. The most noticeable trees other than pine are oak and orange. All this, and the constant chirping of birds, take you as close to paradise as possible.
My three days end all too soon, and as I set out after breakfast, Tiger follows me for as long as he can. I learned the tragic news of his death following a wolf attack on a return visit. To end on a happier note, as I near Dow Hill forest, I meet a laughing group of schoolchildren, on their way back from Saraswati Puja at school. Happily, they agree to pose for my camera. And sadly, I make my way to the station, and the world of jobs and duties and responsibilities.
At a glance
Depending on the traffic, the travel time from NJP station or Bagdogra airport to Bagora is between 2.5 and 3 hours. The homestay can organise a pick-up and drop, the approximate one-way charge being around Rs 3,000.
At Bagora, the per head cost per day, all inclusive, will be around Rs 1,200. There aren't any shops or markets nearby, so you will probably not get more than the basics in terms of food, but the cooking is good, and the organic vegetables taste great.
You can visit any time, but avoid the monsoons. The best time would be from September to March. Winters are bitterly cold, so make sure you are adequately equipped. If possible, carry dry foods such as biscuits and cakes, tea/coffee bags, and a flask with you. Make very sure you carry whatever medicines you think necessary, too, and a first-aid box.
For details of the Diki's homestay, call +91 81457 23177