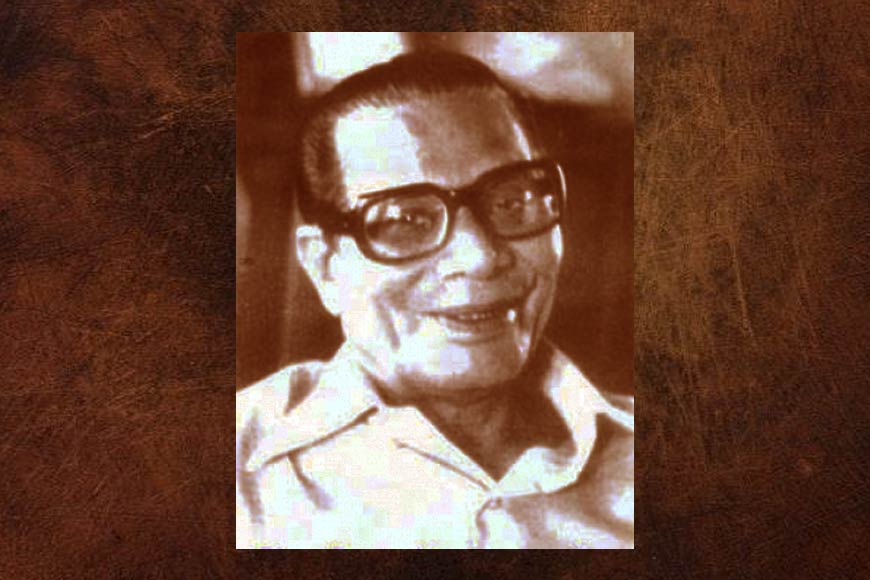 The bitterness rippling out of the Partition of 1947 has remained for ages. The destructive agenda of Partition continued to impact Bengal's cultural ethos on and off. Many talented and eminent maestros and their disciples were lost in the vast chasm that separated the East and West of Bengal. One such distinguished singer, musician, producer, arranger and director was Abdul Ahad. His immense contribution to the promotion and dissemination of Rabindrasangeet in India has been consigned to oblivion and he has turned into a forgotten musical genius.
Just as Pankaj Mullick, attributed to be the 'First Man of Rabindrasangeet,' is remembered for his indelible contributions to Calcutta Radio and Indian cinema, so is Ahad revered in Bangladesh for enriching the vast sphere of Bengali music, especially for his efforts in spreading Rabindrasangeet among the masses. Scores of Bengalis have taken music lessons on All India Radio (AIR) conducted by Pankaj Kumar Mallick. Similarly, for decades Ahad taught different types of Bengali songs to listeners of Dhaka radio station.
Born in Rajshahi, in the then-Bengal Presidency, Ahad took to music effortlessly at a very early age. He did his schooling from Rajshahi Collegiate School where his close friend was Radhikamohan Maitra, who later took to Sarod playing and became an internationally renowned maestro. After Matriculation, Ahad came to Calcutta for further studies and took admission in City College. Meanwhile, his training in classical vocal music started under Manju Khan Sahib. In 1936, he participated in the All-Bengal Music Competition and stood first in the Thumri and Ghazal section. In 1938, he received a scholarship at Santiniketan to pursue music. He was the first Bengali Muslim student at Sangeet Bhavana. He was a boarder at Kala Bhavana hostel. Subinoy Roy was extremely fond of Ahad.
Rajeshwari Basudev and Kanika Bandopadhyay were his batchmates. Ahad was well-loved by all his teachers and both Sailajaranjan Majumdar and Santidev Ghosh, distinguished teachers of Rabindrasangeet, were impressed by his talent and taught him exclusively. This was also the time when Rabindranath Tagore himself was actively involved in the production of the dance-drama, Shyama. Rehearsals would be held at Uttarayan, under the strict vigilance of the poet. Ahad was part of the team. Rabindranath's creative outflow during this phase included such gems as Barsha Mangal and Chitrangada and Ahad was an active participant in all these productions, directed by Tagore.

When the poet breathed his last on August 7, 1941), Ahad rushed to Santiniketan. Seeing him, an inconsolable Sailajaranjan handed him the musical notation of Sanmukhe shantiparabar and requested him to conduct the special Baitalik session (a prayer session). After four years at Santiniketan, he returned to Calcutta in 1941 and joined His Master's Voice (HMV) as music teacher. Artistes including Pankaj Mullick and Hemanta Mukherjee recorded Tagore songs under his direction. He even taught and directed Suchitra Mukherjee, nee Mitra, when her first record featuring two Rabindrasangeet, Moron re and Hridoyer ekool okool was released. He even directed Santidev Ghosh during the recording of the acclaimed Rabindrasangeet, Krishnokali. Meanwhile, Ahad explored other avenues of music as well. He taught Rabindrasangeet at Geetobitan Music School and simultaneously crooned modern songs at the Calcutta Radio station effortlessly. He set to tune a romantic song, Ami tumi dui teer sugobheer totinir and insisted his friend Santosh Sengupta to sing the number which became a major hit during those days.
Ahad gradually took to music direction for both the recording industry as well as Tollygunge film industry. He was the music director for Obaid-ul Haq's film 'Dukkhe Jaader Jeebon Gora' Nobarun' and many more but following Jinnah's call for Direct Action Day (August 14, 1946), the political situation became volatile and extremely violent. Ahad was confused and could not decide whether to stay back or leave India for good. His close friend, Hemanta Mukherjee advised him to move from Calcutta to Dhaka. Ahad had to start from the scratch again.
After Partition, Ahad joined Radio Pakistan as producer in the music department and became a key person in the musical arena of Dhaka. He was in charge of the 'Sangeet Shikshar Ashor' at Dhaka radio station for many decades. He played a major role when the think-tank of the newly formed nation was finalizing Amaar shonar Bangla, as the national anthem of Bangladesh. In fact, he set the final notation of the song and it is followed to this day. He was requested to continue his service with the Dhaka radio station and was given seven extensions.
The Bangladesh government honoured him with the Independence Day Award in 1978. He breathed his last on May 15, 1994. His immense contribution in the sphere of Rabindrasangeet in both Bengals will be remembered forever.