About Hemanta Mukhopadhyay, the god-gifted creator of immortal tunes and melodies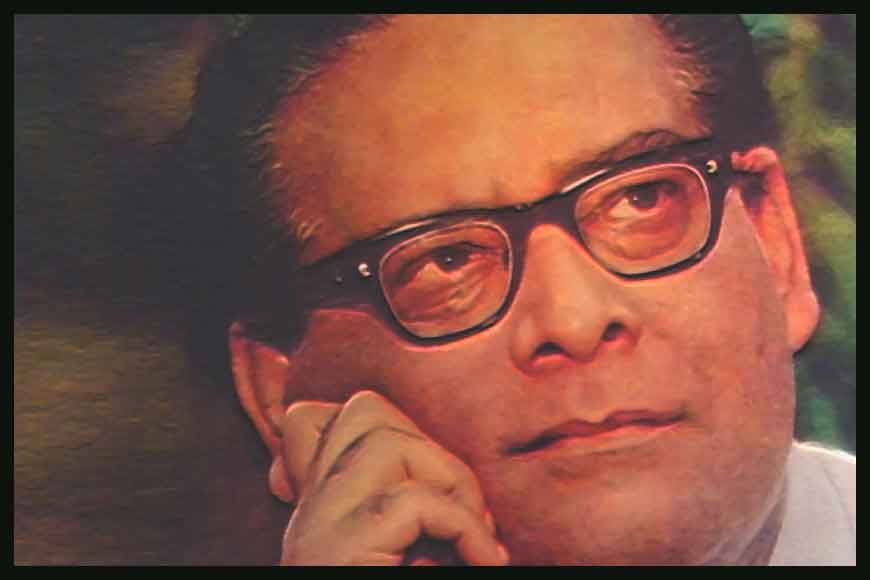 Hemanta Mukhopadhyay, the god-gifted singer who emerged as the pride of the entire nation, was not just another musician but creator of immortal tunes and melodies that still remain evergreen. Even today, we often debate about whether he was a better singer or a music composer. Despite being an artist of such extraordinary stature and reaching the zenith of success, he led a life personified by such simplicity that is quite unimaginable in modern times. He used to be clad in white shirt and dhoti; and this dress code he maintained even while travelling across the globe.
His flat was a humble abode and was not a medium to showcase his riches or luxuries. His house was always open to all. There was no humdrum about maintaining any kind of privacy. Whoever stepped into his house would feel at home and would be able to have an idea about the kind of simple lifestyle that he led. Though he loved eating, he had to follow several restrictions because of his physical ailments. I had the opportunity of having lunch with him one afternoon. His dining table was his work-table also. He used to sit on a chair and the harmonium and tape recorder would be kept on the table. After recording, the one who was learning a particular song from Hemanta da, would take the cassette away to hear the songs over and over again at home to attain a command over them before the final recording. You would always find water boiling in a pot in his kitchen. Nobody would leave his house without having a cup of tea.
Hemanta da extended his help and support to a lot of people unconditionally and silently. I have never seen him being vocal about his contributions in the lives of various people. His gentle behavior would automatically attract people to him. He loved singing for people but always maintained a strict time constraint of an hour and then leave the stage making way for other artists. He gave me the opportunity to sing for the movie Bhalobasha Bhalobasha. He gave me the songs and told me "Go back home and listen to the songs carefully. Do not sing them. I will make sure that you pick up the songs." I still remember the process. I listened to the songs carefully and went to him. He used to sing and I used to listen to me. I used to sing and he used to listen to me and make the necessary corrections. This is the way he made me sing the songs of Bhalobhasha Bhalobasha which gained huge popularity and I received a wide recognition. It has been almost 35 years since then. Even today, when I sing these songs, people still love listening to them. The songs were so magical that it has left an ever-lasting impact.
Hemanta Da loved travelling in a fiat car. He spent a lot of time in Bombay and the fiat was very popular in those days. Even a fractured leg could not stop him from singing. With a plastered leg, he would be carried downstairs in a chair from the third floor and he would go to perform in several functions in his beloved fiat. While he was singing, one would never be able to gauge the kind of happiness he was feeling from within. He would maintain a kind of composure while singing. Hemanta Da could accept both success and failures gracefully. He always had the strength to overcome failures.

There is hardly any singer who has not lent his/her voice to the songs composed by Hemanta Da. Be it Lata Mangeshkar, Asha Bhosle, Kishore Kumar, Geeta Dutt, Manna Dey, Arati Mukhopadhyay, Sandhya Mukhopadhyay, Haimanti Shukhla, Arundhati Homchowdhury, the list includes everyone.
There was a time when Hemanta Da did not do playback for Uttam Kumar. He used to sing for other actors like Soumitra Chatterjee, Anil Chatterjee, Anup Kumar, Dilip Roy, Ranjit Mullick then. Today is his 100th birthday. He spent 50 years of life in the world of music and his songs will always remain timeless. Singing Tagore's songs was like praying to the almighty for him. Even after he shifted to Bombay, he gained immense success in the songs that he sang for the various composers of Bollywood. He also produced many Hindi and Bengali films. Little do people know that Hemanta Da also directed a Bengali film called Anindita. While making 'Neel Akasher Niche', Mrinal Sen could not find a producer. Hemanta Da was his first producer. The way he supported other artists unconditionally is truly a rarity in present times. He will always reside in our hearts. His simplicity will always inspire us. Salil Chowdhury had once said: "If God could sing, he would sound like Hemanta Mukherjee."