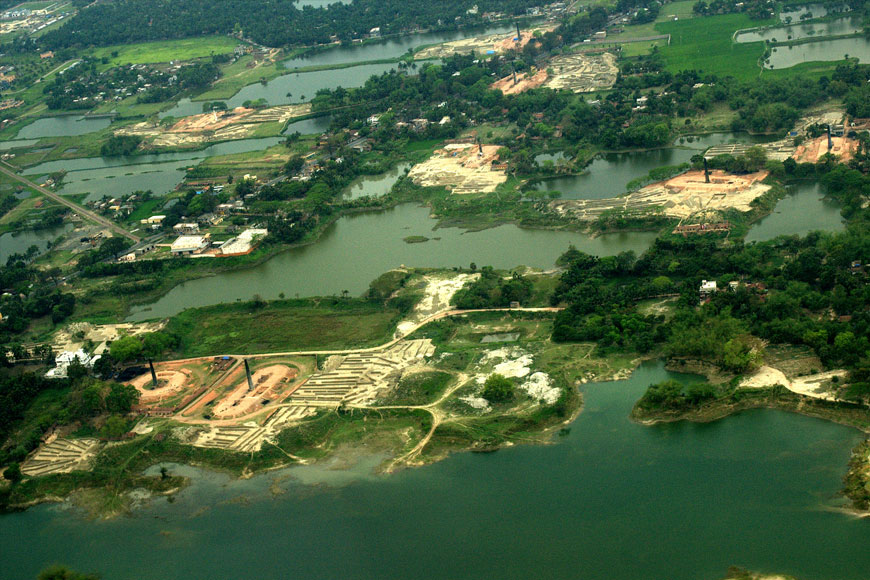 I had first visited the East Kolkata Wetlands along the Garia Panchashayar stretch during my post-graduation classes on field work. By then encroachment had already started with buildings coming up almost anywhere and everywhere. As a student of Environmental Biology, I was pretty taken aback when our professor mentioned this was a Ramsar site and by law, the structure of the wetlands cannot be changed, let alone allowing constructions on it!
Then how could the state government propose recently to carve out land from East Kolkata Wetlands to allow unhindered conversion and construction of an amusement park? Thanks to some environmentalists who actually know why these wetlands need to be saved, something that the state environment minister seems to be ignoring, the wetlands might be saved. The green activists are up in arms and say such a mindless construction will not only threaten the internationally protected waterbodies, but also endanger the very existence of the city. Terming the attempt diabolical, activist Naba Dutta of Nagarik Mancha said: "The government cannot do this. We will not allow the violation."
Spanning over 12,500 hectare across two adjoining districts, East Kolkata Wetlands, is protected by court order, legislation and international law. Land conversion and construction are barred in this ecologically fragile zone that not only sustains over 95% of the region's biodiversity, but also acts as a natural sewage treatment plant for Kolkata. Spanning 12,500 ha, this area is spread across 32 mouzas in two districts. Illegal urban sprawl had been constantly nibbling into the city's most valuable natural asset since the last decade. Now if the government joins hands to strike the final death nail, then it is not just unfortunate, but also will be a threat to the entire city. This area is naturally treats 357 billion litres of sewage, produces 10,000 tonnes of fish, 55,000 tonnes of vegetables. Environment action groups in the city have decided to move court if the government goes ahead with the proposal.
Bonani Kakkar, founder president of the NGO Public, said: 'The proposal is ill-conceived and malicious. While a wetland management plan has been devised to protect the eco-system, this is designed to destroy it.' Kakkar's PIL (public interest litigation) in 1992 helped in passing a landmark judgment that helped in protecting these wetlands and their subsequent recognition as a Ramsar site.
Green activists have also countered environment minister and mayor Sovon Chatterjee's claim that he was unaware of the proposal. But hasn't the mayor said such a thing before too? I myself was witness to cutting of 22 large trees by KMC instead of transplanting them, to build a community hall in place of a children's park. Since the trees were just chopped off within a few hours, no one got the chance to move court. However, after media highlighted this violation of green law, the mayor had said he was unaware of this whole episode, though it happened a stone's throw from his own residence!
Activist Dutta says reminds us that immediately after becoming the mayor for the second term, Sovon Chatterjee spoke about the need to regularise the building that had been illegally constructed in East Kolkata Wetlands. Later,he became Chairman of the East Kolkata Wetlands Management Authority and pushed a proposal to set up an entertainment park and flyover on the wetlands. The latest proposal in the draft tender for a management plan will remove the hurdles its way.