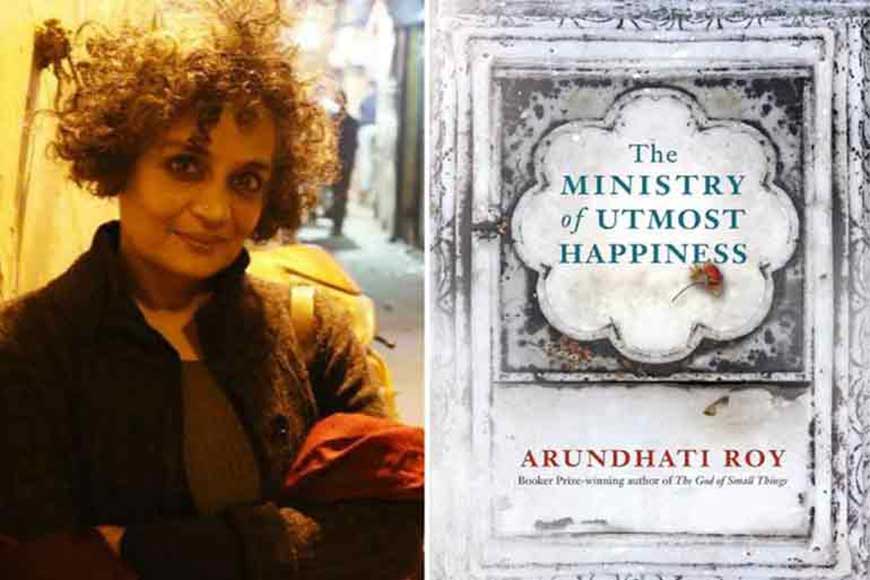 After a gap of almost two decades, Arundhati Roy's new novel has finally hit the stands. And needless to say, led to controversies.The Ministry of Utmost Happiness, her second work of fiction, is the story of an intimate journey over many years, across the Indian subcontinent, interpreted through magical realism. Her vast canvas encompasses everything, from the time of Partition to a strife-torn modern India, where war and peace interchange spaces ever so often and the characters are trapped in this world of either glory or ignominy.
The God of Small Things, had a linear pattern of story-telling. Written in lyrical prose, the story shifts between times and places smoothly and grips readers' attention till the very end. The Ministry of Utmost Happiness, on the other hand, is woven in a chaotic manner, where characters walk in and walk out of the frame and leave an indelible mark on their way. The 'State' here is a living entity of sorts, an antagonist, the 'Providence' that makes or mars lives of all. 'The vast, violent, circling, driving, ridiculous, insane, unfeasible, public turmoil of a nation,' is exploited by the State, which takes control of all the tenets of a very basic, normal human existence and forces atrocities in the name of maintaining peace and stability.
The voice of the people, the democratic rights of citizens becomea pawn in the despotic, anarchic hands of the State. Roy chooses her loose narrative form to scathinglyattack the myriad issues that India has been trying to counter since Independence. She painstakingly draws the façade of an autocratic State that has been exploiting or has been keeping under the carpet, vital issues like gross violation of human and democratic rights, a maimed and failed judicial system, unequal distribution of State wealth, acute poverty, rise in State-funded violence, practically bartering national safety, security and everything we hold dear in the name of globalization.
Arundhati, the activist argues and defends her points logically. The anti-Sikh riots, Bhopal gas tragedy, Maoist activism, violent separatist movement in Kashmir, Gujarat riots, ultra-rightist 'Hindu nationalism'-- everything has been critically assessed and find a place in The Ministry of Utmost Happiness. Her narration is not tracing a particular time frame, but rather it is a document of her take on the entire political set-up of our country.
In every part of the legendary Valley of Kashmir, whatever people might be doing-walking, praying, bathing, cracking jokes, shelling walnuts, making love or taking a bus-ride home, they were in the rifle-sights of a soldier. And because they were in the rifle-sights of a soldier, whatever they might be doing-walking, praying, bathing, cracking jokes, shelling walnuts, making love or taking a bus-ride home -- they were a legitimate target
Arundhati's magical narrative gravitates the reader's attention to penetrate and get to the very core of the story.The characters in her novel, are detached and scattered all over the canvas, yet are all united in one aspect --- they are overshadowed by State-inflicted violence, organized crime, alienation and repression. Arundhati weaves a beautiful kaleidoscope of these people whose vast sky has been hijacked by evil and nefarious elements.
Hermaphrodite Anjum, who takes shelter in a corner of a cemetery, was thought to be a male at birth and his parents named him Aftab, DayachandChamarwho works at the morgue and believes he is Saddam Hussain, Zainab, S.Tilottama aka Tilo, Musa, NagarajaHariharan, Major Amrik Singh, Loveleen Singh, Dr Azad Bhartiya, ACP Pinky, ManoharMattoo, Khadija, Comrade Lalee --- they all live and survive under the dark shadows of militancy.
Normality in our part of the world is a bit like a boiled egg: its humdrum surface conceals at its heart, a yolk of egregious violence. It is our constant anxiety about that violence, our memory of its past labors and our dread of its future manifestations that lays down the rules for how a people as complex and as diverse as we, continue to coexist, continue to live together, tolerate each other and from time to time, murder one another
Anjum's fragmented life in a Delhi graveyard, memories of Tilo's blooming love affair amid terror and secrecy in the backdrop of Kashmir find their way in Arundhati's prose. Her unique brand of humour, comes into use even while describing grave situations. The Delhi city police arrives to arrest and impose fine on Anjum on charges of illegally occupying the graveyard space.She retorts:'Told them that she wasn't living in the graveyard, she was dying in it.'
The Ministry of Utmost Happiness, documents the volatile times and depicts that face of India which is torn by violence and strife. Suppressed and crushed under the binary of corporate funds and ultra-rightist nationalistic slogans and terrorism, a fragile yet stubborn and determined India thrives and the author etches out the remnants of this underbelly in her novel.
The Ministry of Utmost Happiness
Arundhati Roy
Penguin,
Price: Rs 599/-
Original Article written by Souvik Dey Sarkar
on
www.bongodroshon.com
Translated by