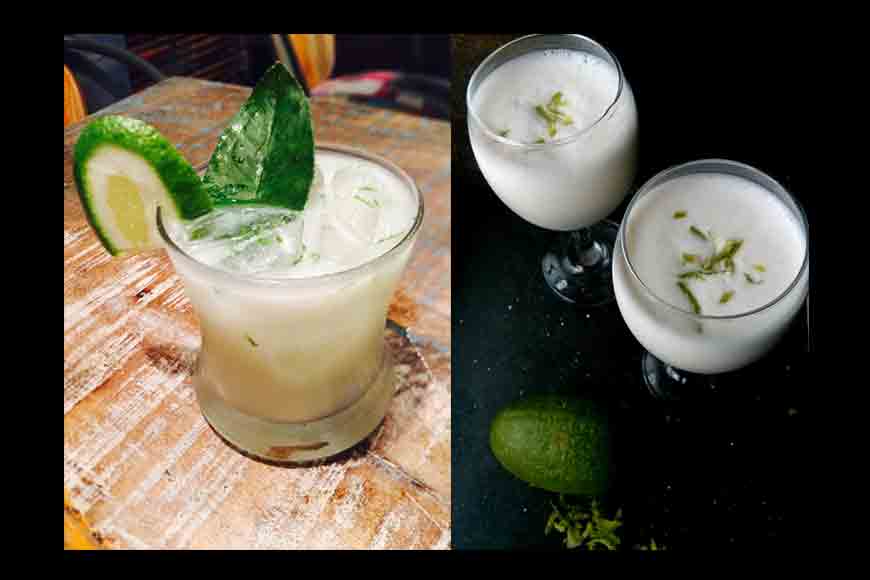 This year's Spring is 'on heat.' And Bengal is reeling under heatwave with temperature in districts like Bankura shooting to 40 degrees in the beginning of March. But the biggest trick to keep one healthy and fit and energized during these summer months is by drinking a lot of fluids. Other than litres of water, what you also need is a dash of Bengal's very own Buttermilk/Lassi, popularly known as Ghol. This cooling drink has down ages been the best friend of all those who came home after a hard day's work from the scorching heat and even for children back from school. Ghol is much lighter than lassi and other than its ingredients with a superb nutritional value, this drink also helps to keep you going all day.

Ghol in Bengal is made yet more yummy by adding a dash of Gondhoraj Lebu. Literally meaning 'The King of Fragrances,'Gondhoraj Lebuis a lime, native to Bengal. A hybrid of the simple Lime and the Mandarin Orange, the Gondhoraj Lebu is known for its wonderful fragrance, not unlike the Kaffir lime, that gives Oriental food its significant touch. Though the Gondhoraj is sweeter, both in taste and fragrance. When added to drinks and sweets, it makes for an unimaginably fragrant mix, that is both refreshing and rejuvenating.
RECIPE of Gondhoraj Ghol:
Made just with plain curd or yogurt, water (either cold, or with ice) and with some sugar, lime and black salt.
Ingredients:
• Yogurt/Plain curd – 2 cups
• Ice water/Chilled water – 1 cup
• Sugar – 2 tbsp, adjust as per taste
• Black salt – a pinch or two
• Gondhoraj lime zest – 1 tbsp
• Gondhoraj lime juice – of 1/2 a lime
Method:
1. In a blender, churn the yogurt, sugar and black salt.
2. After a minute, add the water and lime zest, whiz again until the ghol is nice and frothy.
3. Quickly add the lime juice, use a spoon and stir. Do not blend.
4. Pour into serving glasses, top with gondhoraj lebu zest, and a wedge or two.
5. Serve chilled.