Whenever you think of Bengali cuisine, dishes that are bound to flash through your mind are Chingri Malaikari, Ilish Bhapa, Kosha Mangsho and much more. But how about bringing in a change without destroying the authentic flavours? Fusion cuisine has been creating revolution in food culture throughout the world. It is an amalgamation of two or more distinctive cuisines. In today's postmodern cuisine experiments, fusion dishes are as popular as traditional ones. At a recent food festival at Aahare Bangla, a stall called Saptapadi made a mark among food-lovers by fusing international dishes with Bengali ones --- result was exotic.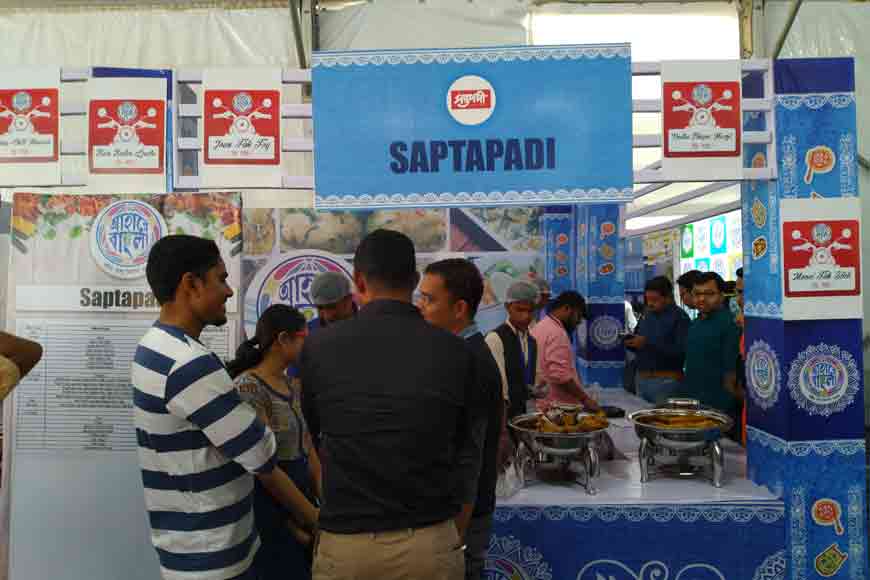 Crowd waiting to have a taste of fusion Bengali cuisine
Saptapadi offered the best concoction of global and original Bengal taste. The innovative appeal in their food menu displayed unique flavours through Bengali-Western combo delicacies that broke the monotony of regular dishes. Just imagine, tasting Vodka Bhapa Murgi, that was an instant hit among customers. It oozed of unique tangy vodka flavour mixed with the ever-eternal appeal of Bengal's shorshe. Just like one makes fish paturi, these flavour laced chicken pieces were steamed within banana leaves and were heavenly.
Varieties of fusion food
Another innovative dish to tickle your taste buds was Beer batter loitta that almost melted in your mouth. The beer flavour enhanced the taste of the simple Loitta Fish to an unparalleled dimension. Murgi Chingri Loplypop was a blend between chicken and prawn. However, Saptapadi's Crispy Chilli Mourala topped the list with its spicy taste that was heavenly to say the least. The other innovative starters included, Jowan Bata Fish Fry, Bhetki Chingri Popcorn and Moori Fish Stick. The aroma of these fusion dishes was irresistible and they also came at friendly prices, mostly within Rs 120.
"The variety of fusion food we have featured this time has truly turned out to be a success. The idea was to bring in a change in the way people look at Bengali cuisine. We have received great responses so far," said Ranjan Biswas, a volunteer at the Saptapadi stall. Even the customers were satisfied immensely. "Saptapadi has come up with something unimaginable. I have travelled far and wide but have never tasted something as innovative as Vodka Bhapa Murgi and Moori Fish," said Joyonto Banerjee, who had travelled all the way from Ballygunge to taste them.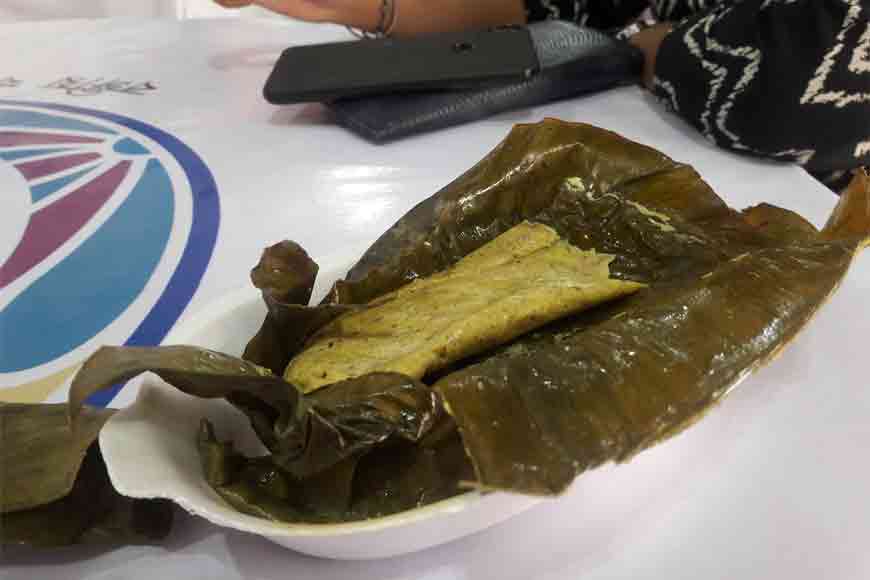 Unveiling Vodka Bhapa Murgi