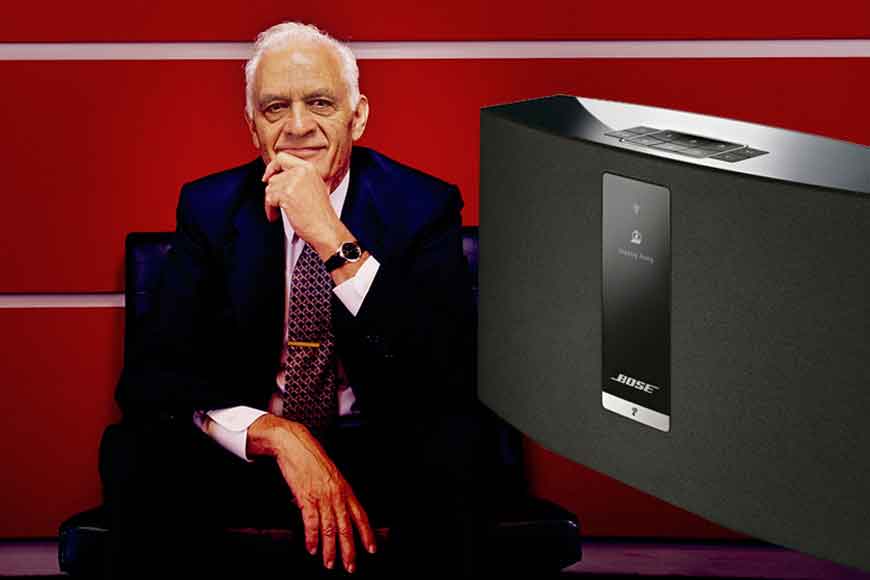 Have you ever stood outside the exclusive Bose Audio shop on Park Street and wondered whether to get in, considering the high prices of Bose Audio systems, that are a bit too heavy for a commoner's pocket. May be, you wished to buy these international standard audio systems from a Dubai shopping mall or from a Singapore electronics store. But did you know these world class audio systems was invented by a remarkable Bengali scientist, inventor, academic and entrepreneur,Dr Amar Gopal Bose? He founded the Bose Corporation and literally revolutionized audio systems and speakers.
His father, Noni Gopal Bose, was a well-known freedom fighter from Bengal, who fledand took refuge in the US to avoid persecution by the British.Amar Bose was born in Philadelphia.It was at the age of 10, that Bose had gone on a boy scout trip, where one of his classmates brought a hobby radio communication kit. They drove a couple of antennae into the dirt and started talking to each other. Bose got hooked to the system.
Meanwhile, the World War II came to an end following unconditional surrender by Japan. This was a tough time for America and worse for immigrants.Bose's father was extremely worried because his import business was shut down by a shipping ban. At this point, young Amar Bose devised a plan to pitch in and help support the family. He was only 13 when he displayed his sagacity and astute business sense and sought help from his family and friends and began fixing radios in his parents' basement. The hobby soon became a business venture. Bose's father was highly impressed by his son's efforts and decided to help him pursue higher education.
Amar Bose proved to be a brilliant student, who enrolled at the Massachusetts Institute of Technology for a Bachelors degree in Electrical Engineering. He also went on to finish a Masters degree and a doctorate from MIT. After Bose earned his PhD from MIT, he gave himself a present: a high-end audio system. But alas! He was not happy with the sound and he knew exactly how they ought to sound. His parents had made him take violin lessons, when he was young and he had developed an ear for music and had been interested in the workings of sound.
Finally, the Bose Corporation was founded in 1964 that went on to get contracts from NASA and US military for their path-breaking audio communications and loudspeaker design. Today, Bose iPod docks, surround-sound home entertainment speaker systems and noise-cancelling headphones dominate the international market. Bose's loudspeakers are used in Staples Center in Los Angeles, the Sistine Chapel, Masjid-al-Haram, the grand mosque in Mecca and at several Olympic stadiums. Bose noise cancelling headphones are worn today by the military and professional pilots and space shuttle astronauts. Its car audio systems have been factory-installed in luxury brands such as Maserati and Maybach. And it still sells updated versions of its first product, the Bose 901 speaker.Through sound waves thus a Bengali had conquered the world once upon a time and his inventions still reign the world of sound.