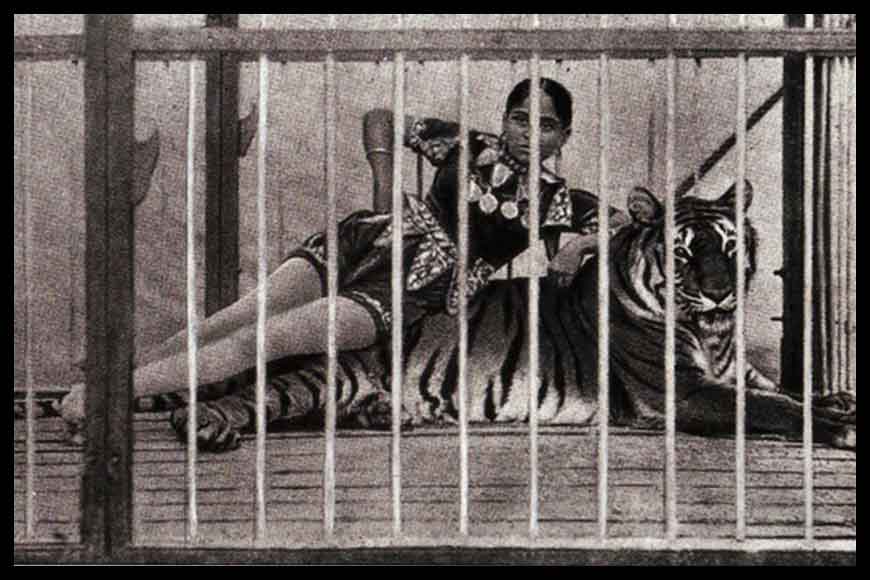 Imagine in the 19th century, a saree-clad Bengali woman in the Circus Ring, taming and showing Royal Bengal Tiger Shows! Well, Sushila Sundari was one such woman. She was the first sari-clad Bengali woman to perform in circus with two Royal Bengal tigers. It was 1880s. She was born in Kolkata, Bengal Presidency. As Kolkata became the centre of trade and commerce in India, the circus industry also became popular.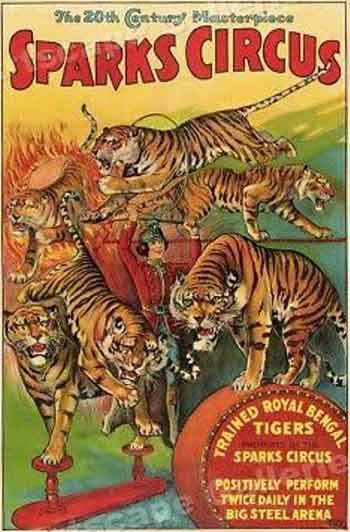 In the 1870s, International circus companies started coming to perform in India. Circus groups such as – Wilson's Great World Circus and Chiarini's Great Italian Circus were known to have performed in Indian subcontinent. In the 19th century early circuses in India were owned and operated by Indians in the Bengal Presidency, the Bombay Presidency and the State of Travancore (now Kerala). Professor Bose founded the Great Bengal Circus in Bengal Presidency. Malabar Circus company, started by Periyali Kannan and Vishnupant Chatre, known as the father of the Indian circus performed at the Bombay Presidency. But it was not just world of men. There were women too. And Sushila Sundari was one of those first Indian women of the Circus World.
Sushila was trained by Priyanath Bose or Professor Bose who was the first Bengali circus proprietor and ring master. Bose was a pioneer in Indian circus industry. In 1887, his Great Bengal Circus with an all-Indian team, toured Bengal, India and South East Asia. And Sushila remained a part of Great Bengal Circus act. Sushila was known for her two major acts. One of them was to fight with two huge royal Bengal tigers and a lion, followed by her second act where she buried herself alive for more than ten minutes under 4 feet of sand. She changed the perception of the Bengali ladies as delicate. She highlighted their strengths. Sushila was a magnet for gossip for the press in Calcutta and even in England.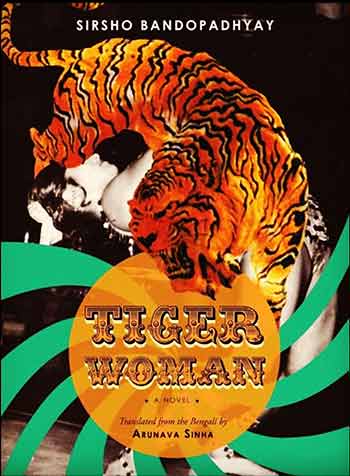 Writer Sirsho Bandyopadhyay explored Sushila's life in his book Tiger Women. Sushila Sundari was known for her daring acts with the Royal Bengal tigers and was the real star of the circus.
An article on Indian circus by Anirban Ghosh, titled 'Who thought a sari-clad Bengali woman in slippers could terrify two man-eaters?', states: "Before Fearless Nadia, there was Sushila Sundari (Sushila the beautiful), a Bengali woman who challenged lions, tigers and the Hindu revivalists."
Sushila also had a colleague named Mrinmoyee. She was equally strong and her image on the circus' posters was the image of the Mother Goddess riding a lion. She represented free 'Mother India.' In 1906, she was ordained in the Hindu Patriot. In a pioneering book, Sexuality, Obscenity, Community: Women, Muslims, and the Hindu Pubic in Colonial India, historian Charu Gupta writes: "Female icons, particularly of the mother as a national symbol, have been shown to coexist uneasily within masculinist ideologies of the nation, so that women occupy an unstable position within the imagined community".
Sushila Sundari's strong presence in the Indian circus scene was highlighted in a particular newspaper clipping from the Englishman, dated November 21, 1901 read:
"What impresses the observer most, are the performances of Miss Sushi with the two Royal Bengal Tigers. Hindu women are notoriously most timid but in the person of Sushila, there is one who, with the utmost fearlessness, enters the den of two apparently savage beasts, without either whip or any kind of defensive appliance, and goes through her performance with these animals with a nerve and fearlessness really startling to witness."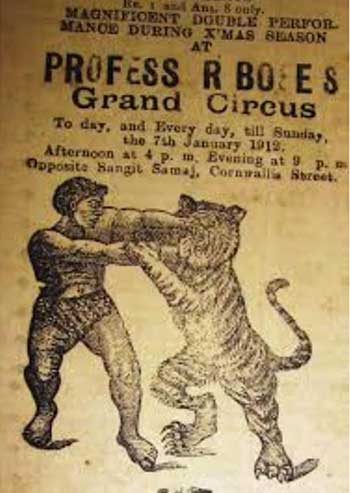 Professor Bose's Great Bengal Circus had definitely redefined the role of Indian women in circus but he also had men in circus shows. In January, 1900, in a circus show at the Maidan, Bir Badal Chand wrestled with a Royal Bengal Tiger. While the story of Sushila's contemporary was a daring man named colonel Suresh Biswas (1861-1905). He ran away from home to become a wrestler and animal trainer in Kolkata. His adventurous life is every man's dream. He performed in India, Europe and travelled to USA. He defied the colonial stereotype of Bengali effeminacy. He lived a life full of adventures and died in Brazil, as a lieutenant. In 1893, he was instrumental in quelling the Brazilian Naval Revolt.
With Sushila and Suresh, Royal Bengal tigers also became an integral part of circus acts across the globe. They drew crowds and made every evening memorable for circus goers across the globe. Without them, the stories of global circus remains incomplete.
Story Tag:
Famous Bengalis, Sushila Sundari