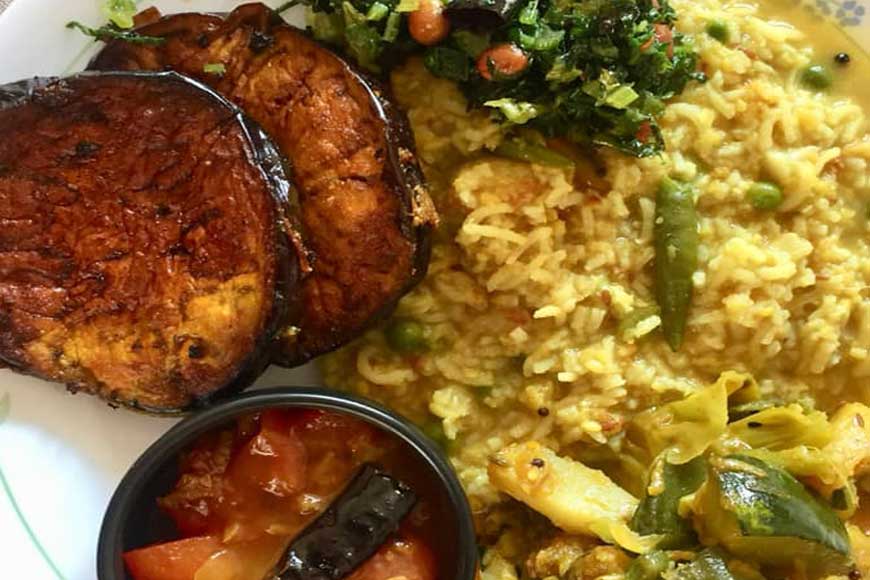 Should we call it soul food? Comfort food? Or just an easy recipe to soothe you down when you catch a cold? In whichever way one defines this mixture of rice and lentils, Bengal's khichuri is one of the most delicious dishes of the world. So much so, that in 2017 it received the National Food of India tag along with other forms of khichdi made in other states. But there is a fine dividing line between Bengal's khichuri and the usual khichdi of India. Ours is laced with a lot of romance and love, for Bengali households usually prepare a khichuri lunch during monsoons, with the dark clouds carrying the love lost tales of Meghdoot and pouring rains raising a lilting melody on the window-panes.
Romancing Bengal's monsoons when the whole state turns lush and green with a bowl of hot khichuri is something that none of us can miss. Even five-star hotels of Kolkata these days are holding Khichuri festivals during the rainy season. In Bengal we make the khichuri with Sona Moong Dal (Moong lentil) and Govindobhog rice, adding a dash of aromatic ghee to it. As accompaniments beguni and peyanji, work as perfect companions. They are fritters made from brinjal and onions, giving a crunchy and crispy touch to the soul food.
Why not try it at home this monsoon? Here is a simple recipe.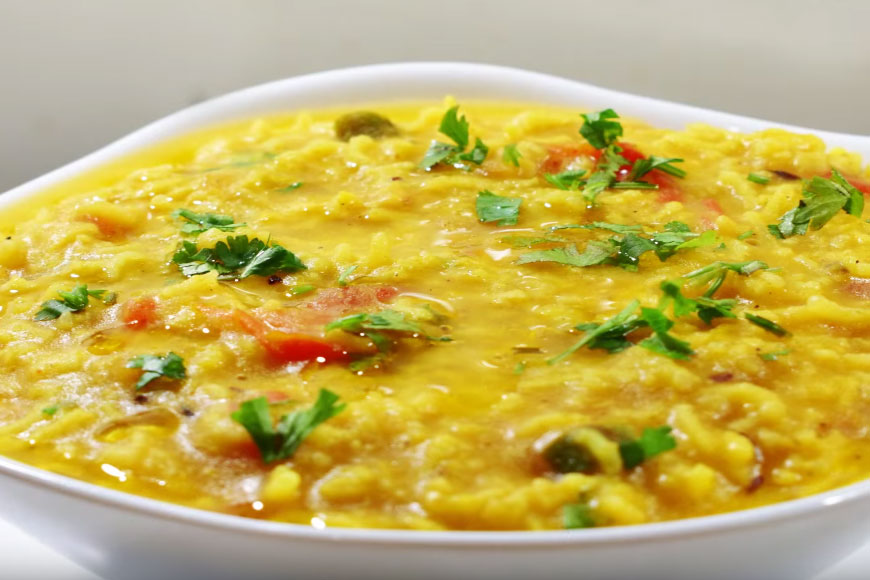 Ingredients
1 cup – Sona Moong Dal
½ cup – Rice, washed and soaked in warm water for 20 minutes
1tsp – Turmeric powder
1tbsp – Oil
¼tsp – Asafoetida
1tbsp – Ginger, garlic and green chili, crushed
1tsp – Mustard seeds
1tsp – Red chili powder
1tsp – Coriander powder
Additional salt if required
3tbsp – Ghee
1tsp – Cumin seeds
3 – Red chilies dried

Method
* Pressure cook the dal and rice by adding turmeric powder and salt.
* In a pan, heat vegetable oil and splutter mustard seeds in it. Add asafoetida and chilies.
* Once they turn translucent, add ginger-garlic paste and cook for 30-40 seconds.
* Whisk the cooked dal and rice nicely and add water to it.
* Transfer the boiled dal and rice to the tempering and cook until it starts bubbling.
* For the final tempering, melt ghee in a tempering vessel and add cumin seeds and dried red chilies.
* Once it splutters, pour this tempering on top of the khichuri.