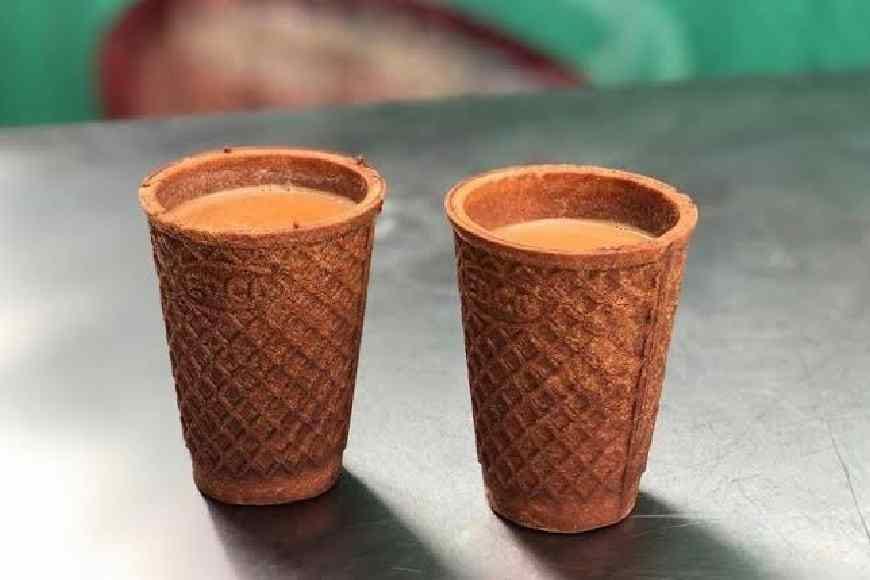 Ever since the use of plastic dawned, waste management has become a lot more tough because plastics do not decompose for years. Plastic is still used in almost every sector around the world, principally because of its diverse nature. It is true that plastic is easier to obtain, lowers the cost of products and can be used in multiple ways, such as, the use of Teflon to coat cookware in order to make them non-stick, despite repeated warnings that Teflon might be one of the contributors in causing cancer, it is still one of the most successful and useful innovations. But plastic is overly harmful for the environment as well as the human body. Hence, the society has become active to curb the plastic menace by opting for the alternative options of plastic.
It is unbelievably true that amongst everything that we use in our everyday life, plastic covers more than 80 percent of it. From packaging to carry bags to even tea-cups. Specially in a country like India and a state like West Bengal, where every other person has innumerable cups of tea from roadside stalls daily, use of tea cups is almost a necessity like drinking water. When visiting a tea shop on the streets of Bengal, it is noticed that most shops serve tea in small earthen pots what we call Bhanr. The tradition has been the same for generations. But over the past decade the Khullar or Bhanr has been replaced by the ominous plastic and paper cups. When plastic was newly used for serving tea, many preferred it, whether be on moving trains or in roadside dhabas, everywhere plastic and paper cups became popular. But with increasing awareness plastic got replaced by paper cups which were considered better because they can be recycled. But that too caused land pollution.
As Dr Malini Sardar, practising in a suburban hospital of West Bengal pointed out: "It is not just about land pollution, or blocking of drain, it is also about chemical reactions that the warm tea can cause when it interacts with plastic and even with paper. Having anything hot from the plastic cups can leach micro particles which are greatly harmful for the body. People have to understand that. I still see a rampant use of such cups everywhere, and only a decade back it was just earthen cups, extremely scientific and healthy and bio-degradable."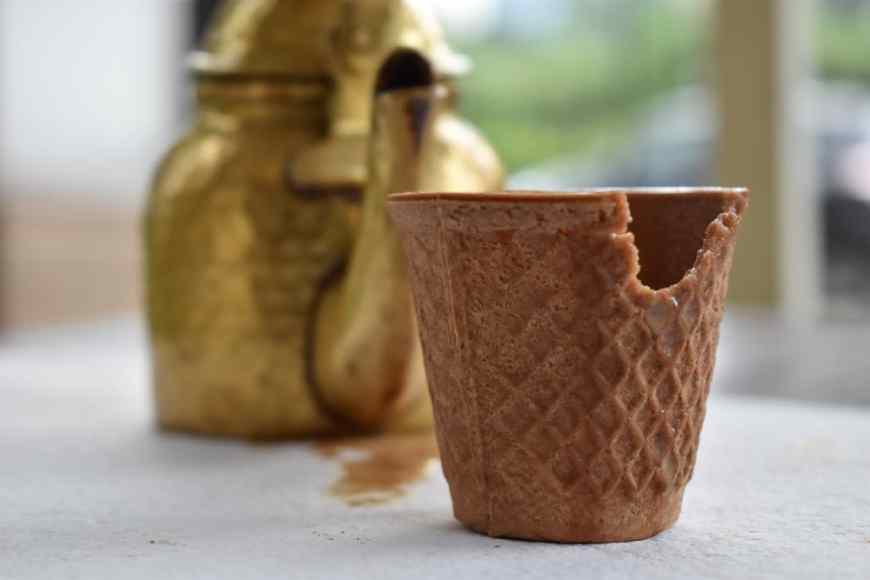 But just like there are many who do not care about the environment, there are again some people who are going the extra mile even in semi-urban areas to bring in innovative ideas to make bio-degradable tea cups. Like edible cups are being introduced to the mainstream to fight the ever-lingering issues of waste management and plastic use. When the cups, in which tea or coffee is served, gets eaten up as biscuits then the problem of wastage becomes nullified as well. Isn't that innovative?
Employing such a concept, a tea seller of Shantipur in Nadia, has come to the limelight recently. His tea shop is becoming more and more popular, not because of the tea, but because of the cup in which it is served. In this shop, tea is served in cute edible wafer cups. Ghanashyam Bagdi, a local looked ecstatic while waiting in the queue. "I do not mind waiting infront of the shop every morning to grab the tea from here and that's because of the cup. In a way such an 'Edible Biscuit Cup' ensures that we do not have to buy a separate biscuit," he adds smilingly. As Bagdi said every morning locals throng to the shop just to order a cup of tea and taste the edible cup along with it.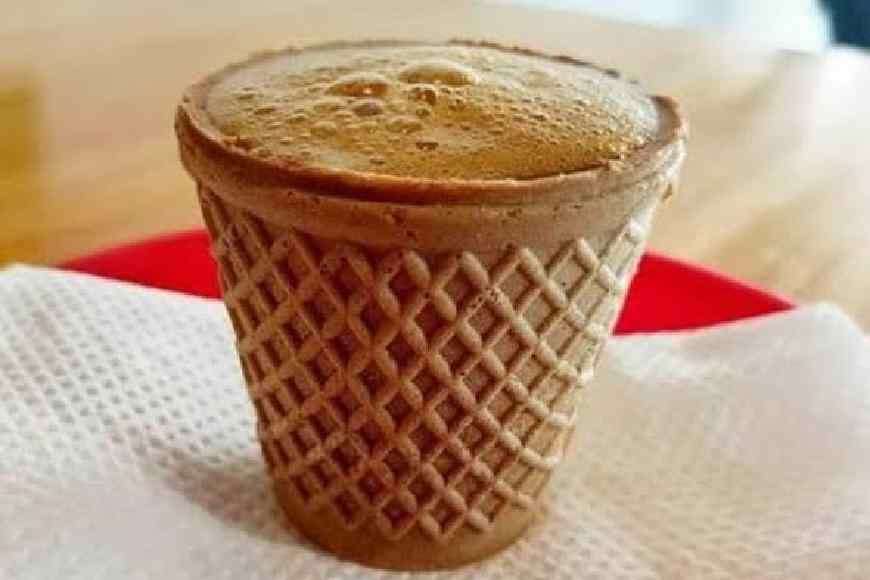 The owner of the tea shop got inspiration from social media. "While looking up general news, one day I suddenly got the information that edible cups are a thing which are available in North India and that many roadside dhabas are using the same. Such a cup is made of healthy ingredients like Jowar, Bajra and Ragi, which are staple cereals of North and Western India, quite similar to the ingredients which are used in the making of biscuits. Initially, I decided to bring the cups from North India but now, I have found a place in Kolkata's Burrabazar from where I order the cups," the owner said. Each cup of tea in this shop costs Rs 12 and each cup of coffee costs Rs 15. How come people spend so much to buy tea or coffee when they are available at other places half the price? "It is totally reasonable as the biscuit is complimentary with every cup," says Bagdi.
Environment activist Amitava Jana says: "Such initiatives in semi-urban and rural areas is extremely welcome, because these are areas where regular garbage disposal is a huge issue due to lack of infrastructure and everywhere one finds plastic strewn that blocks the drainage system. I think many roadside tea stalls in Kolkata too can implement such a tea cup. We have to think of future and also about one's health issues."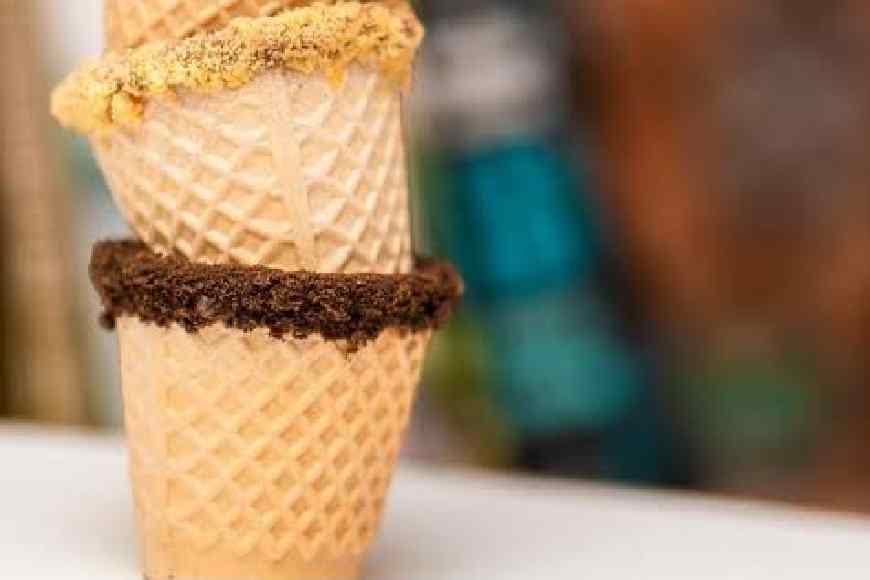 While some customers are not happy with the price but many others are happy with the step. There is a saying in Bengal that one should not have tea on an empty stomach. "Now we have a potential solution to that as well, as the cup is a biscuit that cannot be refused," says the happy owner. Such new initiatives are always welcome as these enable us towards a brighter and sustainable future. More and more people are being drawn towards such concepts which are largely important for a greener and cleaner environment. This one small change can affect the whole scenario of waste management. Such an initiative should be taken up by every other tea shop in every little locality of Kolkata.