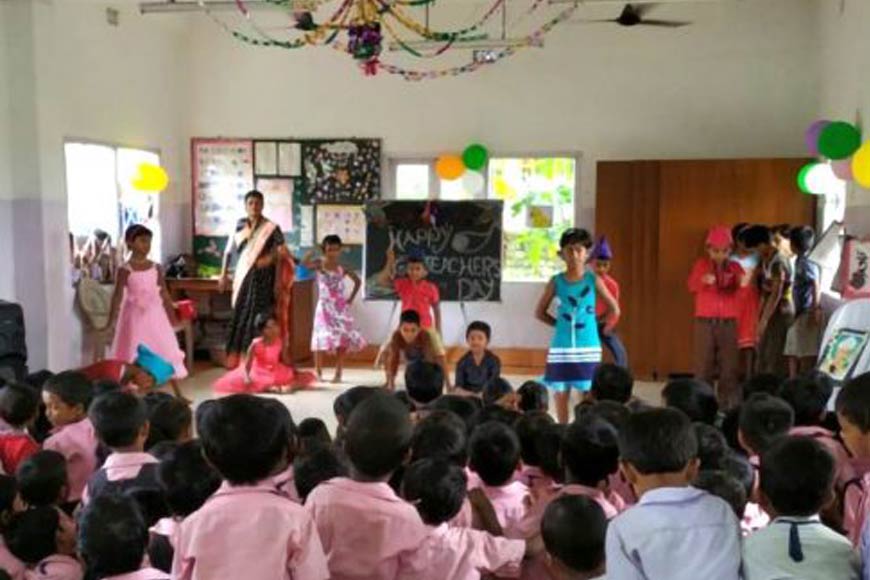 American non-fiction author and journalist Richard Louv is best known for his book, 'Last Child in the Woods: Saving Our Children from Nature-Deficit Disorder,' written in 2005, which investigates the relationship of children and the natural world in current and historical contexts. Louv coined the phrase 'Nature deficit disorder,' in the book based on his observation that people, especially children, are spending so little time with nature that it is acutely affecting their behavior in negative ways making them unable to achieve a peaceful mind and happiness.
In contemporary India, urbanization is the greatest land usurper. Kolkata's spreading urbanization, however, has been going on for at least half-a-century. Since the 1951 Census, the central city of Kolkata has accounted for only 19 per cent of the urban area population growth and has added nearly 1,800,000 people while the suburbs have added approximately 7,650,000. A study has shown that over the last 30 years, this city has expanded over almost 8 sq. km area due to the reasons like high population pressure, industrialization, new family structure, housing investment etc. Peripheral villages have been absorbed into the ever-expanding city. People in such villages find themselves trapped between the blurred boundaries of urban and rural, traditional and modern, the individual and communitarian ethics.
Since time immemorial, humans have lived harmoniously in the midst of nature but now with the fast-paced urban encroachment into rural areas we are losing our connect with nature. Lack of exposure to nature is not only affecting the mental and physical well-being of children but is affecting their all-round development as well. However, isolated but determined do-gooders are working hard to reverse the situation and lead children to the lap of nature.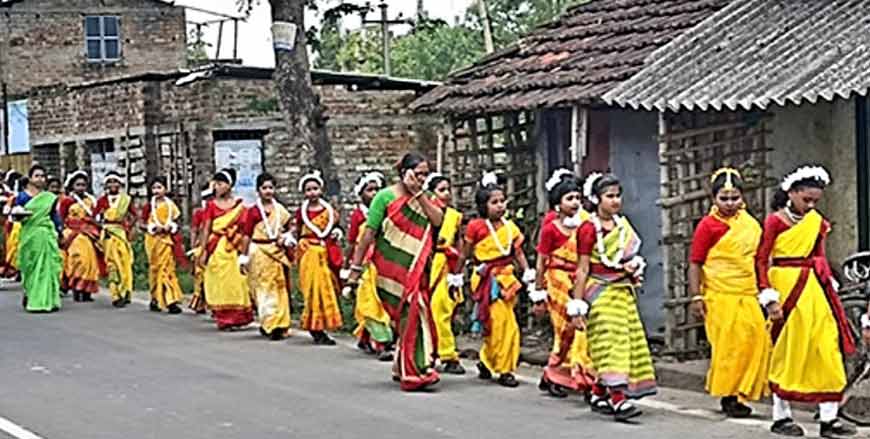 Bhagabatipur is a tiny hamlet and it takes 15 minutes ride on toto from Lakshmikantapur in South 24 Parganas to reach the village. You can hear the wind in the leaves, and on that wind travels the screams of little children playing in the distance. There is a flurry of activities going around an eight-bigha plot. Young Asoka (Saraca asoca) and Akashmoni (Earleaf Acacia) plants are tossing their heads in the wind. This is an afforestation programme where saplings are planted following the Miyawaki method. The Miyawaki method is a panacea for urban woes. These forests have 30 times more trees than other plantations. The method involves planting two to four trees per square meter. Miyawaki forests grow in two to three years and are self-sustaining. They help lower temperatures in concrete heat islands, reduce air and noise pollution, attract local birds and insects, and create carbon sinks. The method advocates the planting of diverse native species, thereby bringing in more biodiversity in comparison to monoclonal plantations.
Vegetables are grown on plots adjoining the plantation. And amid this greenery, there is Khelaghar, a school for children. Around 800 children from 90 villages in Laxmikantapur area are studying in this primary school. The school has 18 teachers and caters to students from kindergarten to Class V. Mid-day meal is provided to all pupils attending school. However, 'Khelaghar' is quite different from the other conventional schools.
The Khelaghar school authorities have a specific target: they want to familiarize children to nature, and live and love the bounty gifted to us by Mother Earth. Rabindranath Tagore was a pioneer in education for intercultural understanding and peace, for respect and intimacy with nature, for rural reconstruction and social engagement and for artistic abilities and creativity. In one of his writings, he discussed about the difference between children and adults requiring different methods of learning. While adults may read books and while their learning is motivated by a clear purpose, children require indefiniteness and learn mostly unconsciously. According to his "method of nature," guessing and trying out are preferable to explaining; unconscious learning and sudden surprises are preferable to focused effort; and experiencing and discovering the world first hand is preferable to books. Tagore believed learning by the "method of nature" will allow children to develop their creativity and to apply what they have learnt.

Children at Khelaghar are given the liberty to explore and learn from nature. No environmental science books can be a substitute to what they learn first-hand from their natural surroundings. The school has been organizing an annual theme-based 'Aranya Soptaho' (Forest Week) in July and it is carnival time for all at Khelaghar. They run around the playground, they trip, they fall, they get up and run some more. They believe everything will be all right. They feel capable; they let go. Little girls dressed in bright yellow sarees and restless boys in colourful kurtas swarm all around. Their teachers guide them as they take out processions, singing and dancing merrily without a care in the world. The sweltering heat fails to impact the enthusiasm of the little munchkins.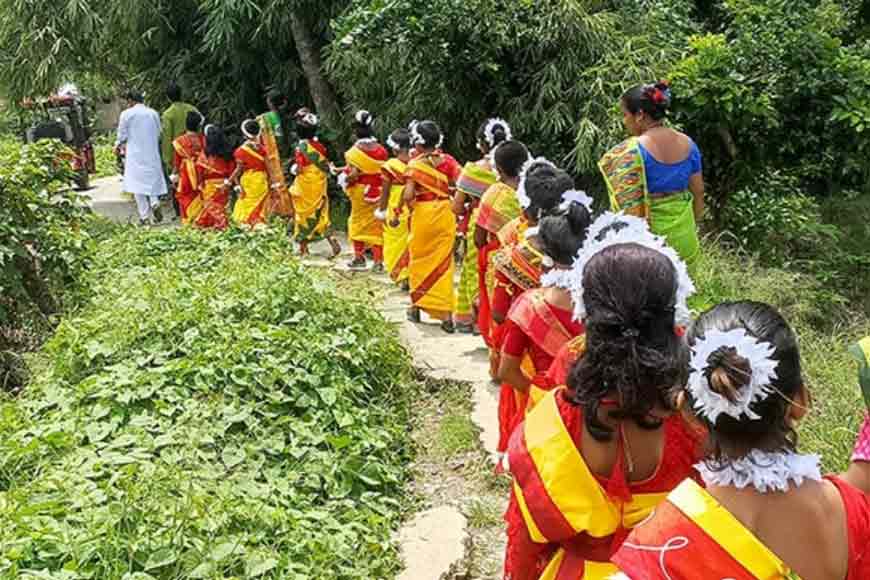 Khelaghar project was initiated 20 years ago at Raghunathpur in Kulpi Block, South 24 Parganas. The next was launched at Bhagabatipur in Lakshmikantapur. Another Khelaghar school is running successfully at Joynagar. Every year in July, a specific theme is chosen to celebrate Forest Week. This year's theme was 'Viswabhara Pran' (Universal life) and the carnival was held between July 13 and 20. Kids dressed in conformity with the theme and participated in anti-plastic promotions. This year, for instance, on the last two days of the festival, children visited the area adjacent to Laxmikantapur station to engage and educate local communities on plastic waste, urging them to control plastic pollution. But the highlight of the annual festival is 'Dance and Plantation,' which is celebrated in the same way as 'Vriksha-ropan' festival, introduced by Rabindranath at Santiniketan. About 80 to 90 school children, dressed colourfully dance rhythmically as they cover a two-kilometer path to a plot adjoining Bhagabatipur to plant saplings. The saplings are carried on a palanquin. After planting, the students take the oath of 'Pancha-Bhoota.' (Pancha Bhoota are the five great elements, also five physical elements, which is the basis of all cosmic creation. These elements are: Prithvi/Bhudevi, Apas/Varuna/Jal, Agni, Vayu, Akasha/Dyaus). The annual festival has garnered a lot of enthusiasm among the locals and many voluntarily attend the 'Vriksha-ropan' ceremony to encourage the children. The students know the importance of greenery and throughout the year, they enthusiastically plant saplings on their school premises.
Khelaghar continues to play a leading role in the field of primary education. Here, the students are not force-fed information. Rather, they are encouraged to explore on their own and gain knowledge and wisdom from their surroundings. The method of teaching here is innovative and teachers impart lessons in the most scientific manner, keeping in mind the individual requirements of each student attending a class. The schools have smart class rooms equipped with computers as well.
The entire school project requires a huge amount of funds. The Khelaghar management runs two private e-schools in Kolkata and a major chunk of the income generated from these two city schools are channelized to run the rural projects. Apart from this, the produce from the vegetable gardens adjacent to the school take care of the mid-day meals. In fact, the authorities are trying to establish each Khelaghar as a self-sufficient unit. They have plans to set up more such schools in the villages of Bengal and usher in a 'green revolution' of a different kind.