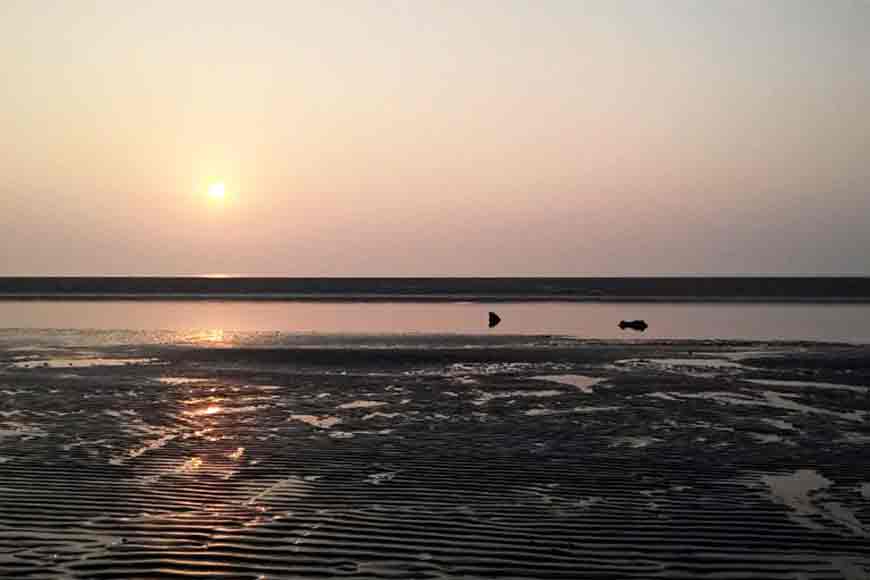 It was a day after Kojagari Purnima (the Sharad Purnima, when a harvest festival is celebrated on the full moon day of the Hindu lunar month of Ashvin in September-October). As evening descended, the tranquil beach bathed in moonlight, looked magical. Fairies seemed to descend from the sky with their magic wands and spread liquid silver everywhere. This is the ethereal beauty of Henry's Island.
Ensconced amid umpteen pisciculture projects, this is a stunning spot for a short vacation. The island derives its name from a 19th century European ornithologist, who wandered on the virgin beach with binoculars in hand. But even without binoculars, the off-beat beauty of the mangrove-surrounded beach is hard to find anywhere else. Aline of palm, goran, hetal and sundari trees stand like a protective wall on one side and the Bay of Bengal on the other. But the tranquil sea is a great distance away from the island and looks like a landscape painting. One can walk through the muddy patch to get a closer look at the blue waves.
We went close to the sea at dawn and clicked to our heart's content as the sun gradually emerged on the horizon amid myriad colours. The island is also home to red crabs and pristine white beaches are often hued by shifting tinges of red as they move all over in a flurry of activity.
Oh! I almost forgot to share the wonderful experience of watching fishermen returning with their catch at dawn. We decided to buy fresh fish from them. We bought a huge tilapiaweighing close to two kg. There is a watch tower and sumptuous meals can be ordered from 'Sundari' or 'Mangrove', two hotels managed by the State Fisheries Development Corporation.
Where to stay and how to go:
Bookings for 'Sundari' and 'Mangrove' can be made directly from the website of the State Fisheries Development Corporation Limited or from Bikash Bhavan, 1st Floor, North Block, Bidhan Nagar, Calcutta: 700091. Telephone: 033 23583123
Henry's Island is situated at a distance of about 130 kms from the city by road. If you go another 2.5 km further, you come across the well-known sea beach of Bakkhali. The place can be reached directly via bus originating from Esplanade.