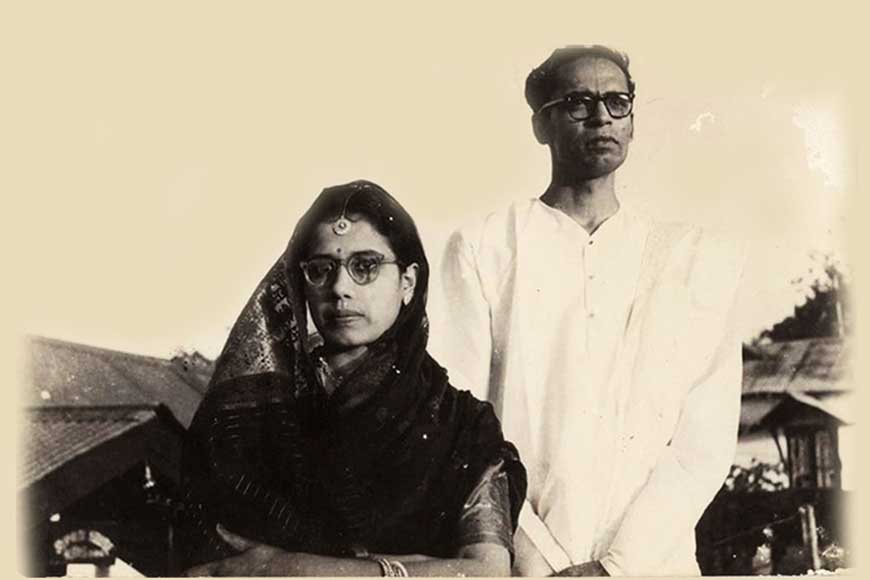 Ritwik lovingly called her 'Lakshmi' and sometimes 'Das Kapital.' Letters would arrive via post from Calcutta, Ranchi, Pune, Delhi… addressed to her in these names. He never stopped writing letters. Despite acute financial stress, his dreams soared in the boundless horizon and he fantasized about a normal, peaceful happy family life. His life-long quest never ceased till the very end and curiously, they were both very open about their relationship – right from falling in love to marriage to their ego, disagreements, love, and all the emotions they shared with each other. When two people fall in love, they become oblivious of everything around them but that was not the case with these two lovers. Despite their personal bonding, they sincerely believed the entire universe as their family. All the people who came in their lives were regarded as their own and they were moved by circumstances occurring in other peoples' lives. Ritwik's love story was a reversal of conventional romance.
His beloved Lakshmi knew the joy of embracing the true love of life through loving people. Maybe, it was her instinctive deep-rooted faith that lent her the power to accept Ritwik whole-heartedly whose billowy and totally chaotic life floated in the midst of a vast, unending sea of poverty and frustration. This acceptance of Ritwik, the born bohemian, by Surama was an immensely favorable decision that influenced Ritwik in many ways. He wrote: "You are an invaluable treasure in my life. I am certain I don't want anything else. I feel all my desires fulfilled when I realize I have a friend/ partner who can comprehend and empathize with my most bizarre and fantastic emotions with the light of her affection." In other words, she is a person before whom he can open the lid of his gamut of core emotions without any hesitation. One does not need to extinguish one's inner feelings by force because of the other person's inability to comprehend or reciprocate. All the stresses of life are eased by loving her – Surama is just that, she is like a river, like a tree that provides shade and comfort to a weary traveler.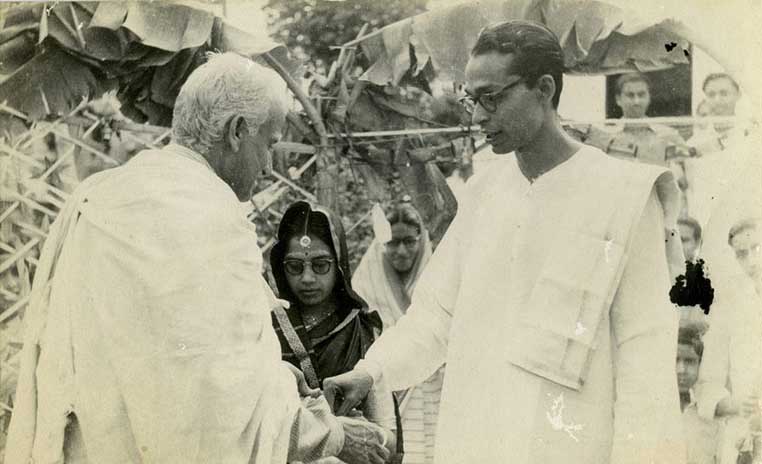 The year was 1955. Work on 'Oraon' was over. After completing an exhausting schedule, Ritwik's weak constitution could not bear the fatigue of the 250 mile-long journey from Ranchi. Suddenly he developed acute pain in his legs followed by a high fever. Amid this discomfort and stress, he needed to vent out his frustration and he dashed a mail to Surama, spewing fire:
Ritwik Ghatak with Family. Seen here are Ritwik Ghatak with his wife Surama Ghatak and three children; Samhita Ghatak, Ritaban Ghatak and Suchismita Ghatak. (1963). Photo Courtesy: Samhita Ghatak/Ritwik Memorial Trust. @irfanrstv @_AdilHussain @atulkasbekar @ShoojitSircar pic.twitter.com/YbSuWBwUG2

— Bollywoodirect (@Bollywoodirect) November 25, 2017
'You didn't bother to write a letter to me in Ranchi.
... I'm very satisfied with the work that I did here. Everything had to be done in such a tearing hurry that it was not possible to give them the respect and honor they truly deserve. It was a vast treasure trove that I had discovered yet I had to be content with whatever little I could gather and depict. However, from the point of their needs and the requirements of the city intellectuals, first-class work has been done. They (the city's elite intellectuals) have never ever peeked into their lives before. So the film is bound to get a very good audience response. There is a vast unexplored wealth of entertainment. I shall return and tell you about their exquisite dances. And their children are so uniquely beautiful! I came in contact with real people here. So many tiny incidents occur within the blink of an eye that leaves an indelible mark in the deep crevices of the mind. Each human being is unique and after every encounter, I feel so enriched. My country is indeed so affluent – truly rich in human resources.

For the time being, my chalice is half-filled with the myriad experiences I gathered here and it will be full when I reach Calcutta and shares these with you. Now the main reason for writing this letter is -- I suddenly started feeling terribly distressed as I lay alone in the hotel room. The others have taken this opportunity to go for a short stroll in the vicinity. My fever is reducing and I am slowly recovering. I can see Trikut hill in the distance. Gusts of wind is blowing across the vast empty field and shaking the crimson mahua and palash trees. The dry brown-yellow leaves are floating in the air aimlessly. Today, the first wind of the spring season is blowing and I am getting restless with a pull in my heart's strings and a strange uneasiness is taking hold of my entire being…."
Born in Shillong, the 'Scotland of the East,' Surama, nicknamed Lakshmi, spent her youth in this beautiful hill station. Surama was in her maternal uncle's house at Sylhet (now in Bangladesh) with her mother, Supriti Devi when the latter had typhoid and she succumbed to the infection. Surama was only 12 years old then. She came back to live with her father Kumudaranjan Bhattacharya in Shillong. Kumudaranjan built a three-story house at Rilrong in Shillong. Surama was introduced to literature and skills of recitation by her father and her mother inculcated in her the seeds of patriotism. She was admitted to Lady Bean College for her graduation but in 1949, she got involved with the Communist Party. Despite her father's strong resentment, she was arrested while working for the party underground workers in 1949. She was imprisoned for two years and then her father compelled her to leave Shillong and move to Calcutta.
At that time Ritwik was a leftwing member of the Indian People's Theatre Association (IPTA), the cultural wing of the Communist Party of India (CPI). This was a dark phase in Ghatak's life. He was frustrated and deeply troubled as his first feature film, 'Nagorik' was ready but he was unable to get it released commercially. Besides the flux in the socio-political scenario seemed to tighten its noose around Ritwik's throat and he felt stifled and restless. He felt emotionally drained and the determination to start from scratch seemed to abandon him. He felt like a prisoner in a straight-jacket. The city's heartless, concrete exterior seemed to bind him in a straightjacket from where there was no escape. Just at that phase, Surama Bhattacharya appeared in his life like a whiff of fresh air.
Sadhana Roy Chowdhury introduced Surama to Ritwik at the Coffee House on College Street. They both were immediately drawn to one another, often meeting over coffee and fish kabiraji at the Coffee House. Life sailed smoothly like a breeze for some time as they both committed themselves to full-fledged party work and got the opportunity to spend more time with each other. Gradually, the dark, sinuous clouds that had enveloped Ritwik's psyche, evaporated and a ray of light seemed to enlighten his very persona. They decided to marry and fixed their own wedding date.
Ritwik's mother Indubala Devi wrote a letter to Kumudaranjan Bhattacharya, father of Surama Devi:
"Sir (Mohashay), Yesterday I was very happy to receive your letter dated 2.4.1955. When we were in Sylhet, you have said, you were still a student then. Your words brought back memories of Sylhet once more. --- I ought to be elated at the proposal you have sent to consent to your daughter's marriage with my son. But before deciding on where you want your daughter to get married, you should find out everything about the groom's background and then finalize the proposal.
Ritwik is my youngest progeny. I have four older sons: Manish Chandra, Sudhish Chandra, Ashish Chandra, Lokesh Chandra… At present Ritwik has no permanent or secure job and it is essential to have a regular source of income to run a family. My son and your daughter have fixed their own wedding and it is a source of immense pleasure for the rest of us but I do not know how well aware they are of their present financial condition. You are a widower and she is your only daughter, that is why I had to bring up this pertinent issue for discussion."
May 8, 1955 was fixed for Surama and Ritwik's wedding. Shortly after marriage, another phase of Ritwik's life began at the Filmistan Studios in Bombay and those were days of intense struggle. Lack of money often drove him to near penury but amid all this, the one constant factor that kept him going was his unconditional love and respect for his beloved Lakshmi.