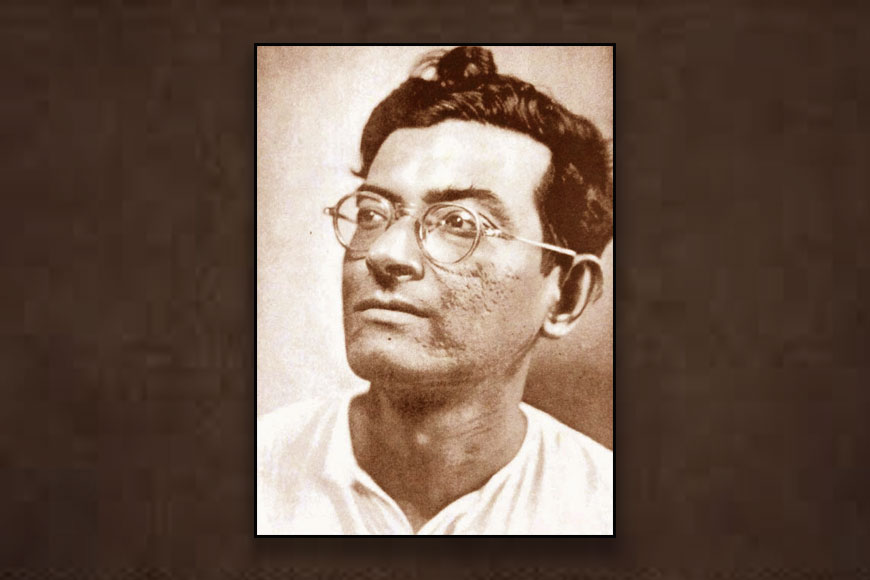 He came as a meteor on the literary scene of Bengal. Manik Bandopadhyay's reign was brief but intense. His works reflect, in many ways, the turbulent times he was part of and had the opportunity to witness from very close quarters. It was a period of transition, a time when the traditional, long-held values took a severe beating in a post-World War I society that was emerging gradually. There was nothing to hold on to. No concrete scheme was visible in the society of the 1920s and 1930s, but numerous notions were vying for recognition. On the one hand was the effort towards re-orientation of ideas and traditions in a war-ravaged economically and psychologically depraved society; on the other hand, man was increasingly being exposed to novel ideas as psychoanalysis, idealism, materialism etc. The resultant confusion further heightened the intricacies of the time. A product of this era, Manik Bandopadhyay, like his contemporaries, tried to incorporate in his works the widely differing, yet profoundly invigorating spirit of Knut Hamsun, Emile Zola, D.H. Lawrence, Maxim Gorky, Dostoevsky and many others.
Born in 1908 in Dumka in the district of Santhal Parganas, under the Bihar province, India, Bandopadhyay was the 8th born of the 14 children of Harihar Bandopadhyay and Niroda Sundari Devi. His father named him Prabodh Kumar Bandopadhyay. Manik was his pet name that stuck to him permanently. For a brief while, young Manik studied at Kanthi Model School in Tangail. He passed his entrance examination from Midnapore Zilla School in 1926 and got into Welleslyan Mission College at Bankura. In 1928 he passed I.Sc. and came to Calcutta. Here he enrolled for his B.Sc. course in Mathematics at Presidency College and simultaneously stepped into the realm of literature. It opened up a whole new vista for him. During this period, one of his friends in college challenged him to write a short story and Manik took up that challenge. It resulted in writing Atashi Mami, which was published in Bichitra, a famous literary journal of the time. A new author was born in the horizon of Bengali literature.
Bandopadhyay's tryst with literature was fraught with obstacles right from the word go. His affair with literature affected his result in college. His elder brother, Sudhangshu Kumar Bandopadhyay was very worried and chided Manik, advising him to concentrate on his studies. Young Manik was full of idealism and he was confident that he would be able to survive by taking up writing as a profession. So, in response to his brother's concern, he left studies midway. His brother was livid and stopped giving him his monthly pocket money. This was the beginning of a new chapter of uncertainty in Manik's life. He was profoundly influenced by the works of Marx and Engels.

In fact, his eternal quest to come to terms with the question of social reality has often been conditioned by his perception of Marxism. He had, time and again, drawn attention to the influence of Marxism on his orientation. In Lekhaker Katha, he said: 'After I began to write, my perception on life underwent shifts, but with my introduction to Marxism, I felt the need to change my perspective even more profoundly. I knew that there were numerous imperfections, fabrications and inadequacies in my writing. But before my initiation in Marxism, I did not have the capacity to realise these inadequacies so clearly and intimately.' In the same article he further noted: 'Gradually these inadequacies in literature, in man's practical reality began to torment me. It was anguish born out of conflict. In my own life also this agony was slowly intensifying, and I faced the same situation in my literary efforts too….Marxism has taught me the real nature of this conflict. This conflict was between idealism and materialism."
Thus, Bandopadhyay's works need to be looked at from his specific 'attitude towards life'. Even though he had evolved as a novelist in the course of his literary life, this particular attitude remained more or less unchanged - an interrogation of the different problems confronting his social milieu and an effort to understand them in the light of a theoretical introspection of the prevalent ideas, especially Freudian psychoanalysis and later, Marxian dialectical materialism.
Bandopadhyay's writings dealt with the pettiness and wretchedness of existence in the context of rural Bengal. His primary concern was the dark alleyways of the human mind, even among the supposedly simple village folks. In 1936, one of his most notable works, Padma Nadir Majhi (The Boatman on the River Padma) was published. This is the tale of a non-descript, run-down village of fishermen who live in Ketupur, nurtured by the river Padma, the lifeline of the country. The timeless tale is a captivating portrayal of the Padma and of survival and predicament of life. One day a storm rises in the Padma, destroying everything and leaving behind a trail of devastation. Kubir, the protagonist of the novel, tells his wife, 'Padda amago joto daay abar totoi loy' (It is true Padma gives us a lot, but in return, it also takes a lot from us). It is a line that both sums up the vulnerability of fishermen and forms the theme of this novel.
Putul Nacher Itikatha is another outstanding work of Bandopadhyay. He took six years to complete the work. The story revolves around the struggle of Shashi, the protagonist, who relentlessly strives to uplift his village and free it from baseless superstitions surrounded by hollow Hindu rituals. In one of his letters, Manik wrote, this novel was a humble protest against those who tend to play with the lives of humans as if they were puppets. Based on the sensitive political situation of the post-war period, Putul Nacher Itikatha is not about the predicament of a single individual who is a victim of the situation. Rather, it portrays the savage hypocrisy and the dark alleyways of human psychology that stands as a protagonist of the novel. During his short lifespan of 48 years, plagued simultaneously by illness and financial crisis, Bandopadhyay wrote 36 novels and 177 short-stories. He worked briefly as assistant editor in both Nabarun and Bangashree magazines, but his restless spirit felt stifled and he left his jobs impulsively. He started a printing press but had to shut it down due to paucity of funds. His life-long war with poverty finally ended with his death. Many people from all walks of life rushed to pay respect to the departed author who would have probably laughed at the dichotomy of life.