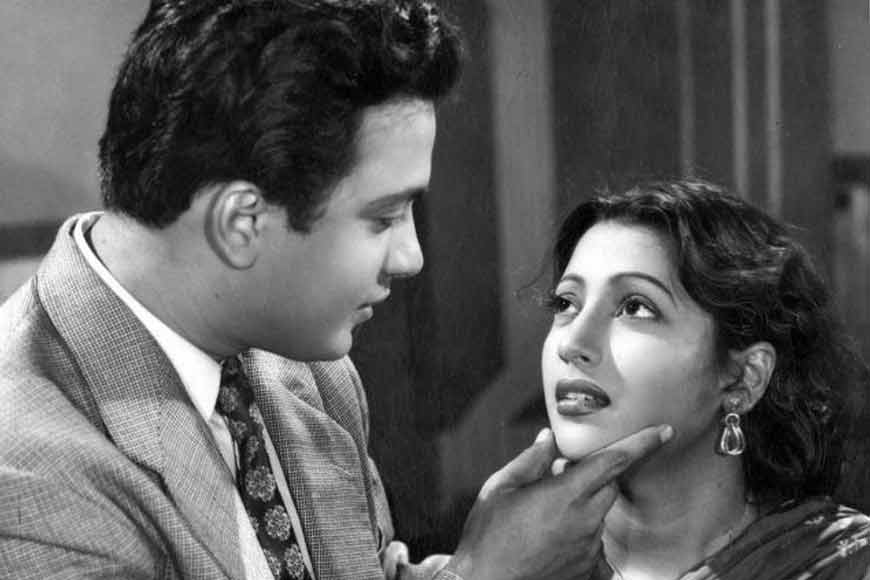 Uttam Suchitra - Bengal's all-time favourite onscreen couple
Legendary Bengali matinee idol Uttam Kumar with his charming and infectious smile and Suchitra Sen with her bewitching beauty and charismatic looks were the first on-screen couple to hit the screen and reign as an unbeatable romantic pair for the more than three decades. The duo mesmerized generations of Bengali cine lovers with their on-screen chemistry. Together they were an unbeatable romantic pair. Uttam-Suchitra's captivating romance provided ample fuel for the gossip mills that kept spinning fantastic tales of amour for decades and even to this day, long after their demise, people speculate about their relationship, which they feel "was enigmatic."
Both Uttam Kumar and Suchitra Sen had tremendous respect for each other. People from the film industry insist their relationship was based on mutual trust, appreciation and admiration for each other's work and personality. They were good friends and their camaraderie went beyond their professional encounters on shooting floors and studios. However, they were both super achievers in their own spheres and were egoists to the boot and there were times, when disagreements over apparently minor issues led to misunderstandings between the two legendary stars. One such row built up during the shooting of Agradoot's film, 'Pothe Holo Deri' (1957). Veteran film journalist Suman Gupta writes a vivid account of the incident.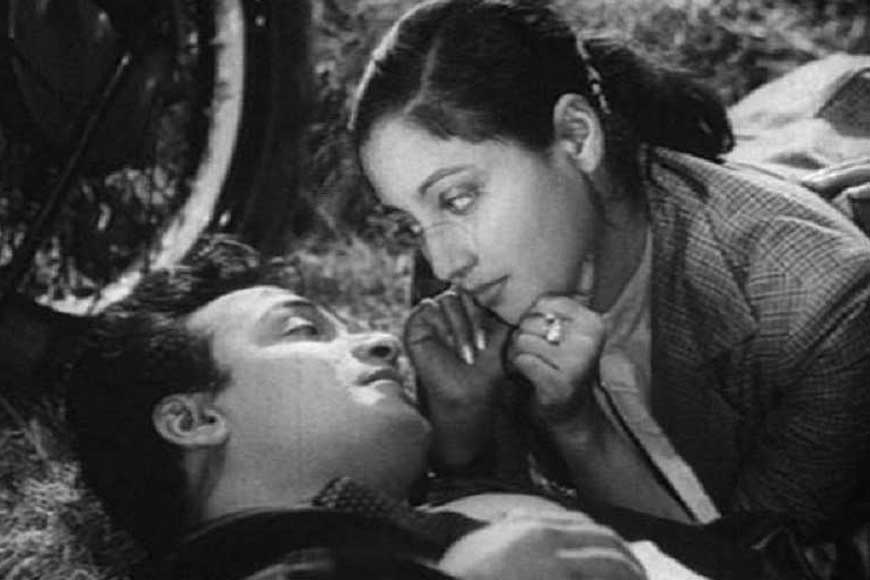 A still from the movie 'Saptapadi'
Of the 60 films Suchitra Sen worked in her career, 30 were with Uttam Kumar. The magical duo gave a string of hits and ushered in what came to be known as the golden era of Bengali cinema. Uttam Kumar and Suchitra Sen worked for the first time in 1953 in the comedy 'Sharey Chuattar' and the next year the two starred in 'Agni Pariksha' and then the Uttam-Suchitra era started. In 1972, the duo starred in 'Haar Mana Haar' and then in 'Priyo Bandhobi' in 1975, their last film together.
Both Uttam Kumar and Suchitra Sen maintained a dignified presence in public although their mutual adulation was palpable. They frequently reached out to each other during trying times and offered advice and solace according to the need of the hour. Once Uttam Kumar got deeply involved with his co-star and the entire unit was aware that the relationship was a mere infatuation and there was no love in the affair. Suchitra Sen stepped in and advised Uttam Kumar gently. She said, "Utu (that's how she addressed him at times) come out of this murky affair. There is no future in this alliance." Uttam Kumar and Supriya Devi never missed to send a bouquet to Suchitra Sen and wish her on her birthday.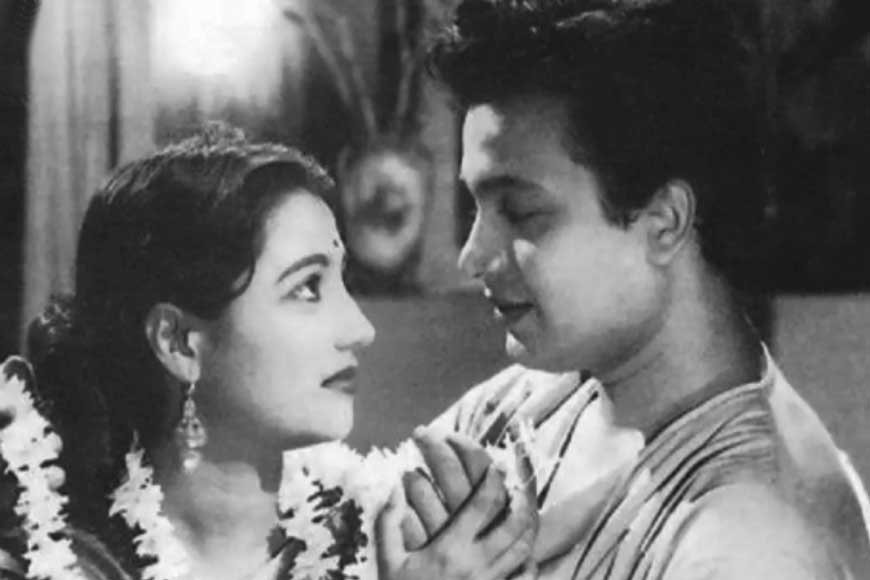 A romantic still from the movie 'Harano Shur'
In an industry where heroines are used for glamour quotient, Sen was an exception; she was beautiful in an unusual way and managed to draw the viewers' attention to the myriad characters she portrayed on screen. She more than held her own in front of the formidable histrionics of Uttam Kumar. Sen was her own star who worked on her terms. In those days, it was a conventional to put the name of the lead actor first in film posters and advertisements followed by the female lead's name. Sen reacted to the convention and demanded to know why Uttam Kumar's name preceded hers in posters. Wasn't she an equally vital part of the film and didn't she work hard enough for the film? The film fraternity was shocked and did not know how to react to this demand. When Uttam Kumar heard this, he stepped in to smooth off the rough edges and settled the issue amicably saying, "Roma (her pet name) is absolutely right. Why should my name be featured first in the list of actors? From now on, her name should be on top." The matter came to an end at that point.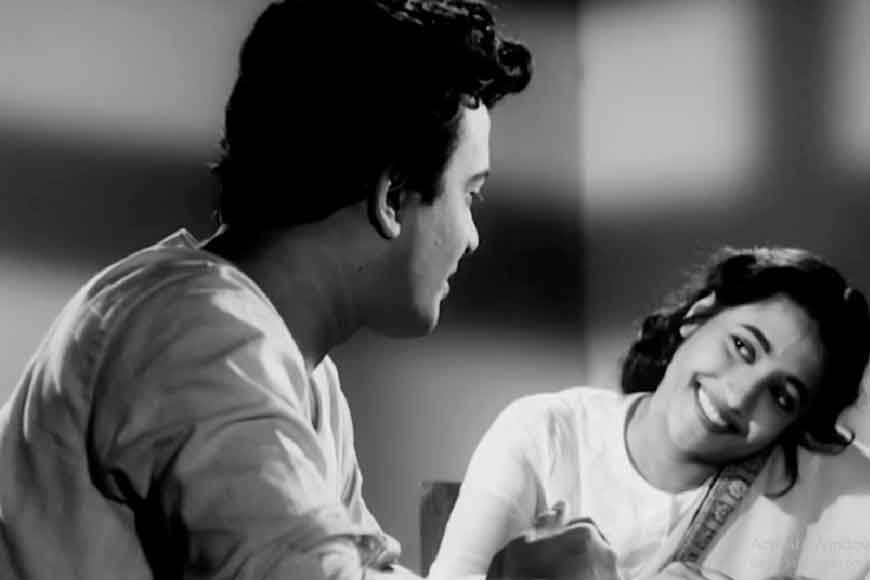 Another incident occurred that led to a major misunderstanding between Uttam Kumar and Suchitra Sen during the filming of 'Pothe Holo Deri' (1957). The film was being directed by the Agradoot group and the chief assistant director was Aurobindo Mukhopadhyay whom we addressed as Dhulu-Da, the younger sibling of renowned littérateur Dr Balaichand Mukhopadhyay well-known by his pseudonym, Bonophool. I had a very good rapport with Dhulu-da and he related to me the incident. 'Pothe Holo Deri' was being shot at Darjeeling. Uttam Kumar and Suchitra Sen were staying at Mount Everest Hotel and the rest of the crew were accommodated at Snow View Hotel. During that phase of shooting, Suchitra's usband Dibanath Sen and their daughter Moonmoon were also accompanying her. Dibanath Sen was carrying an 8 mm camera with him and he intended to click photographs of the shooting. Suchitra Sen was also an avid photographer.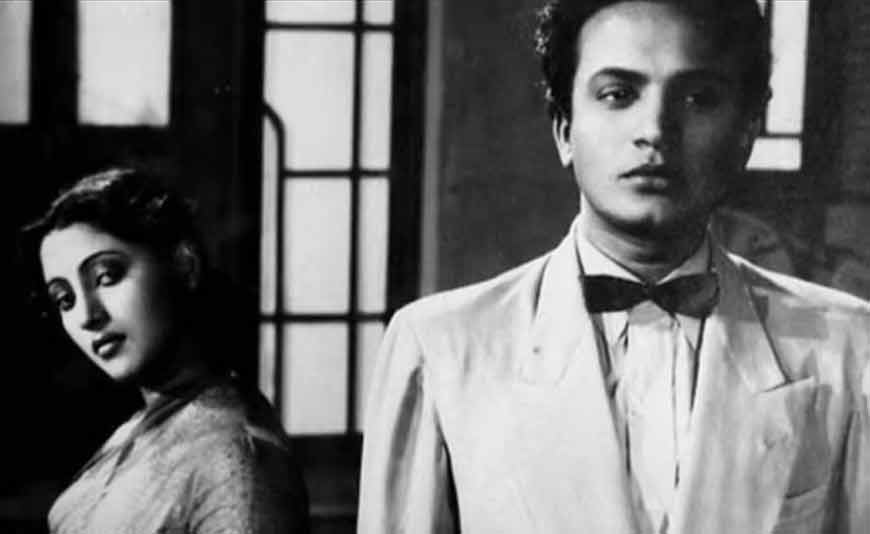 Uttam Kumar too, was being accompanied by Shambhu Bandopadhyay, who had a camera with him. One day post lunch shooting was in progress under Mount Everest Hotel and Suchitra Sen was walking briskly towards the shooting zone. Bandopadhyay was taking photographs randomly but when he spotted Ms Sen, he instinctively clicked her photograph. Suchitra Sen was livid. Those who knew her were aware that one needed to seek her permission before clicking her photos. She headed straight to Dhulu-Da and told him in no uncertain terms to warn the photographer and added, she was trying to concentrate on her work but the photographer disturbed her. Banerjee was close by and heard everything. He immediately took out the film reel and destroyed it in front of Ms Sen. Those were the days when journalists and photographers had integrity and followed high moral and professional standards.

The following day, another incident happened. It was time for the day's shooting to commence. Both Uttam Kumar and Suchitra Sen had reached the film set. Suddenly Dibanath Sen appeared and started clicking his camera merrily. This time Uttam Kumar reacted sharply and complained to Bibhuti Laha, one of the principal directors of Agradoot. He said, "Khoka -Da (that's how Laha used to be addressed in his known circuit) Please ask this gentleman not to click my photographs. I don't want any outsider in the shooting zone when I am working." It goes without saying that his ire was addressed at Dibanath Sen.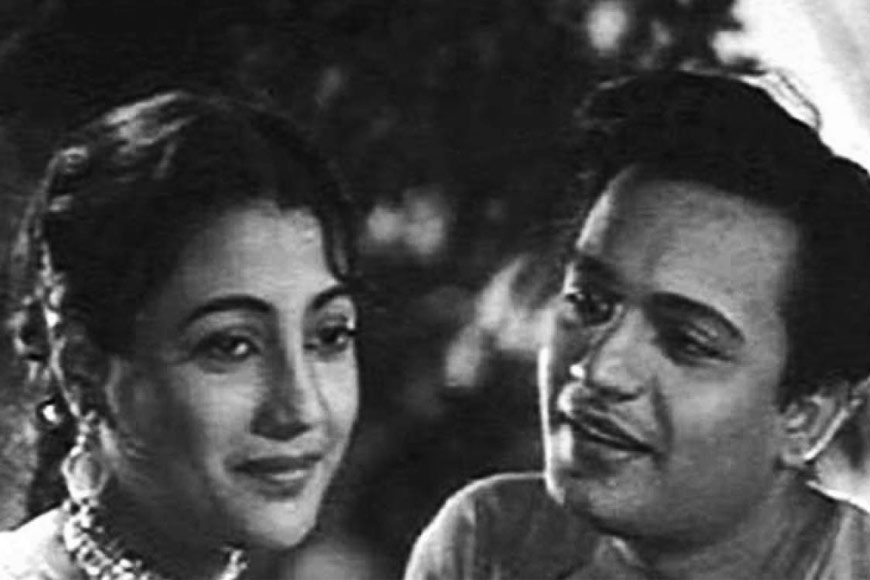 This incident was a repercussion of the previous day's event. Bandopadhyay had told Uttam Kumar how he felt insulted by Suchitra Sen for taking her photograph. Since he was Uttam Kumar's guest, the actor felt embarrassed. The next day Dibanath Sen walked out in a huff after Uttam Kumar snubbed him. Meanwhile, Suchitra Sen completed her shot and left the set grimly, refusing to continue the shoot. The next day she did not appear for shooting on scheduled time. It was clear that this was the onset of a cold war between Uttam Kumar and Suchitra Sen. However, Uttam Kumar brushed aside his displeasure and everything was sorted out quickly but Suchitra was a hard nut to crack. She was so annoyed by the incident that she had decided to leave the shooting midway and return to Calcutta. The filmmakers were in a quandary and tried their level-best to pacify till she finally relented and shooting resumed. Suchitra Sen later invited the entire unit to her hotel for a sumptuous meal to celebrate 'Bhatri-dwitiya' (a beautiful ritual dedicated to the beautiful bond between brothers and sisters). Uttam Kumar followed up the event and hosted another party for all the unit members at the same venue to celebrate 'Bhogni-tritiya (dedicated to sisters). Everything was sorted out amid good fun and camaraderie.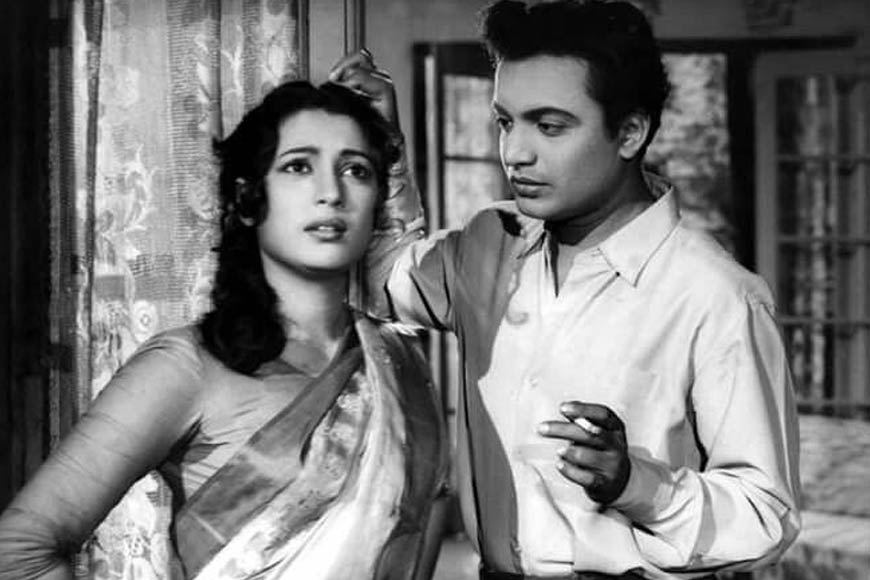 Uttam Kumar and Suchitra Sen were very close to each other spiritually but their platonic love was above the mundane world. In real life, they never bonded romantically, yet they respected and cared for each other. Suchitra Sen had tremendous influence on Uttam Kumar's life. She had very good personal relations with Uttam Kumar's parents as well. I shall conclude this article with an anecdote that will bring to the fore the strong bonding the two shared.
After Uttam Kumar's death, his younger brother, actor Tarun Kumar approached Suchitra Sen to offer her a role in the film 'Tuladando.' Ms Sen later told him, "Buro (his pet name) I have read the script you gave me. I really like it but I have a condition. "
Tarun Kumar asked politely, "What condition, Roma-Di?"
She promptly replied, "If you can bring back Uttam as my hero, I shall do the film for you."
Tarun Kumar left her house, dejected and defeated. He had got his answer.