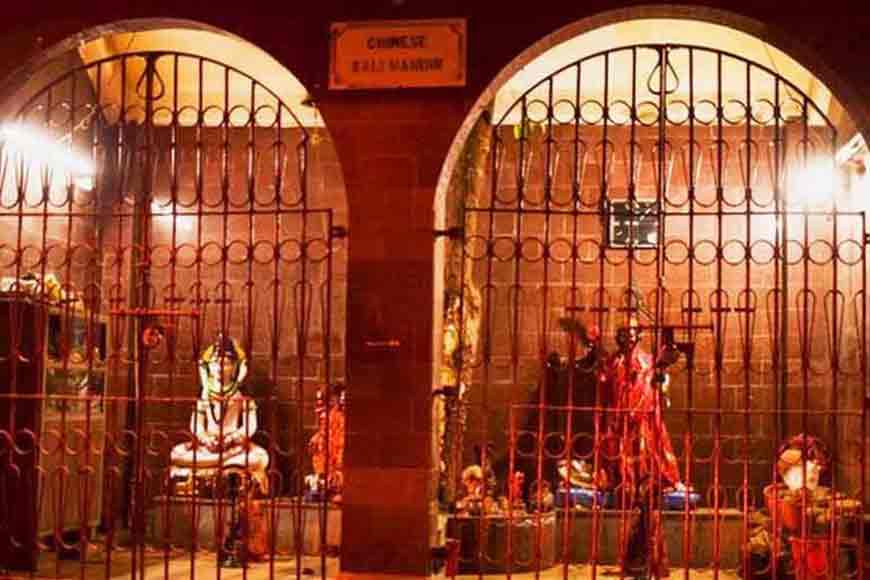 Kolkata and Goddess Kali are intrinsically lined. The very name of the city is thought to be derived from Kali-kshetra or 'field of Kali.' Since ancient times, Goddess Kali has been worshipped in Bengal with great fervor and in almost every nook and corner of Bengal, small or large temples dedicated to Goddess Kali can be seen. Even world-renowned temples at Kalighat, Dakshineshwar or Tarapith are there. Even we have tales of foreigners like Anthony Firingi, who came to the city and adopted it as their own and gradually became devotees of Goddess Kali. Phiringi Kalibari (established by Portuguese trader Hensman Anthony aka Anthony Firingee) in the heart of the city is one such example. Another temple devoted to Goddess Kali was established by the Chinese community at Tangra 60 years ago.
The 'Chinese Kali Temple' as the plaque outside the temple says, stands as a testimony of assimilation of two diverse cultures. The temple is quite small and inside there is an idol of Goddess Kali and Lord Shiva. But how did the temple come up? There were two black stones that lay on the foot of the ancient tree that still stands close to the temple. Locals smeared the stones with vermillion and offered their prayers daily.
According to locals, once a Chinese boy was taken critically ill. He was not responding to any treatment. His desperate parents sought Goddess Kali's intervention to save their child and offered their prayers to the stones. Within days a miracle happened. The boy started recovering and he was back on his feet soon. His grateful parents decided to build a temple at the site and establish Goddess Kali's idol there. The granite-walled temple was built more than two decades ago. Every Chinese family living in Tangra donated money for the construction of the temple.
The local Chinese community takes care of the temple. Daily puja rituals and arati is performed twice daily, in the morning and evening. Goddess Kali is seen adorned in crimson hibiscus flowers. Special puja is offered to the Goddess on Saturdays. But the twist is in the prasad offered. Here the goddess is offered noodles, chopsuey, rice-and-vegetable dishes as Bhog.
Although the Puja is conducted according to Hindu rites, some typical Chinese rituals have crept in. Tall candles are lit on the night of Diwali. Special Chinese incense sticks are lighted in the temple. The aroma of these incense sticks are very different. Handmade papers are burnt to ward off evil spirits which is a typical Chinese tradition. The pranam done before the idol is very different from the way Indians do. However, it is piety that wins the race.