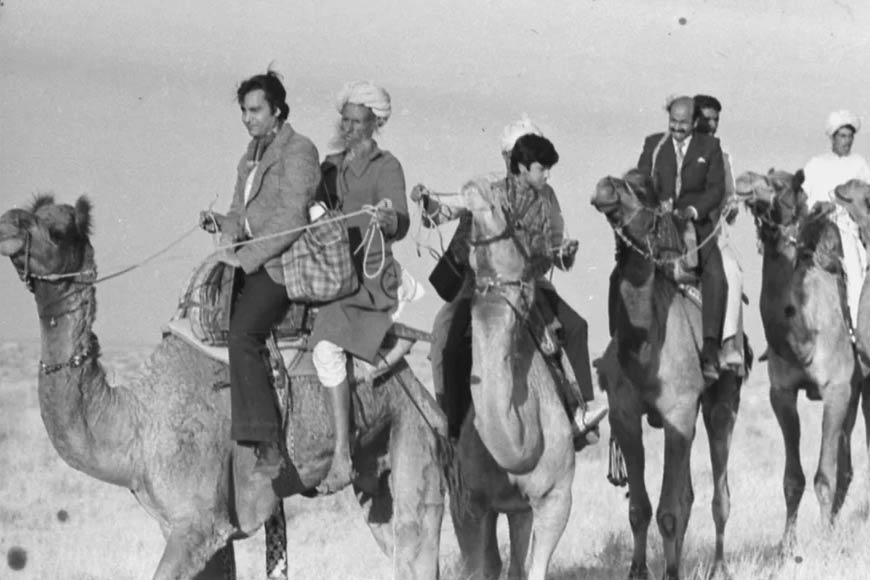 Sonar Kella was based on a story written by Manik da himself. This was the first time that Feluda, the favourite detective of all Bengalis, would be seen on the silver screen. We were to proceed to Delhi. The day before the departure, out of sheer excitement, I bought a new camera – a Canon FTB. From Delhi we went to Rajasthan. The film was shot all over the state – from Jaipur to Jodhpur, Jaisalmer and Bikaner. I clicked to my heart's content, and thought quite a few of my photographs were good. On my return to Kolkata, I sent the rolls to be developed. But all my hard work was undone by a stroke of bad luck – some chink in the camera had caused light to enter and had subsequently spoilt the film. I was totally shattered.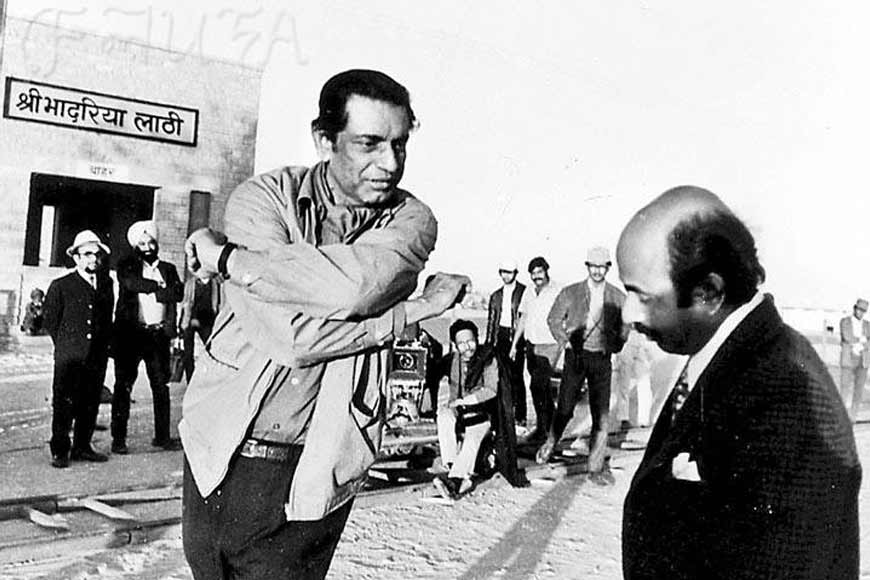 So dejected was I that I could not even face Manik da. Sandip, Manik da's son, came to know about it and passed the news of the debacle on to Manik da. A few days later Manik da himself rang me up, and in an unusually soft tone told me, "Let bygones be bygones. Come on, let us all join hands and see what can be done. Don't worry." His kind voice and use of the word 'us' made me weep. All my grief over the loss of the photographs was washed away by those tears. Later, Manik da marked the portions in those photographs that had been affected by light and framed them.
That was Manik da, a man with the rare quality of leadership. During local shoots, if the call time was at six in the morning, he would be ready by five thirty and silently pace up and down the verandah outside our room.
Remembering Satyajit Ray on his birthday 🎂
On the set of Sonar Kella (The Golden Fortress)
📷 Nik Wheeler, 1974
"Patrician, reserved, literally towering at 6 ft 4 in & with a voice like old oak, Ray was of the people, too."
- Madhu Jain pic.twitter.com/qRXSq8JZii

— Deny Fear (@dean_frey) May 2, 2022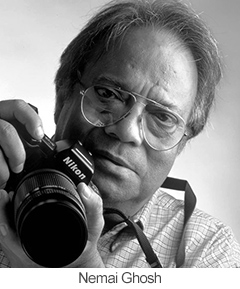 Perhaps only a great artist can appreciate other artists and the art that lives in their soul. One evening, during the shooting of Sonar Kella, we were all engrossed in the music played by a native musician. Our production controller gave him a 100 rupee note, but Manik da asked him to pay the man 500 rupees. So deep was his regard for a fellow artist.

I even had a small role to play in Sonar Kella, and was given a one-page script. Manik da told me I would have to do in front of the camera what I had been doing for so long behind it. In short, my role was that of a photographer, and I was to take some photographs of the boy Mukul.
(Adapted from Manik-da, Memories of Satyajit Ray by Nemai Ghosh)