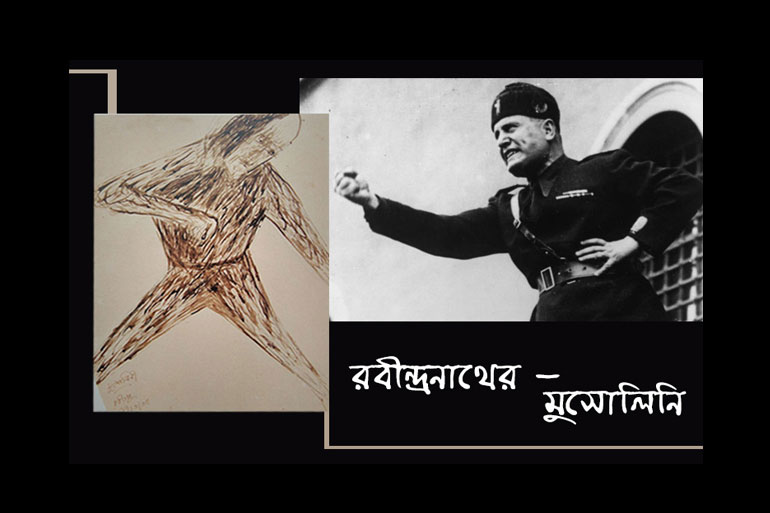 March 17, 1935. A peace-loving poet sketched misdeeds of one of the perpetrators of World War II. The poet-artist was none other than Rabindranath Tagore. His short, sharp and impatient strokes etched the turmoil of those times. Prior to this, Tagore probably never sketched any portrait. But he wrote the name of Mussolini under one such self- sketched portraits. There was no dearth of well-known personalities around Tagore, yet why did he portray Mussolini?
A decade ago in 1925, Carlo Formichi from Italy came as a teacher to Santiniketan along with another young professor, Guiseppe Tucci. They brought with them loads of valuable Italian books for Tagore, personally selected by Mussolini as gifts. The Italian government even arranged to bear Tucci's salary and other expenses. Tagore was impressed. He personally sent a telegram from Santiniketan thanking Mussolini for this gesture. Formichi spread the word about Mussolini's love for India. This followed a deeper and sinuous plan that was being hatched.
Tagore was on his way to Italy and Mussolini personally welcomed him. He was honoured for his works at The Colosseum ofRome and Mussolini was present throughout the function. A crowd of 25,000-30,000 people watched the show. The poet's wish to meet Benedetto Croce, the well-known idealist philosopher, historian and politician, was fulfilled. Croce was brought from Naples to meet Tagore. The poet, was unaware that anti-Fascist Croce was under house arrest. Tagore next visited Villanueva village and was accommodated in a hotel that had been residence of French poet / novelist, Victor Hugo. Tagore was overjoyed and praised his generous host, Mussolini. Tagore's support to the Fascist movementwas widely reported in the Italian media.
This was exactly what Mussolini had planned: to get unstinted support and sanctity from great thinkers, poets, philosophers from the world over for his nefarious actions. Tagore failed to see through the diplomacy of the fascist. However, Romain Rolland was very surprised to read about the poet's views on Fascismandexplained to him Mussolini's intentions. After this, Tagore wrote a letter to friend, C.F. Andrews which was published in Manchester Garden. The letter enraged Mussolini and he immediately recalled Tucci from Santiniketan.
Tagore's sketch has deftly caught the finer nuances of a mad, restless dictator. He was deeply hurt and ashamed of his own assessment of this criminal who he had praised.It was perhaps as an act of retribution that Tagore sketched a dictator on the verge of lunacy.
Original Article written by Debdutta Gupta
on
www.bongodroshon.com
Translated by