Dr Purnima Sinha, the first female physicist from C.U., who did her PhD way back in the 1950s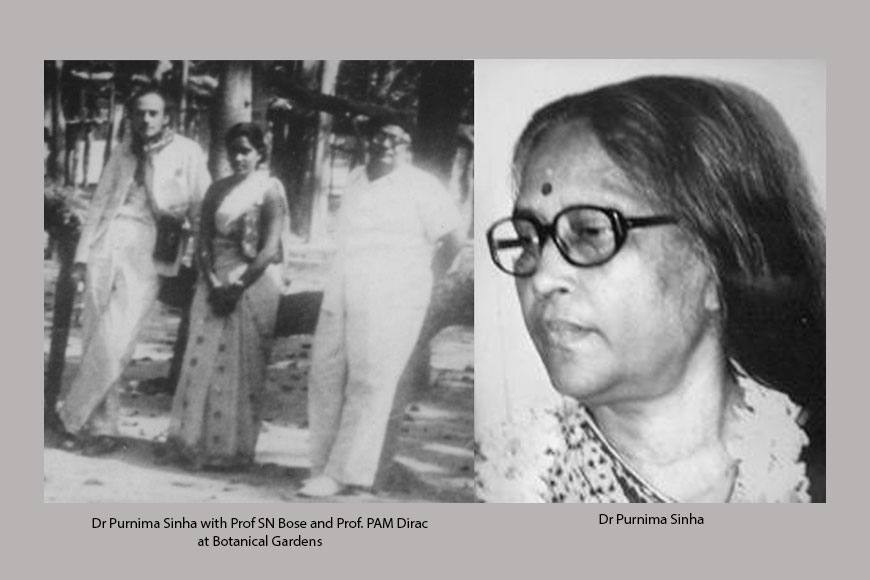 When we talk of women empowerment in modern India, we often fail to take names of so many women scientists who made us proud decades ago, when women were hardly even allowed to study beyond a certain point. These were the very women who set their own benchmarks and motivated females of later generations. One such woman was Dr Purnima Sinha, the first female physicist from Calcutta University, who did her PhD way back in the 1950s when women in the domain of a subject like Physics was almost unheard of.
Not just completing a degree, Dr Sinha was so innovative that she even made an X Ray machine from scraps recovered during World War II. 1950s was a time just after India's independence. Dr Sinha was experimenting at theKhaira laboratory and looking for spare parts to construct an X-ray machine needed for her doctoral research. Just behind Bidhan Roy's house in Kolkata, she came across surplus army equipment being sold as scrap after World War II, and she put them together to make the X-Ray apparatus. Such was her expertise as a hand-on scientist.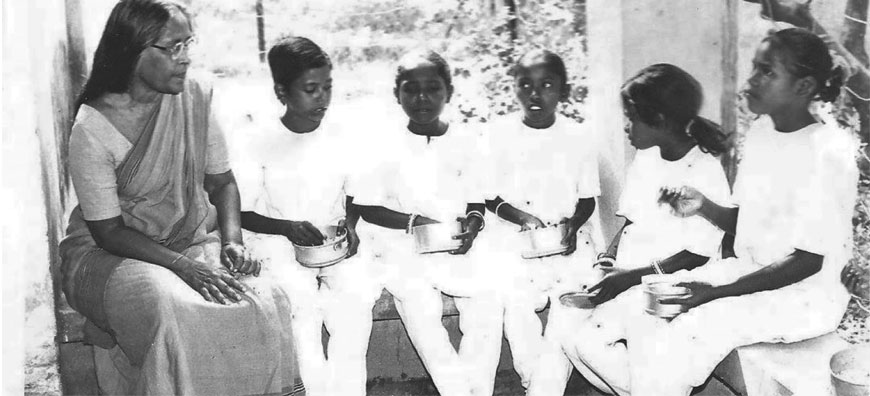 Dr Purnima Sinha with children
Dr Sinha was born on 12 October 1927into a liberal family and her father, Naresh Chandra Sengupta, was a constitutional lawyer who advocated the importance of women education. While Purnima's sisters perused diverse fields like mathematics, economy and chemistry, she went on to study Physics. Her unusual interest caught the attention of Professor Satyendra Nath Bose, who had joined Calcutta University as the Khaira Professor of Physics in 1945. He realized the potential that lay within her and enrolled her in a research team studying crystal structures using X-ray diffraction. In Lilavati's Daughters: The Women Scientists of India, Dr Sinha quotes: "At that time, about ten of us were involved in experimental research at the Khaira Laboratory. Each of us used to fabricate her or his own instruments according to individual needs. Our efforts in the X-ray laboratory finally led to a complete classification of about fifty clay sample categories."

Even in modern science, fabrication of one's own laboratory for research seems an unimaginable concept. But Sinha became a torch bearer and built her own X-Ray laboratory apparatus with the help of scraps from World War II. Later, she submitted her thesis: 'X-ray & differential thermal analysis of Indian clays', in 1955 and became the first woman to earn a PhD degree in Physics from Calcutta University in 1956.She even went on to conduct research in Biophysics at Stanford University on the 'Origin of Life' project which involved comparing X-ray structure of clay with DNA patterns which fascinated her. For the next two decades, she worked for the Geological Survey of India and JCB Bose Institute after which she joined Central Glass and Ceramic Research Institute for research on the physics of ceramic colour. This was the time she used her knowledge in an artistic way and learnt clay modeling.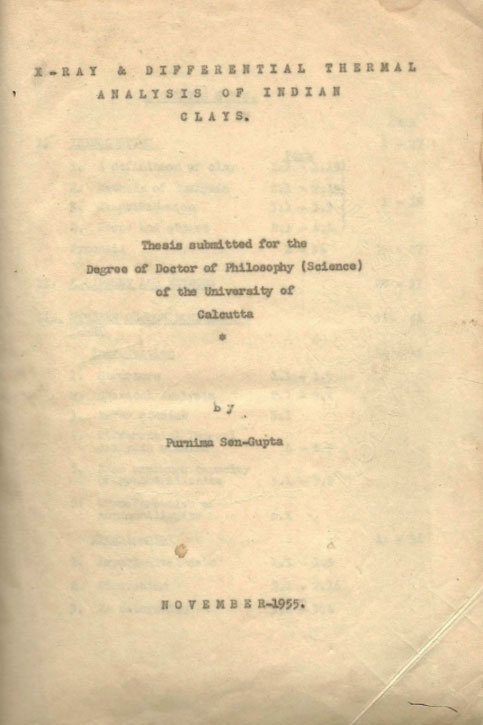 Front page of the thesis of Dr. Purnima Sinha
Dr. Sinha's skill and talent was not only restricted to physics. She was a polymath as well as music and art. She even learnt Tabla, an instrument usually played by male musicians from Pandit Gyan Prakash Ghosh and Classical Music from Yamini Ganguly.
Among her several published books is Amar Katha, a compilation of her interviews with Professor Satyendranath Bose, and another book on Professor Bose called Bijnan Sadhanar Dharay Satyendranath Bose. Her varied interests took her to the tribal world after her marriage to Dr. Surajit Sinha, the Vice Chancellor of Visva Bharati University. They established an informal school for tribal children called Melameshaar Pathshala in Santiniketan. Later, she even introduced a course on Physics of Music and collaborated with several potters. A mural created by Sinha still adorns the wall of the bungalow of the Vice Chancellor in Santiniketan.
Dr. Purnima Sinha never cared much about honours or awards. She found her fulfillment in using her creative and artistic ability to the fullest and working relentlessly for the development of Physics in Bengal. She is indeed one woman who broke the shackles of patriarchy in India.