Dukoribala Devi – First female revolutionary from Bengal to be booked under Arms Act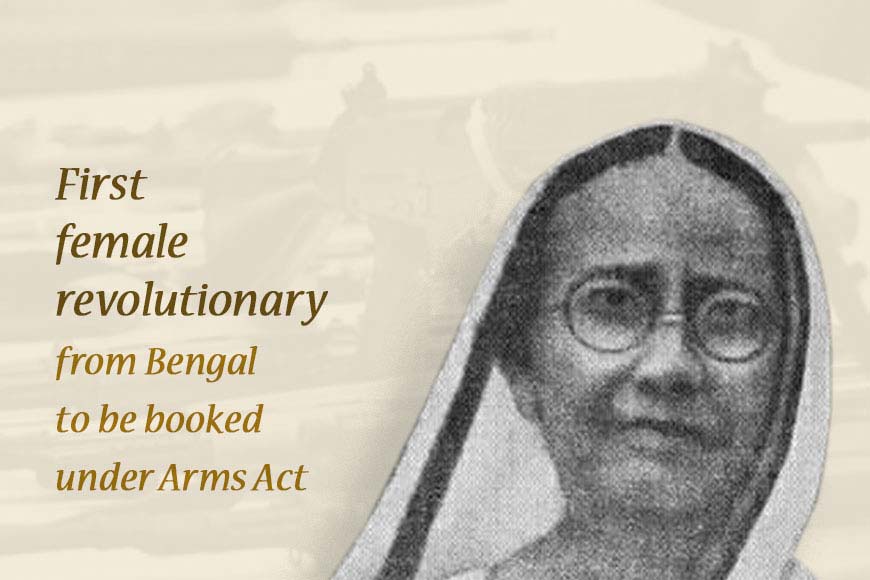 Most Indians have never heard of Dukoribala Devi nor are aware of her daring exploits a century ago, but it will suffice to say that there was a time when this lone lady's daring acts had terrorized the British regime. She was born in a middle-class Brahmin family in 1887, at Jhaupara village under Nalhati police station in Birbhum district. Her parents, Neelmoni Chattopadhyay and Kamalakamini Devi got her married to Phanibhushan Chakraborty at an early age. She began her marital life like any other Bengali middle-class housewife, fulfilling all domestic duties she was expected to do. This was the beginning of the 20th century and the East India Company's fortunes was soaring.
Bengal, at that time, was the hot bed of subversive activities and the British government decided to divide Bengal to undermine the political strength of the Bengalis. Accordingly, on October 16, 1905, the Partition of Bengal was formally announced for "the reinvigoration of Assam and the relief of Bengal" by the East India Company. The Partition was denounced almost immediately by Bengalis as "an attempt to break up our presidencies and to break up our nationalities, to divide us and rule."
The Partition triggered radical nationalism and large-scale angry agitation, protest rallies by Bengali Hindus followed. Dukoribala Devi's nephew, Nibaran Ghatak, was member of a revolutionary group and she was deeply influenced by the thoughts and concepts propagated by him and his group. On August 26, 1914, members of the Jugantar faction of the Bengali revolutionary organization Anushilan Samiti intercepted a shipment of Mauser Pistols and ammunition belonging to Messrs Rodda & co., a Calcutta gun dealer, while these were en route from the Customs House to the company's godown, and were able to make away with a portion the arms.
The heist was a sensational incident and was described in newspapers as the 'Greatest Daylight Robbery.' Nibaranchndra Ghatak and Bipinbihari Ganguly were involved in the heist. Nibaranchandra helped Bipinbihari to go into hiding. He arranged a job for Bipinbihari at Siarshole Palace (Rajbari) incognito as Ranen Ganguly. Ganguly lived there undercover for two years. During this time, Dukoribala Devi observed these sons of the soil from very close quarters and was inspired to do something for her motherland. But Nibaranchandra was reluctant to include his beloved "Mashima" (aunt) in his group's underground activities. She was adamant and argued, "If you boys can die for the country, so can we, mothers." Nibaranchandra had to concede defeat. Soon after, 'Mashima's' house at Jhoupara became the hub of guerrilla activities. She was now the unanimous 'Mashima' (aunt) of all the rebels of the group. She diligently learnt to use pistols and other firearms from the revolutionaries.
Nibaranchandra was assigned the task to deliver the boxes at different locations. He left them with Anukul Chandra Mukherjee in Howrah. He got a few pistols for safe keeping and left them with 'Mashima.' The very next day, Anukul Chandra and Ranen Ganguly arrived at Mashima's Jhoutola hose with another consignment of cartridges and pistols for safe keeping. On January 8, 1917, when a police force arrived at her house with a search warrant, Dukoribala Devi cleverly moved the arms and ammunition to her neighbour's house. But a police mole in the crowd passed the information to the force and she was arrested on charges of hoarding arms illegally in her house. Unfazed by the impending danger, she accompanied the police, leaving behind her weaning baby at home.
She was tortured mercilessly in the prison but nothing could make her utter any information about the revolutionaries or their activities. Her case came up for hearing in the court. She was sentenced to two years of rigorous penal labour by the court of law. In the prison, Dukoribala Devi was made to crush half a mound of lentils every day. It sapped her off all her energy yet she wrote to her father daily informing him how well she was doing in the cell and requested him to take care of her children.
Dukoribala Devi was the first female revolutionary from Bengal who was booked under Arms Act and served prison term. She was finally released in December 1918. She breathed her last in 1970.
It is most unfortunate that India hardly remembers such unsung hero and heroines of the Indian Freedom Struggle.
Story Tag:
Revolutionaries from Bengal, Dukoribala Devi