Bengal has always been a land of abundance and the variety of vegetables grown on its fertile soil needed to be used at one go, to feed joint families once upon a time. That probably gave birth to the common Chorchori, a dish that can be traced only to Bengali kitchens. Interestingly, the fish-eating Bengali always had some form of Chorchori on the daily lunch and dinner plates, that was purely vegetarian. Food historian Chitrita Banerji in her book explain: "This style of cooking was ideal for large, extended families. Chorchori was an easy, delicious and time-saving way to feed people (many ingredients and one dish as opposed to many ingredients and multiple preparations)."
Banerji also draws attention to how dishes like Chorchori helped during times of food scarcity. Specially after Partition of Bengal during independence, many Bengali households on both sides of the divide came across days, when food was scarce and there were many mouths to feed. And the women in the kitchens had to stir up some dishes that would have the nutrition value too. Left over vegetables, vegetable peels, variety of home-grown vegetables like lau, begun, uchhe (gourd, brinjal, bitter gourd) could be mixed and served in a single dish.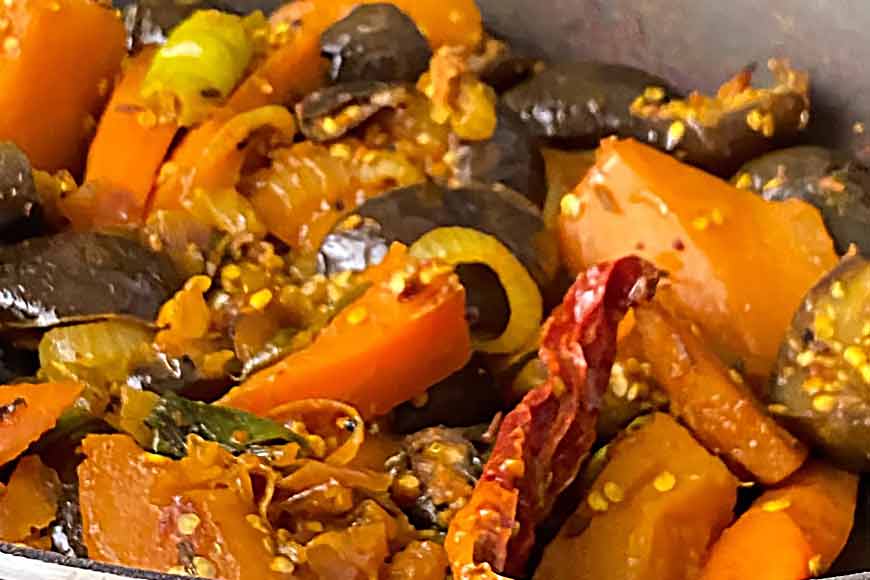 A major trend of Chorchoris made their way during the Vaishnava era of Bengal. Sri Chaitanya Mahaprabhu gave up non-vegetarian food. With the spread of the ascetic Hindu monk's anti-slaughter philosophy came the growth of the Bengali vegetarian diet, leading to a new focus on cooking with vegetables, giving up meat and fish dishes. Even Hindu widows under a patriarchal society were strictly barred from having anything non-vegetarian and largely received their dietary nutrition from dishes like Chorchori. They learned to cook delectable dishes with the limited ingredients they could lay their hands on, devoid of even onion and garlic to curb their sex drive. They were given the responsibility of cooking the vegetarian items for the extended families too, thus giving birth to new recipes and innovations, mostly surrounding the Bengali Chorchori.

Interestingly, Bengal's Chorchori has an international root-to shoot concept and zero-waste style cooking, where no part of the vegetable is wasted. Scientist Dr Pulak Lahiri explains: "Every part of a fruit or vegetable contains nutrients, especially the skin and the stems of vegetables that we often use are laden with vitamins and minerals. They are all part of a Chorchori recipe and hence such dishes are laden with nutrition. Take for example Saag, like Laal Saag that is also put in Chorchoris, their stems and leaves are laden with vitamins. Bengali Chorchoris are anytime better than North India's Mixed Vegetable dishes."
If you wish to try a Bengali Chorchori at home, here is a common recipe:
Chorchori Recipe
Ingredients
Mustard oil
½ tsp nigella
2-4 green chillies (slit halfway)
2 potatoes
2 carrots
250g beans
Cauliflower (medium)
Sajne Danta
Some Palak Leaves
Bori
Pinch of sugar
Preparation:
Peel and chop two medium-sized potatoes and two carrots into one-inch long pieces
Peel and cut green beans and cauliflower into one-inch pieces. (1 cup each)
Mix potato, carrot, pumpkin, chopped spinach and Danta
In a pan, heat 2 tsp of mustard oil
Add ½ tsp kala jira (nigella), green chillies
Add all vegetables and keep stirring.
Add salt to taste and ¼ tsp of turmeric powder. Mix well.
When the vegetables brown a little, add water. Add 1½ cups of water and mix well
Cover and cook with minimal stirring till the veggies are well-cooked and the water dries.
Add the fried Boris in the end.
Once done, stir well and add 1-2 tsp of mustard oil on top before serving with hot rice.