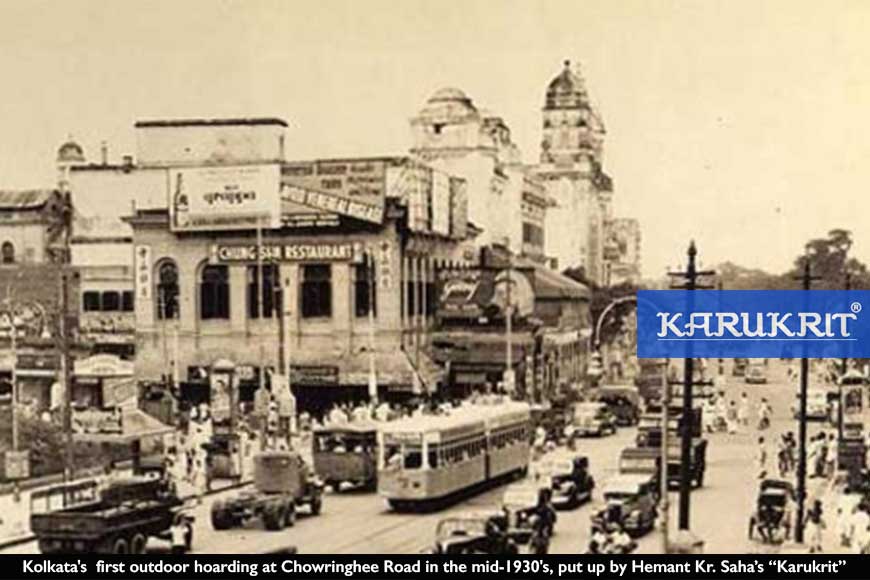 Satyajit Ray entered the celluloid world in the 1950s with a wham! His debut cult movie, Pather Panchali, catapulted Bengali cinema into the international league of Parallel Cinema or New Indian Cinema, the precursor of New Wave art film movement. When the film was scheduled for release in Kolkata, a pioneering plan at outdoor film advertising was executed. This was the very first of its kind of advertising undertaken on the Indian subcontinent and the company that was entrusted with this novel assignment was Karukrit, a world-class advertising agency that was the brainchild of Hemanta Kumar Saha, a freedom fighter and a creative genius.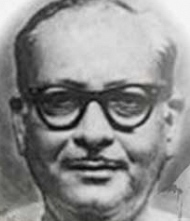 Way back in 1932, Saha, an entrepreneur, a visionary with a literary bend of mind set up the advertising agency. In fact, this is the first advertising agency set up by a Bengali businessman. In the mid-1930s, Calcutta witnessed its first outdoor hoarding at 10, Chowringhee Road, put up by none other than Saha's agency, Karukrit, a name coined by author Rajshekhar Basu aka Parashuram. The 16/8 ft hoarding marked the beginning of "out-of-home" advertising in the city that was going to usher in a revolution in the advertising industry in the years to come. Later, more hoardings were set up at important junctions including ones at Shyambazar, Chitpur, Sovabazar and Jessore Road.
Saha also set up a studio along with the agency where myriad creative projects were taken up and these included stage set designing, painting, exhibition panels, window display and sculpting. Karukrit earned a lot of goodwill for its efforts in making wooden typography wrapped in golden foils. Many famous painters have also worked in Karukrit's studio and often took creative advice from Saha.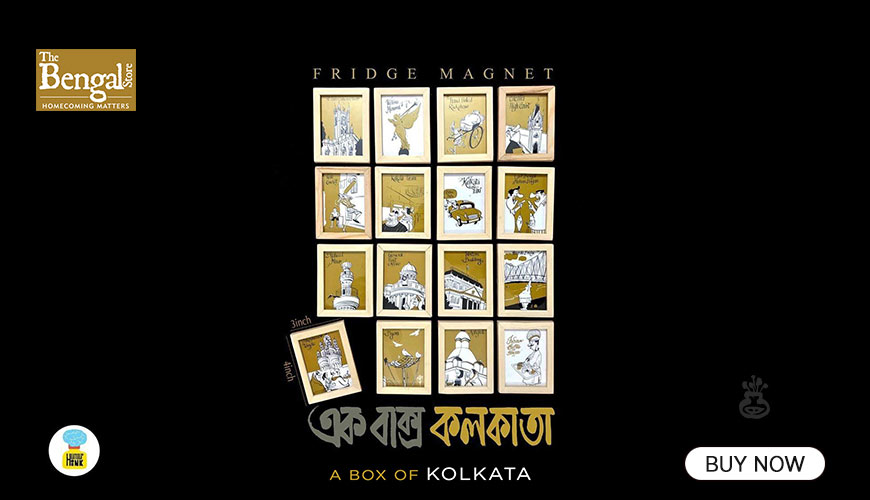 Personalities like Satyajit Ray, cartoonist Qafi Khan, Jamini Roy and the owner-editors of erstwhile vernacular daily, 'Jugantar' and English newspaper, 'Amrita Bazar Parika', Tusharkanti Ghosh and Sukomal Kanti Ghosh, O.C. Ganguly (one of the foremost authorities on Indian art and founder of Indian Society of Oriental Art), Purnendu Patri (poet, writer, editor, artist, illustrator, and film director), artist Ranen Ayan Dutta, film director Arup Guhathakurta, author and artist Dhiren Bal and many more stalwarts from the city's throbbing cultural field were associated with Karukrit. All the outdoor advertisements of 'Pather Panchali' were also produced in Karukrit.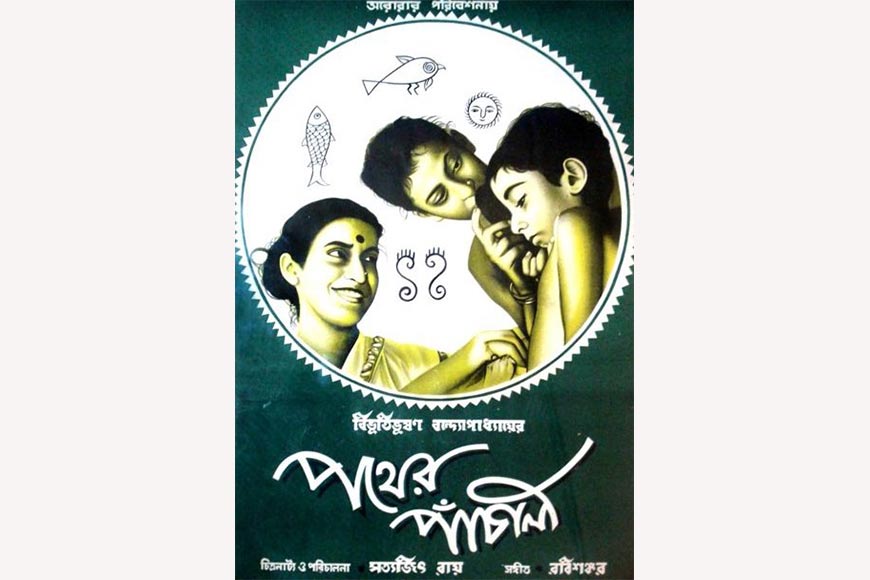 After independence, Saha shifted his company's office to 13A, Madanmohantala Street in Baghbazar area. When Saha started his agency, his motto was simple: The power of advertising should be available and accessible to everyone. To this end Karukrit broadened its service and its gambit included diverse clients from tiny to titan corporate hierarchy. Karukrit worked on giant accounts like the Imperial Tobacco (ITC Ltd) and Hindustan Lever to name a few and global brands like Coke, Hutchison Telecom (Command) and Airtel (Bharti). Not to mention Indian greats like Britannia, Philips, State Bank of India, Tisco, Nestle and Titan.
For over nine decades now, Karukrit has flourished and expanded. The agency upgraded itself with the changing times. The last couple of decades saw a huge transition of industry standards and work processes. With globalisation and the beginning of the digital era, Karukrit adapted to the changes and made efficient moves in utilizing new technologies.
The company made changes in its work force as well to cope up with the transition from painting to computer graphics. Karukrit now provides various out-of-home solutions like uni-poles, road gantry, tri-vision, glow sign boards, neon sign, pole kiosks, mobile display van, LED display boards, etc. These changes have helped the company to hold on to its position as a stalwart in outdoor communication. Saha was a content man to see his dream project growing into a robust agency, making its presence felt in the rest of the country. He breathed his last on February 28, 1980, and left behind a legacy that was to define new limits of success and prosperity.