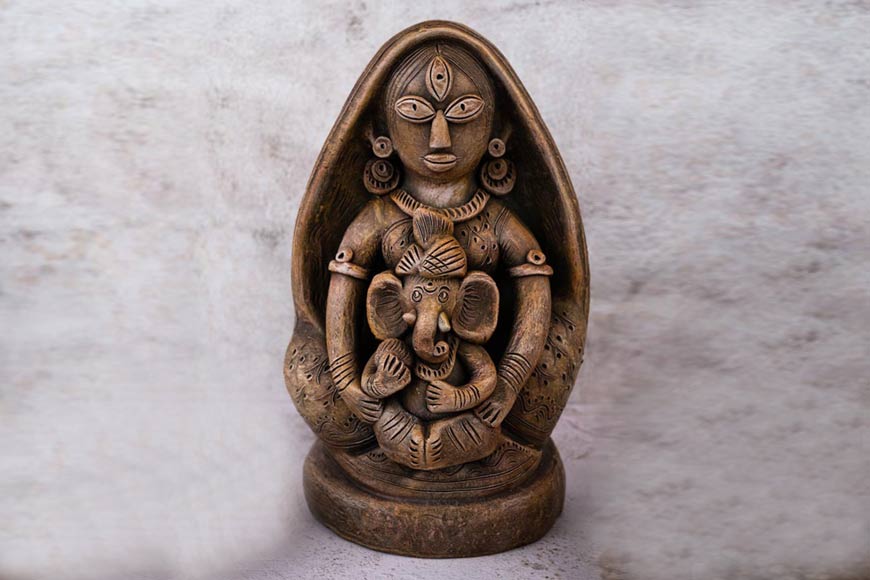 When the eternal loving bond between a mother and a son is wrapped in the form of a clay doll, exquisitely crafted by the famous clay artisans of Krishnanagar, then a collector cannot miss having it in their possession. The Ganesh Janani dolls of Krishnanagar are as unique in their art form as in their themes, in their realism and the quality of their finish. The Bengal Store, an exclusive online platform connecting Bengal's rural artisans and farmers to the world, brings Goddess Durga rocking baby Ganesha in the embrace of motherly affection through their Ganesh Janani dolls.
Krishnanagar in Nadia district of West Bengal is believed to be the hub of doll making for the past 200-250 years. The clay dolls of Krishnanagar are special in their design, colours, and techniques. Not just Ganesh Janani, one gets a variety of clay fruits, fish, insects, animals, birds, and of course the entire pantheon of Hindu gods and goddesses, and even the ubiquitous Donald Duck and other popular comic strip characters, that are faithful copies of real-life forms, exquisitely crafted to minutest details. The skilled artisans of Krishnanagar are masters in their detailing craft and can turn any day-to-day object into a work of art purely through their detailing technique.
Buy Krishnanagar Ganesh Janani dolls online from The Bengal Store - Click Here
Maharaja Krishnachandra (1710–1783), King of Krishnanagar was a great patron of fine arts, including literature and music, and supported the production of clay dolls. In 1728 he brought families of potters from Dhaka and Natore and settled them in Ghurni, then a village in Krishnanagar. What makes this place remarkable even today is that it is a centre of production for stunningly beautiful and lifelike clay dolls. While clay artifacts are created in many parts of India, few can be compared to the intricate detailing and finesse that define the clay dolls of Krishnanagar. The marvellous creations of these artisans are even displayed in handicraft museums and art galleries around the globe. Every doll - just two or three inches in height tells a story or depicts a vignette of rural life like a horse starting to gallop, a quietly relaxing dog, a village housewife chopping vegetables, a fisherman selling fish from a huge bamboo basket, basket weavers working with bamboo bark, a priest doing puja in front of a Shivling, umbrella repairmen fixing broken handles, Santhals dancing with dhols, villagers carrying home firewood, an iron welder at his craft, a rope-maker working with jute and cotton and of course the famous Ganesh Janani dolls steeped in divine splendour and artistic aplomb.
However, due to a lack of public awareness and proper marketing, Krishnanagar artisans has taken a hit and clay doll making is on the verge of disappearing as the new generation is not taking up the craft form. The Bengal Store is thus committed to infusing a new life into this dying art form by supporting the artisans.

The raw material used to make these dolls are usually clay deposits from the banks of the River Ganges. This soil is incredibly soft and can be moulded easily into any intricate shape. The doll makers use tiny iron rods to provide the skeletal structure for the dolls, then work with delicate tools to craft the clay. When they are nearly done, the dolls are baked in a kiln, given a final coat of varnish, painted, and then costumed with authentic miniature clothing. The art received international recognition and saw its golden days during the reign of Raja Krishna Chandra when exports of such dolls took place and the royal family sent artisans abroad to promote the art. The Ganesh Janani Doll can also be worshipped daily as both Ma Durga and Ganesha are found in the same frame. Not just for divine blessings, but even to support the clay artists of Krishnanagar one needs to have such dolls displayed on their mantlepiece.