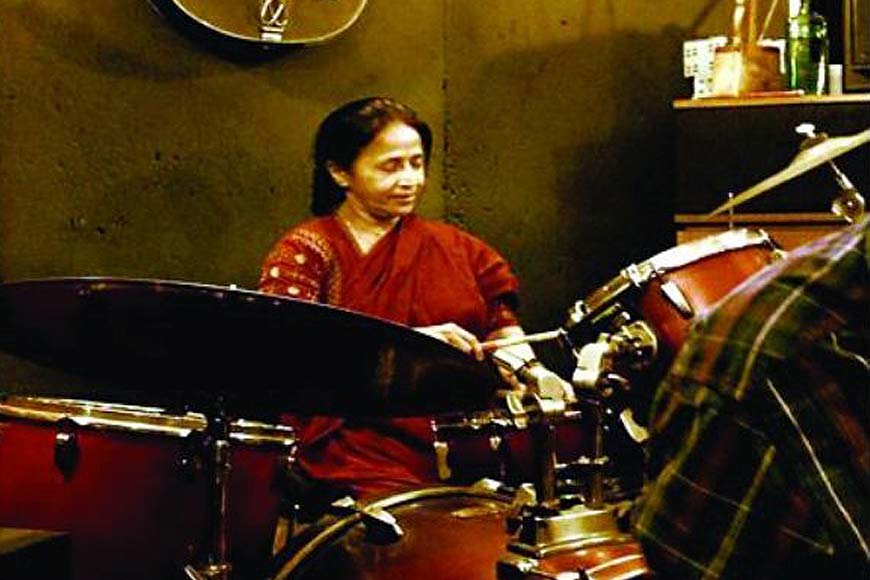 Percussionist Mickey Hart of Grateful Dead had once said, "A good groove releases adrenaline in your body. You feel uplifted, you feel centered, you feel calm, you feel powerful. You feel that energy. That's what good drumming is all about."
Well, Georgina Haque, the first Bangladeshi female drummer who took the music scene of Bangladesh by storm in the 1970s, would definitely agree. She is an icon, an inspiration for millions of talented girls who lead a life of anonymity in a society that feels 'safe' to veil women and preserve them behind closed doors. Georgina was an exception indeed.
Born on 19 September, 1956 in Dhaka, Georgina was one of the 11 sons and daughters of Farmajul Haque, a highly respected and eminent politician in Dhaka and a close associate of Bangabandhu Sheikh Mujibur Rehman. Farmajul Haque and his family lived in India till the Partition and then they migrated to East Pakistan and relocated at 76, Shantinagar, Dhaka. This became the epicenter of music and musicians from all genre congregated here. The house was the confluence of musicians and music enthusiasts in Dhaka, especially during the turbulent days of the 1960s and the 70s and the generous hosts always had their doors open to let in artists at any time of the day.
Georgina grew up amid music and musicians from infancy. Her formal training in vocal music began quite early under Khan Ataur Rahman and Ferdousi Rahman. She learnt Nazrulgeeti at Altaf Mehmood's Sangeet Vidyalaya in Maghbazar, Dhaka. Georgina and her siblings were all self-taught musicians. She was inspired by the drummer late Sabbir Qadir who was a member of her brother Alamgir's band, 'Windy Side of Care'. Alamgir later gained tremendous popularity both in Pakistan and Bangladesh. He is nicknamed the 'Elvis Presley of the East.' Qadir often used to entertain his young audience and play his drums to describe how a train sounds as it goes through a tunnel and other amazing sounds that blend together to create music. That was during the late 60's. These unique improvisations attracted young Georgina and she decided that a drum set was the instrument she wanted to pick up. The idea of sitting behind a grand drum kit made her feel important and like any kid, it was fun to play music like 'Big Bro.'
Georgina was about 12 years old when she started playing drums on kitchen utensils. She frequented roadside construction sites close to her home and watch the labourers, all females, hammering for hours and breaking bricks. She practiced rolling and off-beat hitting with them – the continuous tempo they maintained was more like "metronome"; but instead of the hammer she would have the drum-sticks and instead of hitting the brick she would have pots and pans turned upside down.
Georgina picked up playing drums very fast and started playing casually for her brothers who had their own bands – other than Alamgir's 'Windy Side of Care', there was vocalist-drummer Dastagir with his 'Underground Peace Lovers', Jahangir with 'The Rambling Stones' where at some point, Zafar Iqbal also played (Shahnaz Rahmatullah's younger brother).
Noyon Munshi, another of her siblings, was a brilliant guitarist who was playing for Azam Khan (the legendary soul singer of Bangladesh) in the band called "Ucharon" and later formed his band "Feedback" with Piyaru, Dulal and others. At the age of 14, he left for Canada where he became pretty famous and had his own band "Flash Landing". Unfortunately, he died in a car accident at the age of 20 and Azam Khan composed a song for him - "Noyon Amar Noyon Moni".
Georgina too, formed her own band with her sisters, Sultana and Roxana and named it 'The Three Haq Sisters'. They performed frequently at school and college fests, Womens' Career Training Institute, Mahila Samity, private parties, and band competitions. The band's repertoire comprised peppy English chartbusters and the audience lapped them up and asked for more. They were still kids and appeared in national television shows as well.

Georgina's talent came to light and Sheikh Kamal noticed her and he helped her fulfill her dream as drummer. After Bangladesh's Independence, she became a full-time drummer of Spandan -- a band comprising Feroz Shahi, Ferdous, Apu and others with Sheikh Kamal as manager. On December 15, 1972, at a concert held at Teacher-Student Centre (TSC) in the University of Dhaka to celebrate the first anniversary of Victory Day, a shy 16-year-old Georgina performed in front of thousands of audience. This was a time when playing drums was stereotyped to be a man's domain and it was unthinkable to see a young female musician performing on stage, Georgina broke all barriers and pursued her dream and emerged as the first female drummer of Bangladesh in the show.
However, after this historical show, Georgina moved abroad. She got married, raised her family and sporadically performed on requests but never made it an integral part of her life. In her 30s, she performed with her son Meiraj in his band "Soul Slide" (Islamabad, Pakistan). Meiraj is now one of the best Blues' guitarist of Bangladesh and is a member of "Dhaka Blues". She took a long 44-year hiatus, only to return and set the stage on fire on 16 December, 2016 at a concert held at TSC, University of Dhaka – the place where it all began. Georgina was asked to play with the band Lampost. She played drums in George Harrison's "Bangladesh" with the band and later sang the Bob Dylan track "Blowin' in the wind."
During her long stay abroad, Georgina has been associated with various cultural groups like Dhroopad, an organization of ex-patriate Bengalis living in North America and Canada, Fobana, another association of emigrant Bangladeshis living in North America and Canada. In 2008, she performed at the talent show Nova and belted out English, Bengali and Urdu songs and also presented folk dances. Her charged performance at the Mason District Park celebrating Bengali New Year, was broadcast on television NTC and the numbers she sang for Dhroopad were aired in the radio Voice of America, Bangladesh Channel.
Georgina has often been quizzed about her unusual name. There is an interesting story behind this. Her father was a liberal man, way ahead of his times and religious bigotry. The large-scale communal violence and riots that erupted before the Partition saw millions of Hindus and Muslims baying for each others' blood. But Farmajul Haque provided shelter to victims from both the communities. A firm believer in humanism, he named his progenies from different religions and thus she was named Georgina. She lost her father in 1962 when she was very young but she has inherited her father's belief and his undying faith in the power of love that can conquer all. At a time when the dark forces of hatred and violence seem to permeate global society and fracture the tenets of brotherhood, she firmly holds on to her faith and is confident that ultimately peace will prevail.