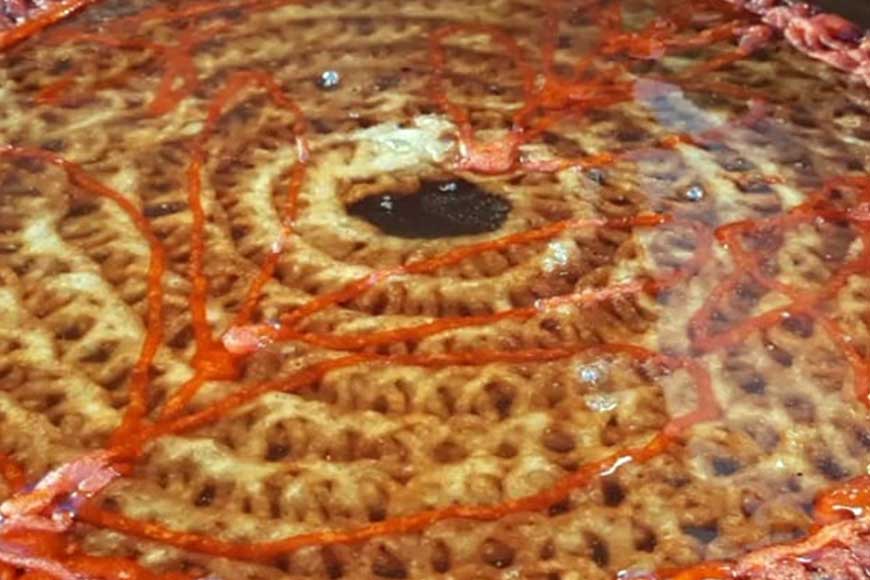 Crisp, orange and coiled, Jilipi of Bengal is anytime different from India's Jalebi. Its unique and its taste is mesmerizing. The very process of making them is no less drool-worthy than the final product on the plate. The fascinating act of dolling out the bright batter in hot oil, using a muslin cloth, fried and carefully transferred in the sugar syrup – has enthralled us all at some point in life. This favourite sugary sweetmeat of Bengal is thought to have come from Persia. In Iran, Zalabiya was a festive treat, which was enjoyed by everybody, especially during the iftaar gatherings of Ramzaan. In 13th-century, noted writer Muhammad bin Hasan al-Baghdadi, collected all the dishes of the time and featured them in his cookbook, 'Kitab al-Tabeekh', where Zalabiya was mentioned for the very first time.
In the medieval times, Zalabiya was introduced to Indian cooking and became an integral part of Indian cuisine. In Bengal, the name of Kenjakura, a small town in Bankura district, is synonymous with Giant 'Jilipis' and brass works. The giant jilipis are prepared only during Vishwakarma Puja and Bhadu Puja, a regional festival celebrated in Bankura and Purulia districts of West Bengal. During these festivals, people from far off villages and towns congregate at Kenjakura for the annual ritual of partaking giant jilipis.
The tradition of preparing giant jilipis has been in vogue in Kenjakura for generations. Normally, clients place orders for these giant jilipis on 'Bhadra Sankranti' (according to Bengali calendar) on the occasion of Bhadu Puja and during Vishwakarma Puja. Sweetmeat shops compete with each other to increase the size of the jilipis. Gifting these giant jilipis by a newlywed daughter's family to their son-in-law's family was a traditional way of bragging about their riches. But the demand for the giant jilipis have been decreasing gradually over the past few years and then the Pandemic made things worse for the sweetmeat makers. Now a small amount of giant jilipis are made annually just to keep the tradition alive.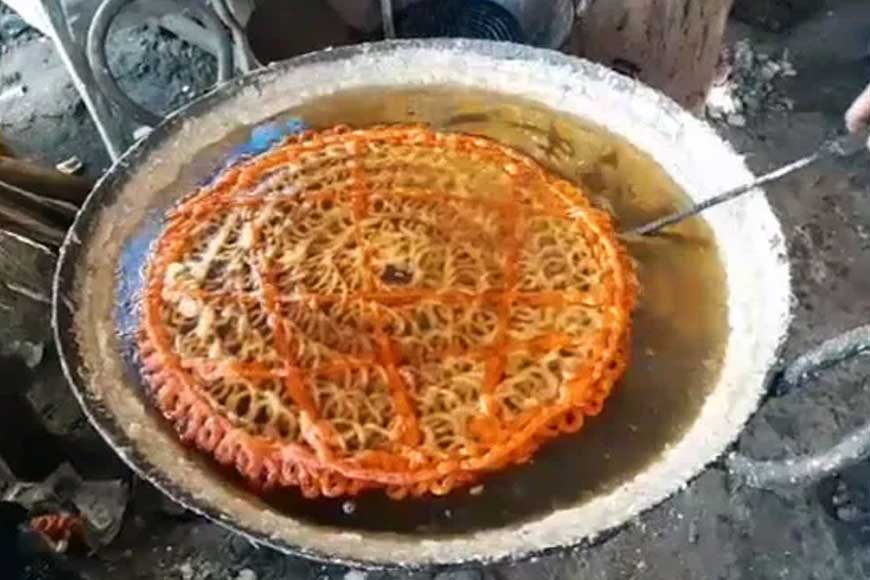 Large orders are placed from customers of Jharkhand, Bihar and Odisha. The aristocrat Bengali 'Babus' would troop in at Kenjakura in their cars a day before Bhadu Puja and pack loads of giant jilipis and carry them back in their vehicles. People from Purulia, Burdwan and West Midnapore would also head for Kenjakura for that amazing taste of giant jilipis there. Kenjakura is also hub of brass and bronze craft and textile weavers. The town is very close to Bikna village, home to the majestic Dokra art, a beautiful form of tribal art that showcases the immense talent of local craftsmen. There are a number of traditional craftsmen in Kenjakura as well who make Dokra ornaments and exquisite home decor items and idols of gods and goddesses.

Amid the gloom of the Pandemic looming over Kenjakura, there is a silver lining – the residents of the town have immense faith and believe there will be a reversal of situation. They are determined to continue their age-old tradition and buy giant jilipis from the local confectioners during festival days to keep the culinary art alive.
Ramakrishna Mission. The studio has also created idols of Maa Anandamoyee, head of a religious sect, British Monarch King George V, the Maharajah of Burdwan, academician Sir Asutosh Mookherjee, Sir Ramesh Chandra Mitter, Mahatma Sishir Kumar Ghosh and many more. Gopeswar died in 1945 at the age of 52.
Over the years, the legacy of Gopeswar Pal has been handed down generations. After his demise, his son, Siddheswar took over the business. Siddheswar was childless. After his death, his brother-in-law, Byomkesh Pal stepped in to take the reins and continues to be at the helm of affairs at the studio. His association with G. Paul & Company goes back to more than half-a-century. The studio needs to be preserved as a heritage remembering the great legacy of the Lightning Sculptor!