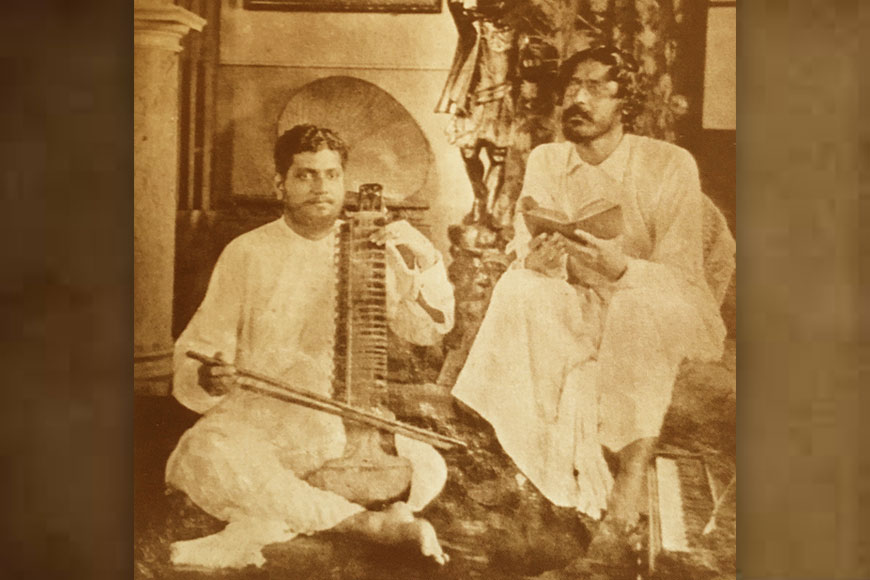 For all those who are die-hard fans of Rabindrasangeet of any genre, must have heard often the melancholic or upbeat string beats of the Esraj. Tagore's songs brilliantly embody the poet's very own perception of life and death, Nature, God and eternal pathos of humanity with which the melodious strains of an Esraj turn into an inherent compliment.
Of all the classical musical instruments that originated in Asia, Esraj is relatively a recent addition. With a strong resemblance to the Dilruba, an instrument of Afghanistan that made its entry in North India during the Pashtun rule, Esraj combined features of Sarangi and Sitar. By 17th century, Esraj derived from the Taus, a heavier instrument played by the Sikhs, became popular. Belonging to the family of the Chordophones, this bowed stringed instrument, is still played in the East and central India, particularly in Bengal, Bihar, Orissa, Assam, Tripura and also in Bangladesh.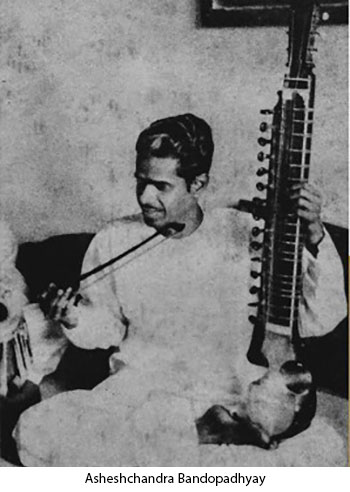 Apart from the Sarangi, there were no other bowed instruments on the classical music scene during the 19th century. The Sarangi was a difficult instrument to play and to master, while the frets on Dilruba and Esraj made it a bit easier to play. The Sarangi was also associated with artistes, who belonged to a lower social status and was used to accompany courtesans or tawaifs. Esraj has immense contribution in in folk and spiritual music and the Namdhari sect of Sikhism made and promoted Esraj for accompanying kirtan recitals. Though Esraj is intrinsically connected with Rabindrasangeet, it is not an instrument that belongs to Bengal. It became popular in Bihar and Bengal around a century ago.
Abir Singh Khangura, eminent Esraj player and Assistant Professor of Visvabharati University stated, " In a book named 'Esrar' the origin is traced to mid-19th century, when Maharaja Shri Ishwari Prasad Narayan Singh Bahadur of Benares created the modern esraj as we see it now. Though used as an 'accompanying instrument,' Esraj is as much a classical instrument as its bowed counterpart, the Sarangi. Unfortunately, it never got its due as a stand-alone instrument. Rabindranath Tagore had first heard the magical melody of Esraj when he witnessed young Asheshchandra Bandopadhyay of Bishnupur Gharana playing the instrument. The poet was mesmerized by the melancholic flood of rapture so divine that in 1937, he selected 17-year-old Asheshchandra as a teacher of classical vocal music at Visva Bharati."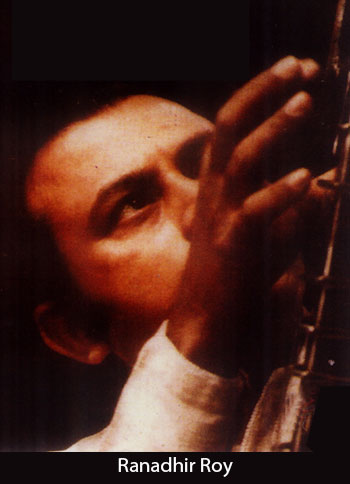 Apart from Hindusthani vocal music Asheshchandra taught Bengali tappa, Sitar and above all Esraj for the next 50 years at Sangeet Bhavana. The Esraj had so long been only an accompaniment to other kinds of music, but Asheschandra established it as an individual instrument in the sphere of classical music. Thus, began the journey of Esraj in Bengal. Besides solo performances on Esraj, he effectively employed it as an accompaniment to Rabindrasangeet and in doing so, he created a new world of artistic cooperation. Esraj became the standard accompanying instrument with any Rabindrasangeet recital.
During Tagore's time, it was imperative for all the students of Rabindrasangeet in Santiniketan to learn the instrument – not as a full-fledged classical instrument but as an accompanying instrument. Pandit Asheshchandra Bandyopadhyay encouraged his disciples to explore the classical potential of Esraj. His pupil, Ranadhir Roy was another great exponent who wanted to deconstruct the image of Esraj and play it as a solo instrument at par with Sitar or Sarod. But after Roy's untimely death, the esraj was virtually orphaned on the classical stage. His disciple, Buddhadeb Das carried the magical legacy of Esraj forward. Today, two young exponents have emerged as possible crusaders for the instrument. Shubhayu Sen Mazumdar and Abir Singh Khangura, both students of Buddhadeb Das want the audience to look at Esraj as an independent instrument and have been striving to do justice to it.

Rabindra Bharati University has introduced Esraj as a solo classical instrument in the syllabus. Visva Bharati University inaugurated the Centre for Esraj in 2013 under Sangeet Bhavana where interested students, are offered a formal training in Esraj. With the revival of the instrument, musicians from across the globe are showing interest in learning Esraj. Jonathan Kay, Alexandre Jurain are some of the prominent names who play Esraj as a classical instrument. Hope this instrument survives the test of time.