Howrah resident contributing greatly to nature conservation: Exclusive GetBengal interview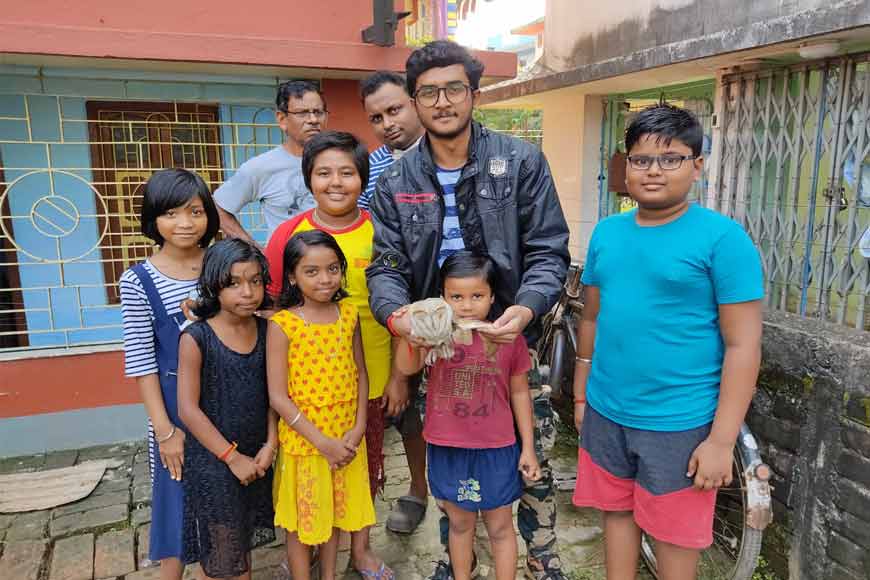 Chitrak Pramanik and his team
Industrialization and technology have changed our lives for the better. Everything is just a click away or simply one call or text away. It is important to understand that life was not so simple and it was a lot harder than any of the Generation Z individuals can imagine. As our lives are changing and becoming easier every day, so is nature changing with time and taking a horrific and ferocious form. Humans, for decades, have been taking mother nature for granted. Temperatures are on the rise, so much so that it is becoming inhabitable to any living being whatsoever. In such horrific conditions, questions such as how to save and rejuvenate mother nature and how to reduce temperatures are being asked. The answer is to first protect the greenery and to protect the wildlife.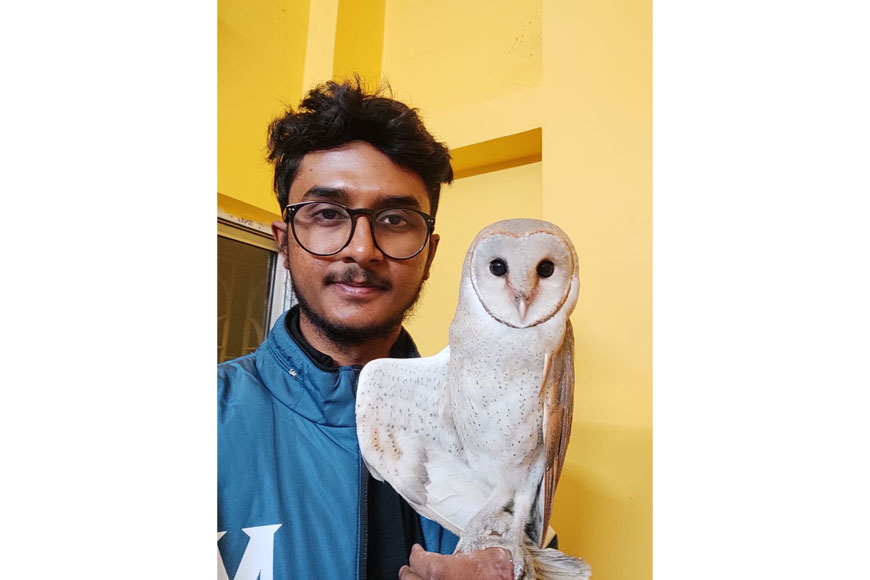 Chitrak Pramanik, a resident of Howrah, Bagnan is dedicated to conserving nature and animals. The Howrah town has been infested with industries and factories leading to terrible pollution. Bagnan, Amta, Shyampur are villages where there are still some trees and animals left and agricultural practices take place. Bagnan is at the end of the Howrah district, surrounded by the Damodar and Rupnarayan rivers. Chitrak told GB, "Many trees have been cut in Bagnan due to industries and factories. As a result, West Bengal's State animal, the fishing cat which is known as "Baghrol" in Bengali, is fast vanishing from the area. I have seen many such Baghrols being killed by locals. Fishing cats can procure fish directly from the water bodies, which is why fishermen often poison them or kill them to save their fish from getting eaten. Another reason that they get killed is due to the social stigma attached to their name, which often creates confusion among the locals who think it to be a carnivorous animal and kill it out of fear. Now, only a few thousand such fishing cats are left. My ancestors have seen many baghrols or fishing cats roaming around in Bagnan but now it has become a rare sight."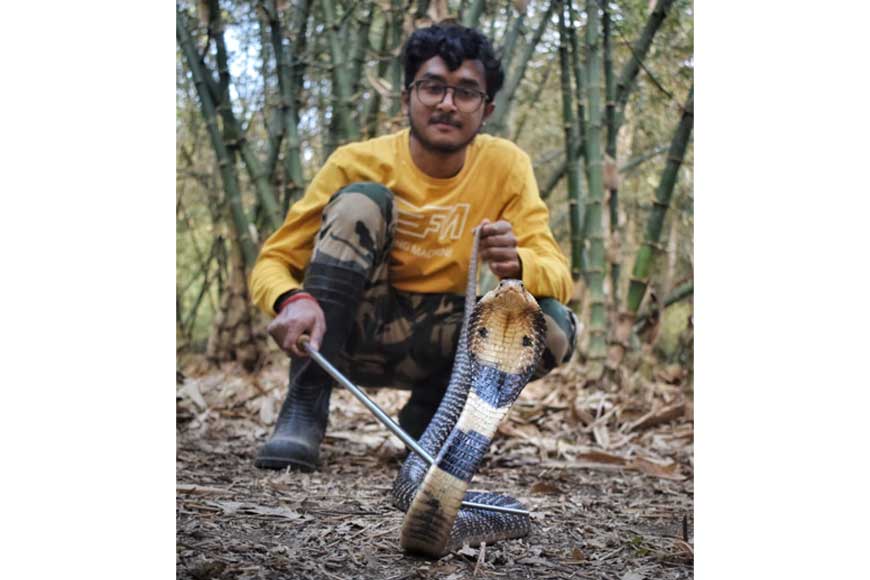 Chitrak Pramanik dedicated his life to the conservation of wildlife
A few months back, in January 2020, three fishing cats were found dead in Bagnan. Chitrak was informed about this by the locals, he and his team rushed there only to find 3 dead bodies, and all were female. It shocked the conservationists as Fishing cats belong to Schedule I species in the Wildlife (Protection) Act and hence enjoy the highest level of protection equal to that of tigers, lions and elephants. Chitrak said, "Fishing cats are unable to survive if their habitats are destroyed. Wetlands are being destroyed through filling, grading and so on. Marshy lands are also decreasing. Fishing cats are nocturnal. They are also often hit while crossing the road by speedy cars on the state highways. In the years 2022 and 2023, 12 to 14 dead bodies of fishing cats have been marked. Tiger conservation receives a sufficient amount of attention, then why not give some attention to the conservation of fishing cats as well? We go on many awareness programmes, and wildlife programmes to inform people and make them aware of how harmless these animals are. We show them videos, pictures to make them understand."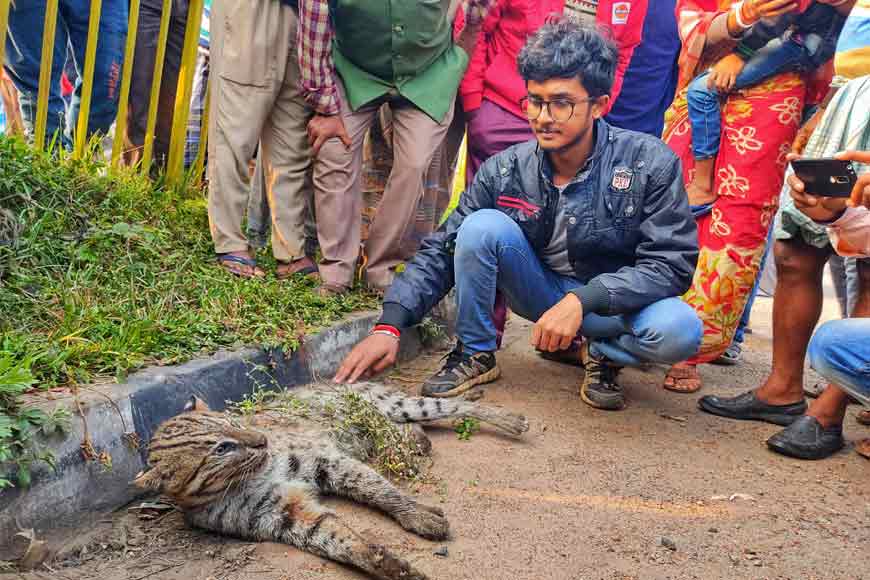 One of the main concerns of Chitrak is that the conservation of such animals, such as one of each species, is not enough. "Until we have a forest that can foster such animals, and provide a home to these innocent ones, rescuing can do very little to wildlife and nature conservation. It is not like that on significant days, such as World Environment Day or World Conservation Day, we take some saplings from the forest department and plant them on the sidewalks. Nobody checks on them, no one cares if the sapling survived or not. We took the initiative for 2 or 3 years, planting trees that are 8 feet or 10 feet in size. We are making people adopt those trees, such as one tree will be looked after by 5 kids or 5 persons. The results of this experiment were positive, so we have been continuing this for 2-3 years now. Children and adults are coming forward to help."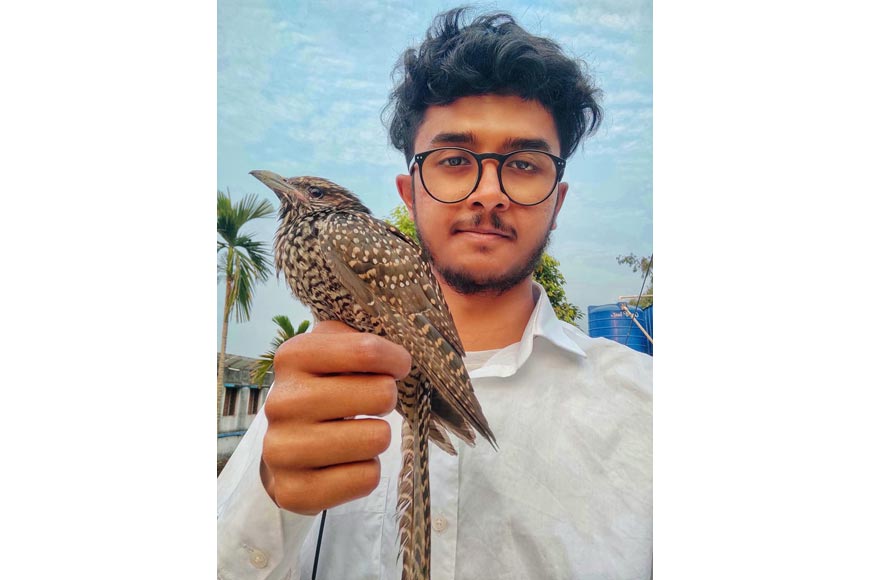 Another problem noticed in the region is that of owls decreasing in number. People have various stigmas, such as if an owl calls at night that means there will be a famine in the village. Such false thoughts and superstitions lead to their killings. When the breeding season of owls starts, after the Durga puja or so, the owlets are taken from their nests and often thrown in water or on the ground. In 2022, Chitrak had rescued 52 owlets. Decreasing the number of owls can lead to an increase in rodents. Owls are the best rodent killers. One owl eats about 500-700 rats in a year.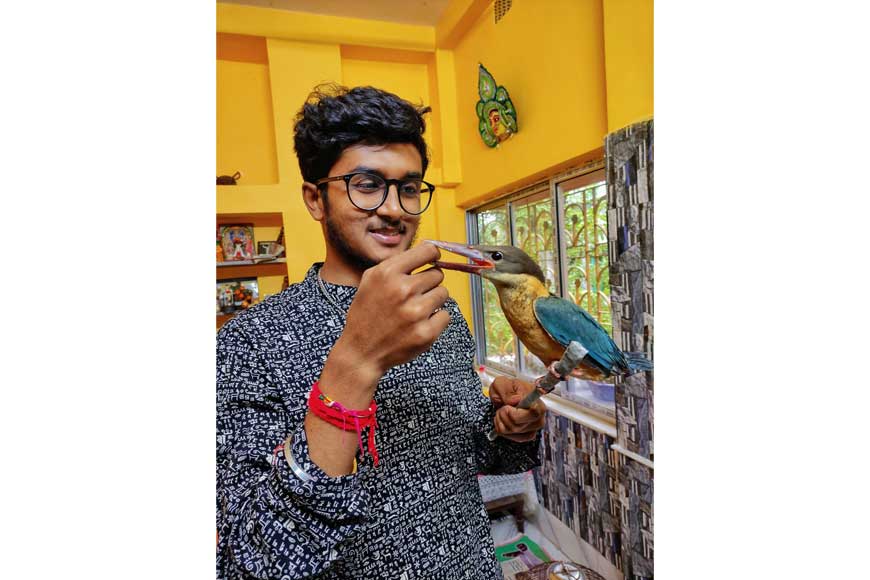 "The habitats of owls have also been destroyed. Owls live in the holes of old, tall trees, which are being cut down. We are planting 100-200 palm seeds every year to bring back the owl, eagle and vulture population. Date trees are also being planted. We mainly plant fruit-bearing trees so that both humans and animals can benefit from them. The future is horrifying. The consequences of climate change will affect the next generation."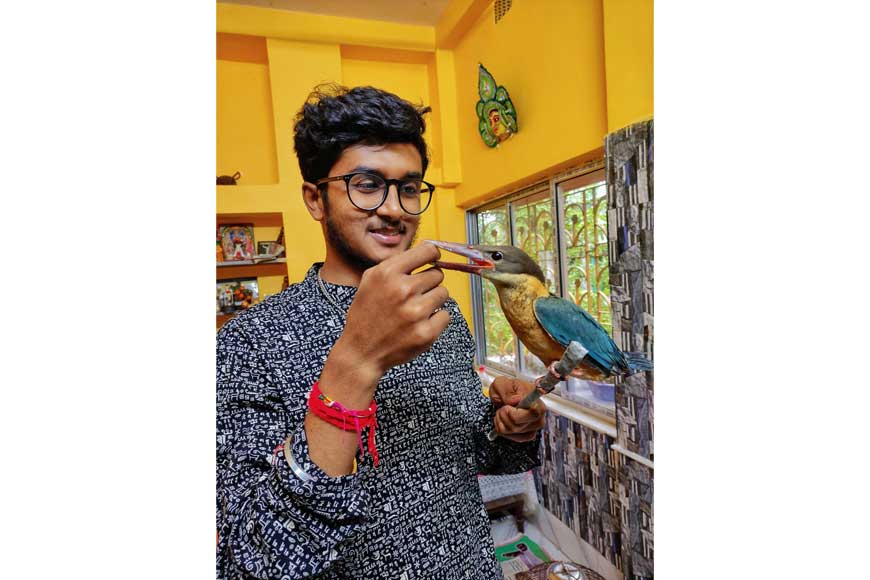 According to Chitrak, we need to intertwine wildlife and nature conservation within our daily life. In his team, there are approximately 40 to 50 persons from which 10 to 15 people work actively. Sumanta Das, Raghunath Manna, Imon Dhara, Sumon Pathak are some of the active members. Every year during monsoon, Chitrak and his team rescue more than 100 snakes. People taunt him or ask him where he will sell them, if he will sell their poison or not. They try to return the animals to the same region from where they were rescued. Many people rescue animals and birds and give them to the forest department. Chitrak and his team try to heal them and then return them to their own region, from where they were found. As a result of, this the ecosystem of the region stays intact.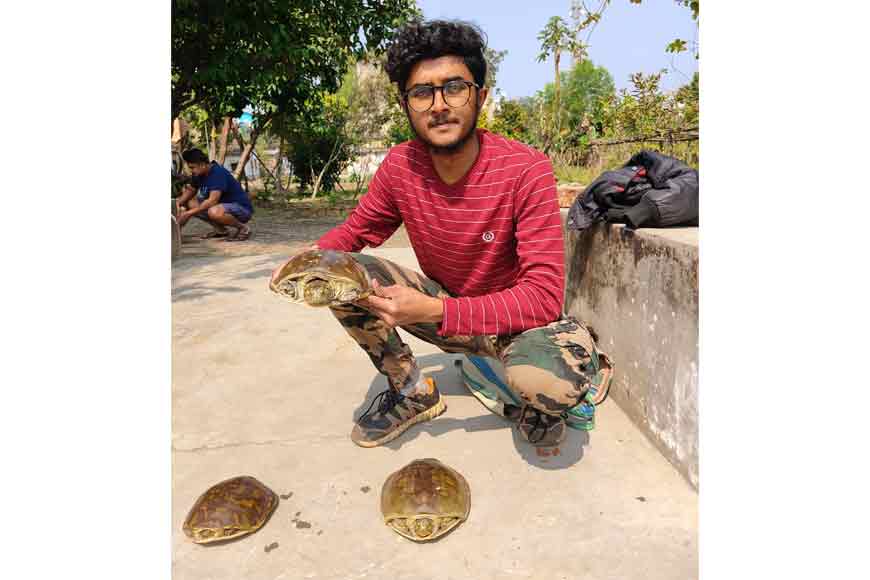 The kids on his team help him in many ways, such as if a person takes a turtle home from the wetlands, to eat it, then the kids report to Chitrak. The Kid Brigade keeps a watch on newcomers in the area and if they notice that they are hunters or poachers, then the kids follow them, Chitrak is informed and action is taken. Chitrak started working closely with nature at a very young age, when he was 11 years. His parents are also nature lovers. He learned from them to be nice and helpful to animals. Chitrak studied in Bagnan High School, and completed engineering from Elite Institute of Engineering and Management, Sodepur. He has been offered many jobs but all are outside of Bagnan. Chitrak fears that if he leaves the place then all his work for all these years will go in vain. He is trying to find a job in Bagnan, even though it may pay less but he will be happy to keep the area safe for animals. Chitrak and others are not paid for their labour, their love for nature drives them toward nature and wildlife conservation.