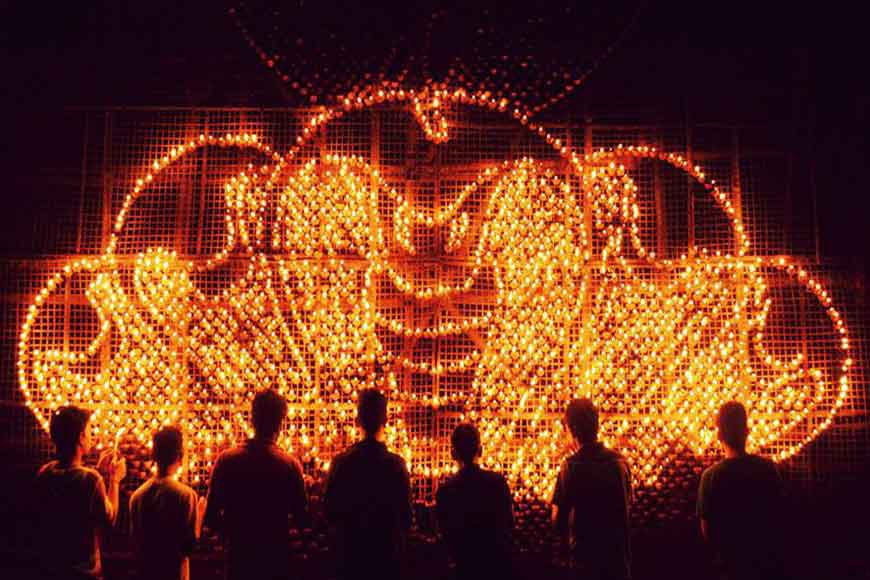 IIT Kharagpur is an exception this year.They are celebrating Diwali in a unique way this year. Fireworks and wasteful consumption will be replaced by masterpieces created with fire on an enormous scale. Thousands of glittering diyas stand out in the darkness against a structure, taking forms of scenes from Indian epics, issues of national and contemporary importance, artistic renditions of deities and monuments. Students' talents reflect in huge, intricately designed rangolis, infused with life by vibrantly coloured hues. The show culminates with Illumination, a cultural festival organised by students, who join forces to light up the entire campus.
Illumination or Illu as it is popularly called is what is unique to IIT Kharagpur during Diwali and this is something that all KGP ians remember throughout their lives. From the time they start preparations to watching the flawless and beautiful structure glowing prominently in the dark, the show instills a sense of pride, accomplishment, togetherness and honor amongst the students and something that they look forward to every year.
Started in 1981, this kind of Diwali not only encourages the pottery industry's economy, but also solves the problem of environmental pollution by creating a thing of beauty with teamwork, creativity and sheer engineering talent. The practice was begun by students of Azad Hall of Residence who came up with this inspired way of celebrating Diwali, and now the tradition of Illumination is deeply ingrained in the culture of IIT Kharagpur.
There are 21 halls in IIT Kharagpur and each has a tough competition amongst themselves during Illu. This is the time of the year when each get a chance to show off its creativity and comes up with brilliant themes, mostly from epics, Ramayan and Mahabharat. They decorate their halls with chataisand giant grids made from bamboos and use wire loops to tie diyas together so that they can create beautiful and illustrative patterns. The students put in a dedicated effort for countless hours in making Illu successful and grand. Finally, the winner is announced amid much fanfare.