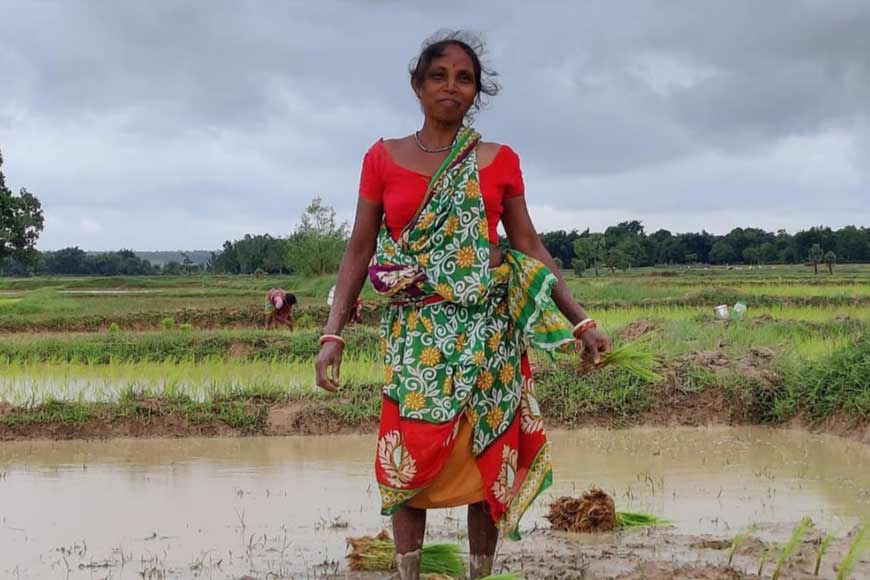 Tribal women of Bengal's Jhargram are now turning trendsetters in organic indigenous rice farming that is bringing huge profits pegging to almost 3 crores a year. They have created a model that can be followed by rest of India. West Bengal down centuries had its own indigenous paddy varieties that were not just laden with rich nutrients, but many of them could even survive today's climate change. Unfortunately, they got lost over the years due to invasion of low cost hybrid varieties.
But Panchabati Baske and Nirmala Mahato of Jhargram have now started a revolution by cultivating indigenous varieties of rice organically without using any chemical fertilizers. They have been joined by a group of 55 women farmers from Damodarpur village and 21 women farmers from Murakathi village and all of them are growing organic varieties of lost paddy that is yielding good profits. With their success story reaching far and wide, almost 5,000 women have joined Aamon, East India's largest all-women producer company, formed with support from Pradan (Professional Assistance for Development Action), a civil society organization working with the poorest communities in rural India.
Officials at Aamon mention how through 'Regenerative agriculture, the women's incomes have tripled and best part is their produce have no chemicals in them and hence consumers can also avoid the harmful effects of such chemicals.' This endeavour has also helped the villages to restore their ecological balance as use of excessive chemical fertilizers and pesticides had wreaked havoc with the rural ecology particularly of pond ecosystems. One such female farmer is Swarnalata who along with her husband had meagre earnings from conventional paddy farming on their 1.5 bighas (0.5 acres) land. "Whatever we earned went into repaying loans. Since the cost of inputs was very high, we took loans for farming. We hardly had any money left. I joined Aamon in 2016 and when the proposal to grow black rice was mooted, I begged my husband to allow me to grow the same,' says Swarnalata. Her husband and in-laws were skeptical but the huge success and profits that are coming has now made the family happy.
As the site of Amon mentions the cost effectiveness of the whole produce. Conventional paddy sells at Rs11-13 per kg while the black rice now sells for Rs 34 per kg. Quite naturally there is a huge jump in the income. The money goes directly into the bank accounts of the women, thus empowering them at every step.
While NGO PRADAN, who work with rural communities helped in doing research and led a campaign on why and how to preserve and conserve local species and go in for organic farming. They studied the market to analyse the demand for commodities that could fit in the geopolitical situation of the region and how traditional and healthier varieties of rice such as black, brown and red rice would be a hit in the markets.
The villagers in the region traditionally did only one crop of paddy and their annual income was between Rs40,000 and Rs50,000, which has more than doubled now. The venture started with 300 women farmers who grew 18 varieties of rice using indigenous seeds in the first year, using farmyard manure and natural inputs and got a high yield of 4 tonnes per hectare. The women of Jhargram after their super success with paddy has now turned to other products like organic turmeric, medicinal herbs and Sal leaf plates. Some 1500 women farmers have sown turmeric over 20 hectares. Another 300 farmers are growing medicinal herbs over 40 hectares.
PRADAN has also helped the tribals of Nayagram take up organic farming. These people lived in abject poverty and they primarily sold forest produce. Now they are able to grow these varieties of paddy by improving the soil fertility. Both Amon and PRADAN have also helped the women to develop a good supply chain that helps them to sell the rice at the right price. Village producer groups were set up to oversee and manage the production and assign what the farmers would grow. There are currently 52 groups in 140 villages. Last year, the farmer producer company got orders for black rice worth Rs1.5 crore.

The orders that are taken by the farmer producer company are passed on to the village producer groups and they assign what the farmers will grow. At harvest time, the rice is sold to bulk traders. To process the rice, PRADAN set up a rice processing mill in Murakathai village that is managed and operated by the women themselves. The mill has a capacity of one tonne per day. Aamon has appointed women as purchasing officers in the villages. The purchasing officers check the quality and procure the rice as per the order. They then send it to the mill where it is processed and given to transporters who ferry it to the traders. The storage model is unique as well. The FPC does not have a warehouse for storage. After harvesting, the farmers store the produce in their houses till it is sold.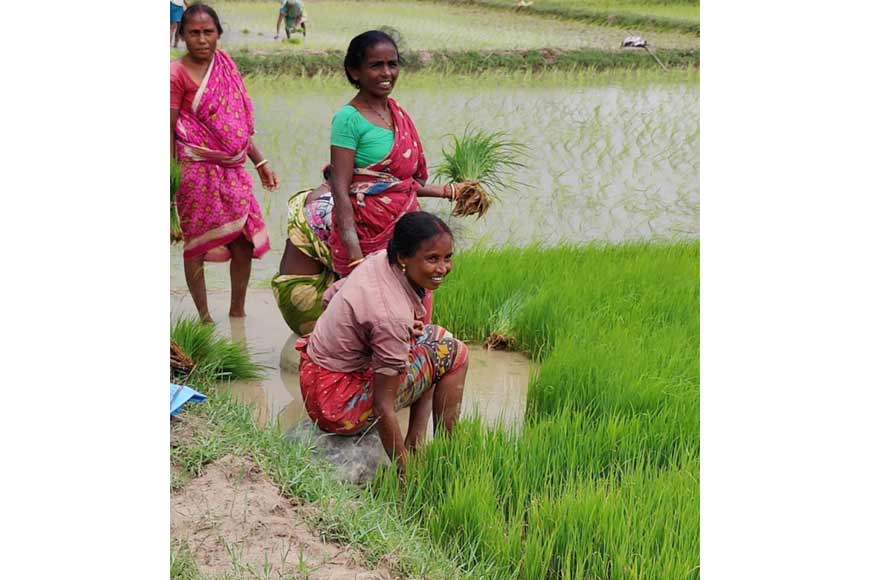 The varieties that are coming up include Kalabhat (Black rice), Mallifullo (brown rice) and Kerala Sundari (raw aromatic full bran folk rice) and Red Rice, locally called as Sathia, in the remote villages of Jhargram. What started in 2017 with a dozen women has taken the form of a company with 2,677 women farmers as shareholders to Aamon Mahila Chasi Producer Company Limited today. According to the women farmers, the yield varies with the varieties. While it is about five to six quintals per bigha for indigenous varieties, for the high-yielding paddy cultivated with chemical fertilisers, this can be about nine to ten quintals. With the price of the indigenous varieties being three times, the women farmers are making profit.
Buddhadeb Jana, Manager at Aamon, who looks after the marketing of the indigenous organic rice varieties said: "We have customers in different parts of the country from Maharashtra to Tamil Nadu. We at Aamon are mostly dependent on institutional buyers but are ready to sell those seeking orders above 50 kgs."