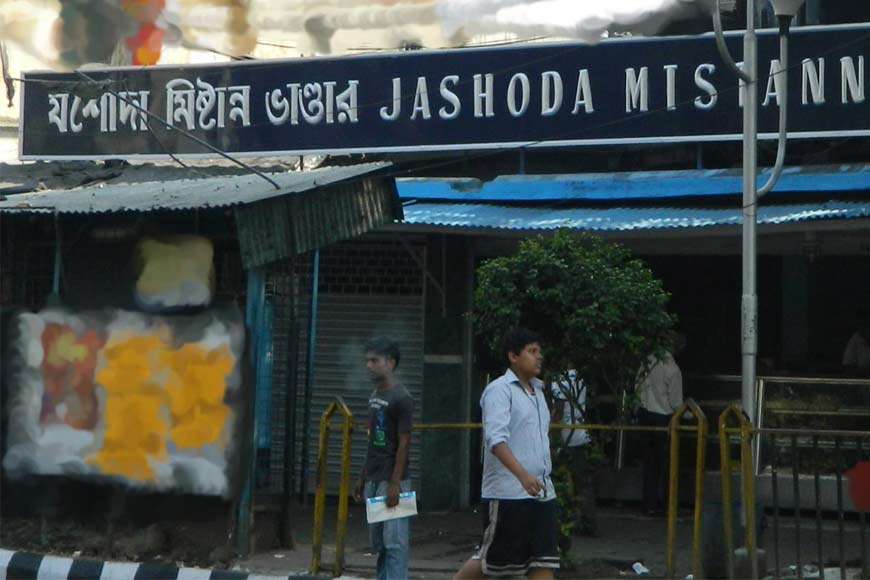 "My problem isn't that I have a sweet tooth. It's that I have several of them." And as everyone knows, that's the problem with a majority of Bengalis. Bengalis absolutely love sweets, so much so that sweetmeats like 'sandesh', 'mishti doi' etc remain an integral part of the average Bengali's meal. So, the next time when you want to unsettle your Bengali friends, just moot the topic of sweets and then ask about their favourite one. It is bound to send them into a tizzy. It is a very tricky question and certainly not easy to answer. How can one pick one over another? Sweet items galore and traditional Bengali confectioners keep adding to the list, making it more difficult for consumers to choose from the vast array of sweetmeat on offer.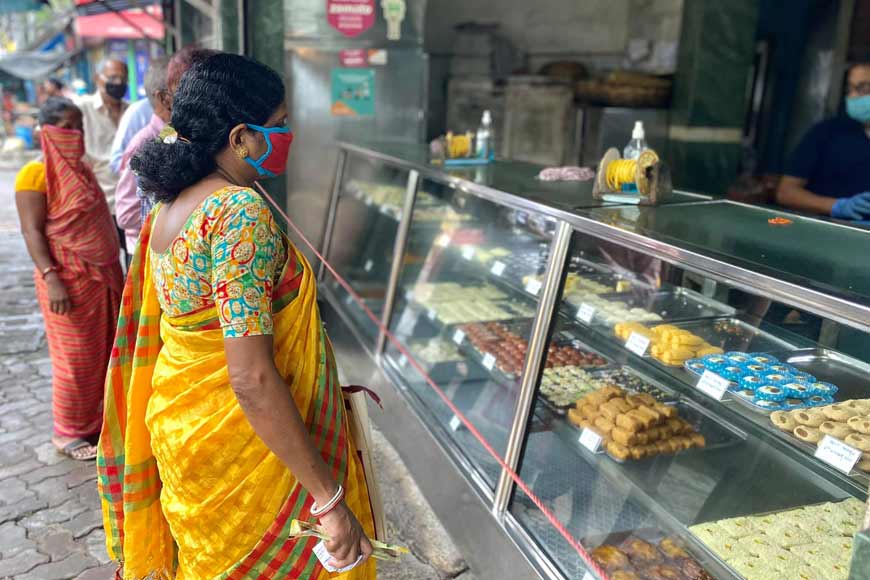 One such iconic confectioner of traditional sweets in Kolkata is Jashoda Mistanna Bhandar on S.N. Banerjee Road, Taltola. This 86-year-old shop is not only a favourite haunt for the people of central Kolkata but is frequented by people living outside the state or even abroad. The shop is like a pilgrimage for NRIs who grew up in the vicinity or frequented the shop when they were living in the city. Jashoda Mistanna Bhandar pampers sweet tooth of connoisseurs across India even online.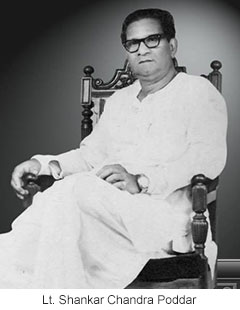 Founded by Lt. Shankar Chandra Poddar in 1935, the shop is located amid a bustling Central Kolkata neighbourhood where diverse communities and religious groups coexist harmoniously. It was passed onto his sons, Sanat Poddar and Soumen Poddar and is presently managed by the third generation, Shyambhu Poddar, who also happens to be an upcoming filmmaker. Although for old-timers, this shop is synonymous with superior quality, use of pure ingredients and unadulterated raw materials. Shyambhu is a marketing whiz kid with a professional management degree and is leaving no stones unturned to push his shop's brand further and cross boundaries to make the products of the shop available to the larger populace.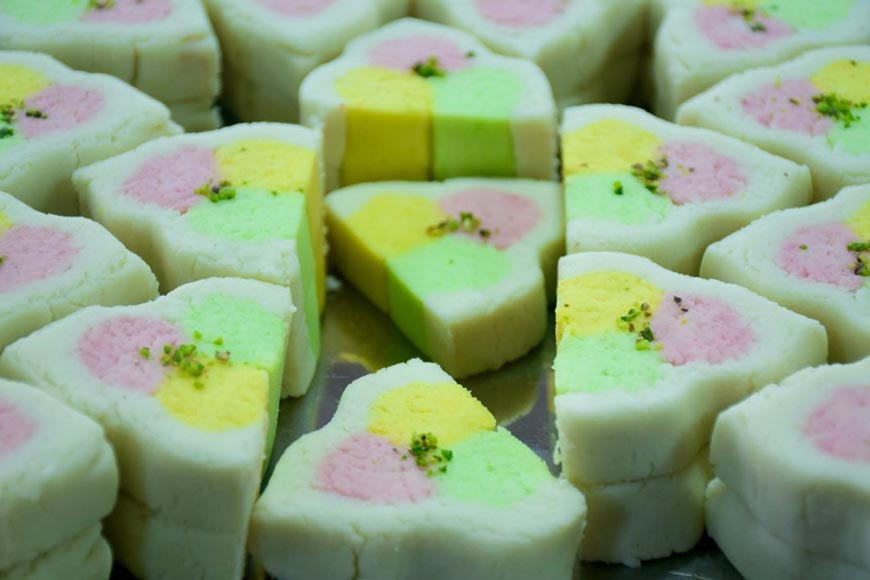 Jashoda Mistanna Bhandar is traditionally acclaimed for its rich, creamy Laal Mishti Doi (sweet curd) popularly known as "Jashodi Doi", which is prepared following a special caramalization process, without the addition of sugar or any other sweetener in the milk during the process. Besides this, traditional sweets like "Kora Pak Talshash", "Rabri" and "Dofali" are made according to the age-old formula introduced at the time of inception of the shop in 1935. Savouries like Heeng Kochuri with Chholar dal and shingara (with phul-kopi aka cauliflower filling during winter) are made according to the recipes introduced by Lt Shankar Chandra Poddar and handed down generation.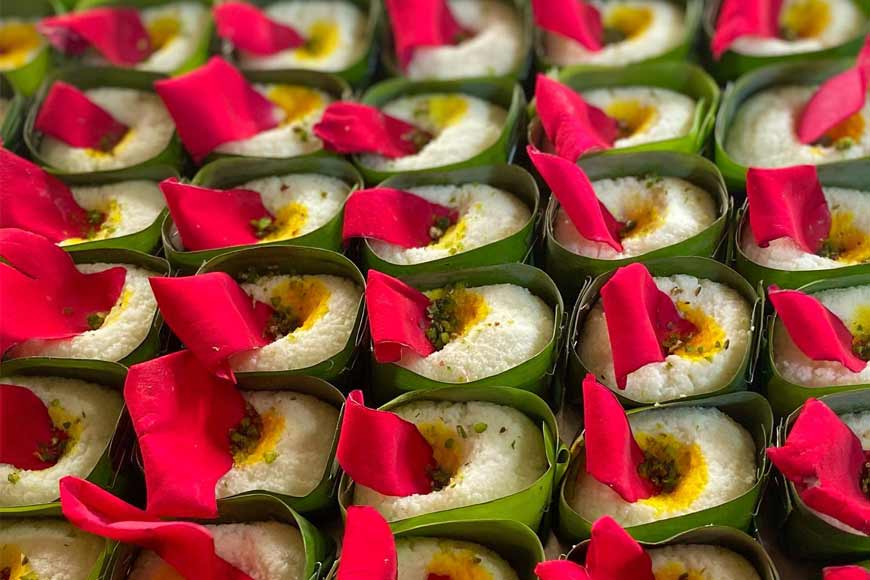 The "Dofali" has had various names in the past like "Jashoda's Special", "Julie Mishti", "Mouchak," "Rainbow Mithai" and so on, but the concept has always remained the same -- to cut a "Kalo-Jam" into half, with a layer of thick malai spread and wrap it up with grated sandesh on top. Rabri, rosogolla, jolbhora sandesh, kheer-kodom, shankh sandesh, chhanar toast, kanchagolla sandesh have been the crowd-pullers for generations now. The 'daab sandesh' is a unique invention of the shop which has a slight hint of coconut, a dash of malai put together with a soft sandesh. This is a show-stealer, literally.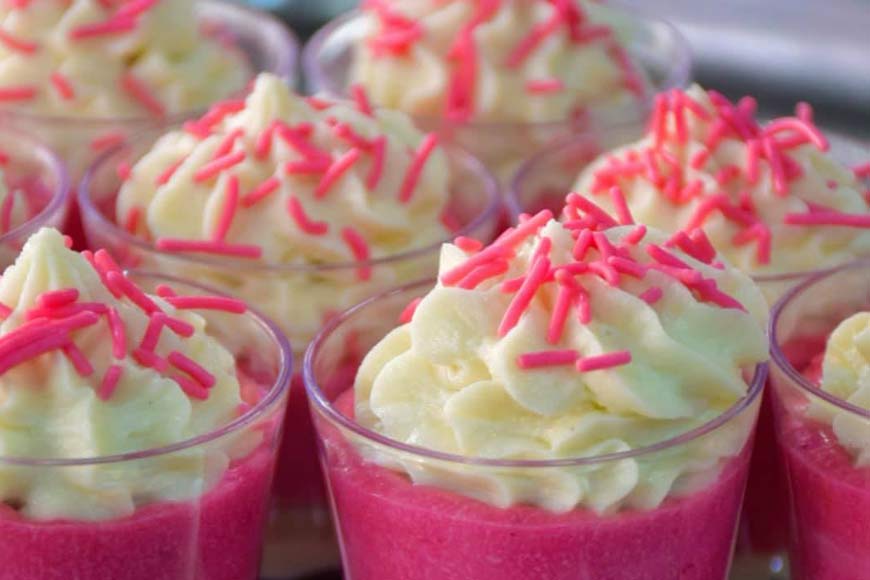 Driven by strong business acumen, Shyambhu has re-worked to alter or change a number of traditional sweets and has infused exotic fruits and berries into the preparation of sweetmeats. Thus, came up "Blueberry Jolbhora" and the "Mango Jolbhora." The fine mix of chhena makes the sweets subtle, not too rich yet creamy and melt-in-the mouth. The Mousse sandesh, which has flavours of strawberry and Oreo going into it, was the result of months of experimentation. Similarly, Choco Sandesh, strawberry Sandesh and Blueberry Mousse Sandesh are recent additions to the shop's already vast repertoire.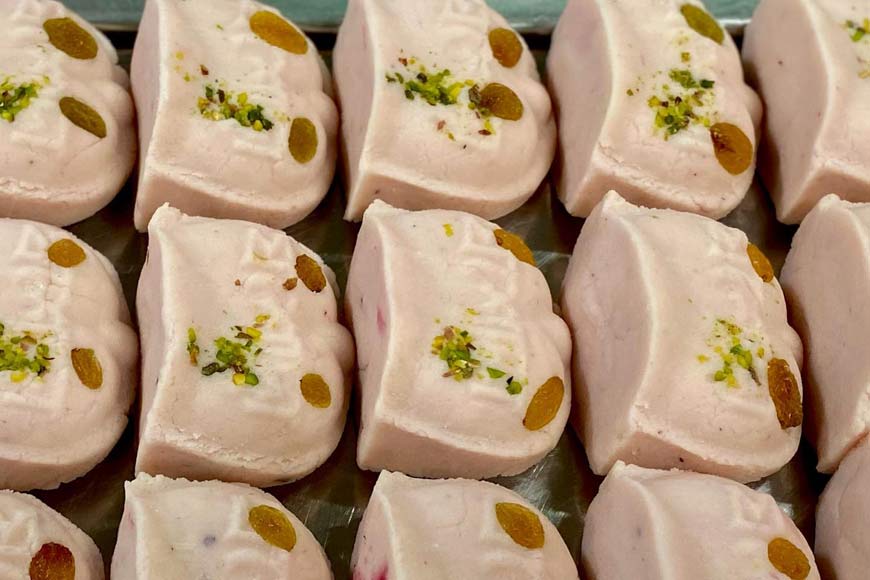 Come winter and Nolen gur reigns the shop. Nolen gur kheer sagar, Nolen Gur Kanchagolla, Nolen Gur Rosogolla, Baked Malai Chomchom, Baked Rosogolla, Nolen Gur Jolbhora, Nolen Gur Pop Sandesh and Nolen Gur Mousse take pride of place in the display counter.
Image Courtesy : Jashoda Mishtanna Bhandar Facebook