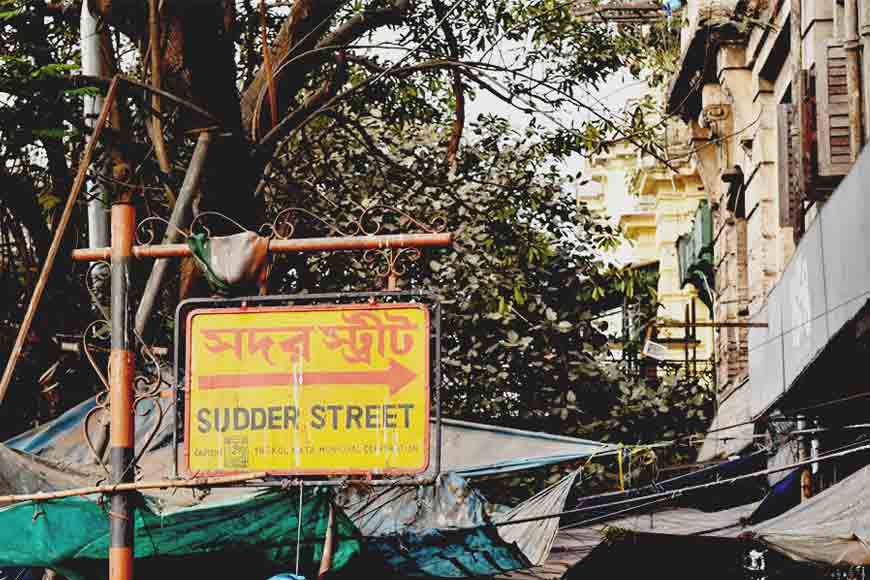 If Sudder Street has always opened up the view of budget hotels and a primary hub for foreign students who come on back-packing tours, then think twice. This was also the street where Rabindranath Tagore penned down one of his famous poems 'Nirjharer Shopnobhongo' (The Awakening of the Fountain). This was the time when Tagore stayed with brother Jyotirindranath and his wife Kadambari at 10 Sudder Street. There still lies a memorial of Tagore at one corner of the street.
Sudder Street is not just a regular by-lane of Kolkata. It is a perfect amalgamation of an old Calcutta rustic charm and the modern hip-hops of new Kolkata. A walk down the street will open many undiscovered and intriguing arenas for an exploring mind. The street begins on the opposite side of the Fire Brigade Headquarters on Free School Street and culminates at the entrance of Indian Museum on Chowringhee Road.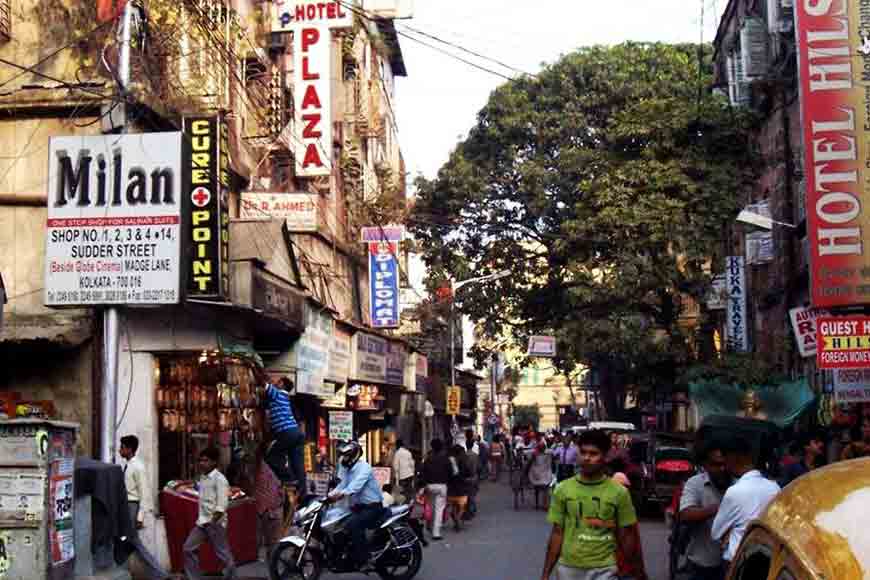 Intriguing alleys of Sudder street
Sudder Street was named after an old Sadar Court and became the world of hippies during 1960s. The street then symbolized freedom at its best. Even today, it is considered a backpacker's paradise. Sudder Street is also the most sought-after destinations for tourists because of the myriad culture it has to offer. Your nationality is of no importance here and the whole concept of class consciousness is shattered unconsciously because of the sense of warmth received by everyone. You can see street vendors conversing in British accent with British tourists and in a perfect American diction with Amercian tourists.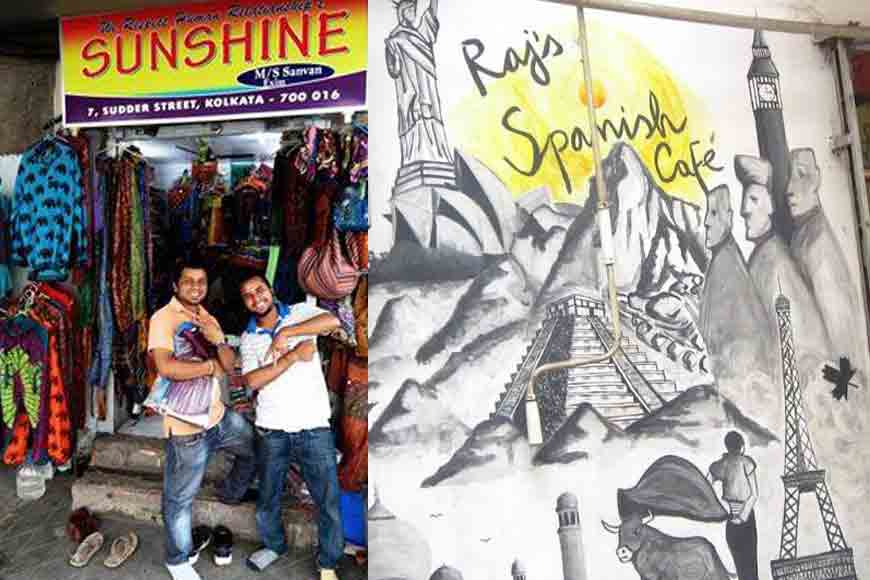 Must visits of Sudder street
Often preferred by foreign tourists during their stay in Kolkata, the area comprises numerous budget hotels, pocket-friendly restaurants and a flea-market where various quirky clothes and vibrant stylized accessories are available. Hawkers peddling various things like shawls, souvenirs, books is a common sight. This street also has an old church and restaurants like Zaranj. Housing one of the most legendary and notable hotels since the British era, The Fairlawn, this busy street is characterized by the vibrancy of the crowd. The shady lanes take us to a rusty old world of gramophones. Once a thriving business, the harsh reality of the present day is there are not many takers of these age-old music players. People do not have the intention to buy these as free songs are available for download and those who do, buy it for keeping it as showpiece in their homes. There also countless foreign exchange kiosks.

Sunshine is one place that is a must visit. Trendy and funky clothes, junk jewelry, artistic writing pads, jholas, favoured tea, home accessories, are all found. The hospitality you will receive by the brother duo running the shop is simply incredible. They might offer you tea and indulge in pleasant conversations. Whenever you visit Sunshine, you feel that you are paying a visit to old friends. When it comes to food, there is no other place than Raj's Spanish Café. The place is known for Italian, Spanish and Italian breakfast combos, sandwiches and a lot more.
Myriad shades of Sudder street
Raj's Spanish Cafe is the best place for comfort food. With a menu that offers Italian, Mexican and Spanish breakfast combos, sandwiches, tea, coffees, and sinful desserts, everyone is sure to find something they love. Pollo Asado is the most noteworthy dish available here. Sudder Street is a beautiful area still holding on to the nostalgia, equally adored by tourists and locals alike. Hours can be spent on this street, exploring the nooks and corners, either to shop or have a tasty meal. The graffiti on the walls add on the quirk. Sudder Street is a perfect delight which adds on to an unforgettable experience of exploring an important locality of old world Calcutta.
Image courtesy: Sudder Street FB page
(https://www.facebook.com/sudderstreet/)