Mera Har Din ... Keo Karpin! How a Bengali brand survived 110 years in a competitive market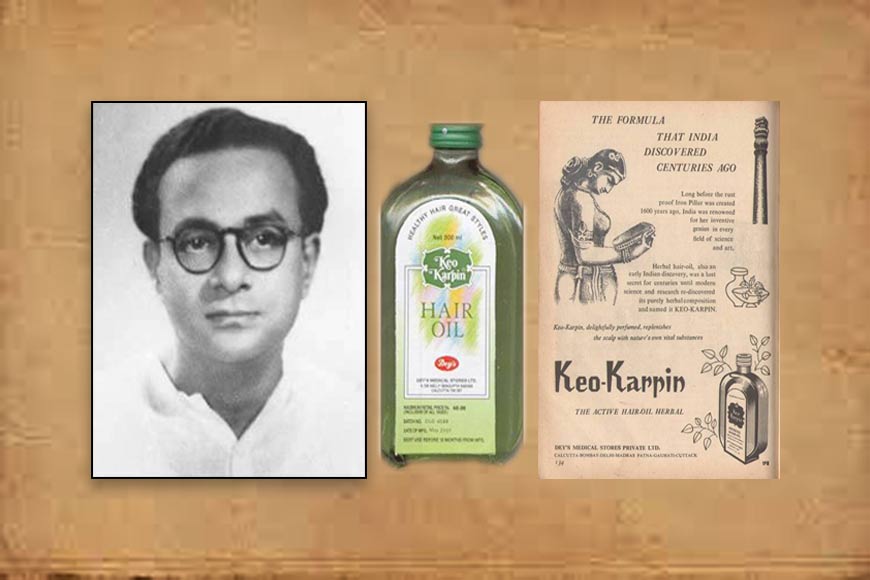 'It lost its way some time ago due to stiff competition. But now, it's back!' That's what Dey's Medical and its popular hair oil brand Keo Karpin proclaims. Just like Bengali nostalgia moves along names like Jabakusum Oil, another brand from this land of Elokeshi, Keo Karpin and Dey's Medical has consistently survived in the market, despite invasion of several foreign cosmetic brands and a general apathy among youngsters in not using hair oil in the face of gel creams. Mera har din .. Keo Karpin, had caught on Indian consumers with a brand new ad campaign tickling the emotional quotient of a woman's love for hair oil --- from that of a mother gifting her daughter a hair oil to grow her black mane long, to playing on the romantic gift between lovers and then a working woman managing her hair with Keo Karpin. Over years, it just worked and went on to become one of the gems of Eastern India along with brands like Jabakusum.
Take for example hard data. In an interview to the media, Gautam Dey, the Managing Director had mentioned how Keo Karpin brand from Dey's Medical lifted their sales by 30-40 % in a year. In 1989, the sales reached 20 crore from just 2 crore. And just one hair oil did wonders. Exactly 110 years before Prime Minister Narendra Modi and his team could even think of launching the 'Make-in-India' campaign, a pre-Gandhian Swadeshi movement had swept India, trying to make the country self-reliant, beyond the invasion of British goods. Three pharmaceutical companies from Calcutta were launched that went on to become success stories and incidentally still survive. They were Prafulla Roy's Bengal Chemical, GD pharmaceutical and Dey's Medical.
Dey's Medical launched in 1941, became relevant since World War II. B.N. Dey started a small retail medical store in Calcutta as the war was raging across the globe. Due to this war supply of essential drugs dropped at times, and the people of India were suffering. To help them, Dey came forward to ensure a steady supply of life-saving drugs and medical appliances to treat troops on the battlefield as well as civilians. It earned a huge popularity and approval of the medical fraternity.
What started as a drug company, switched to manufacturing indigenous products in 1957. Accordingly, they established a manufacturing unit in Calcutta. Despite several political uprisings and invasion of foreign brands, Dey's medical did business for 20 years, only to feel the brunt of global drug pricing in the 1970s. In 1977, as drug price control notice of 1970 was introduced, as a result they had to cut down prices of drugs like most other pharma companies. This had hit their profit margins and brought the company on a backfoot.
Keo Karpin hair oil was launched in 1956 with the USP 'With strict control over raw materials and manufacturing, Keo Karpin is the healthy oil.' And it clicked. Along with Jabakusum, Keo Karpin has consistently been considered as the Jewel of the East in the hair oil market. Consumer perception of what a good hair oil is all about has changed over the years. Earlier, the market was saturated with thick oils claiming nourishment and maintenance of hair. Advertisement of such oils hardly were seen by consumers, none thought of relating oils to hair styling other than a mere women's head with a plait or a bun embossed on the bottle cover. There were many brands in the market but no clear-cut leader. That's when in 1980s, Dey's Medical evolved the Brand Keo Karpin.
They relaunched the product keeping in mind the young and fashion-conscious generation who were looking for alternatives to heavy, sticky oils. Keo Karpin was thus relaunched as a light, non-sticky hair oil that was just right for styling hair, pioneering the concept of hair oil as a beauty product. With sleek advertising and high visibility on TV, Keo Karpin caught the imagination of the public in a big way. As fashion trends changed and different hair styles became more common, the sales picked up and Keo Karpin dominated the light hair oil category. The sales reportedly touched ₹20 crore in 1989.
However, in early 1990s as coconut prices fell drastically and consumers started shifting to the much cheaper coconut oils, Keo Karpin faced tough competition from other light hair oil brands like Parachute. Interestingly, Dey's Medical completely changed their strategy in marketing Keo Karpin that still had the 'pioneer' tag and an emotional connect with consumers. The product came back strongly with an advertising campaign emphasising the brand's presence in the different stages of a young girl's life. The product was repositioned to include the 'nourishment' tag and the packaging was changed to a PET bottle with a pilfer-proof cap. It has also introduced the first ₹10 hair oil in a PET jar.
By the late 1990s, Dey's had brought in other products like hair vitaliser and skin care, which were received very well by the public. With the hair oil promoted as a beauty product and the hair vitaliser as a therapeutic aid, Keo Karpin swung the market its way again.
Dey's Medical's Keo Karpin even acted as a case study as to how a Bengali brand cleverly used advertising strategies with catchy taglines like 'Hamesha Ready' that emphasised its lasting quality with added ingredients Vitamin E and Olive oil. The campaign that advised the consumers — Hair ka insurance karo - roz Keo Karpin Karo. They sponsored music shows like 'Sa Re Ga Ma Pa' and associated with IPL Cricket for better visibility. Amid the clutter of several hair care products in the market, Keo Karpin continued to maintain its position and quality, resorting to interesting interactive rural activities like road shows and melas to promote the product.
Today they have four manufacturing units — three in West Bengal and one in Uttar Pradesh. It has state-of-the-art R&D labs and keeps strict control not only over procurement of raw materials and manufacturing processes but also over packaging and distribution. Other products include Keo Karpin Oil and two body oils — Herbal Body Oil and Olivoyl.
Its strong distribution network has been one of its greatest assets, but despite the consistently high quality of the product, it has limited international presence. It has won several awards including 'India's Most Trusted Hair Oil Brand 2015' and the Superbrand status awarded in 2014-15 and 2016-17. The 2011-12 Consumer Voice Study gave it the number one brand position. It has been a consistently high-ranked presence in market surveys.
The name Keo Karpin has become synonymous with the 'healthy oil' tag. Interestingly, though it is perceived as a feminine brand, 42 per cent of Keo Karpin hair oil users are reportedly men!