Nadia's Narayan Majumdar who set up a Dairy Empire and cycled miles to collect milk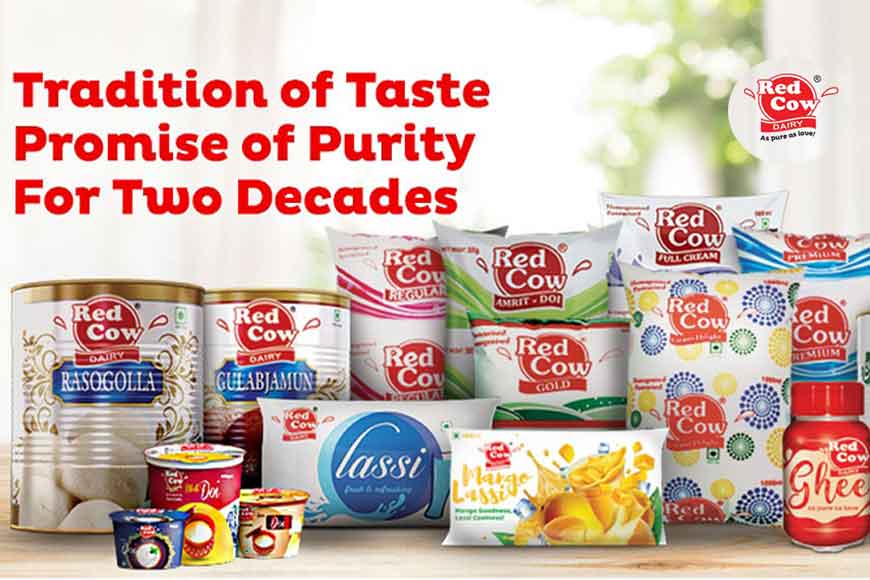 Way back in 1997, Narayan Majumdar started his dairy business by collecting milk from farmers in his village on a bicycle. After 23 years of struggle, he can boast of a flourishing dairy empire with three milk processing plants and 22 milk chilling plants spread across eight districts of West Bengal. His company, Red Cow Dairy Private Limited, is now one of the largest suppliers of milk and milk products in Eastern India.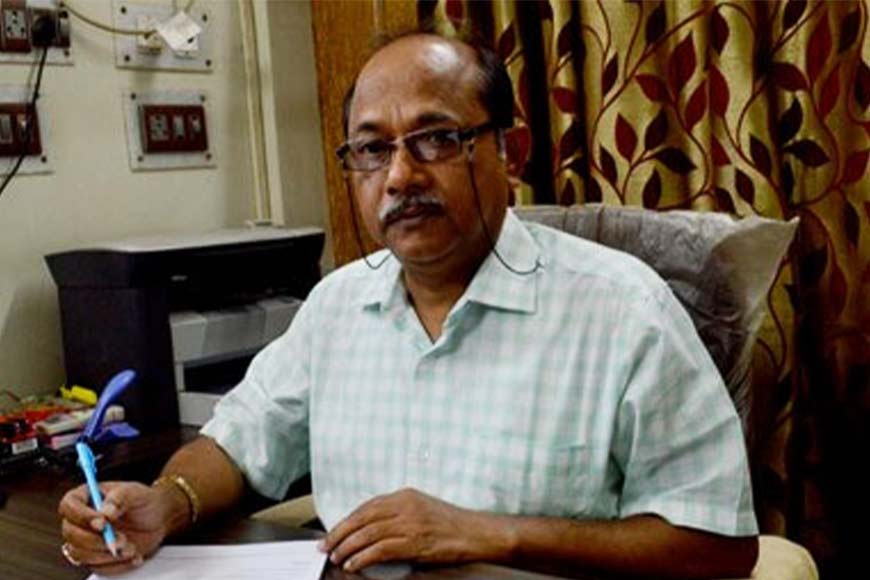 Narayan Majumdar
But this success did not come in a day. He hails from a poor family. His father, Bimalendu Majumdar, was a farmer and owned an acre of land in Phulia village of Nadia. He toiled hard to make ends meet. Sometimes he would do odd-jobs, to supplement his meager income, but even that was inadequate to run the family and meet all household needs. Amid this financial stress, Narayan was born on July 25, 1958. He was the second of three siblings.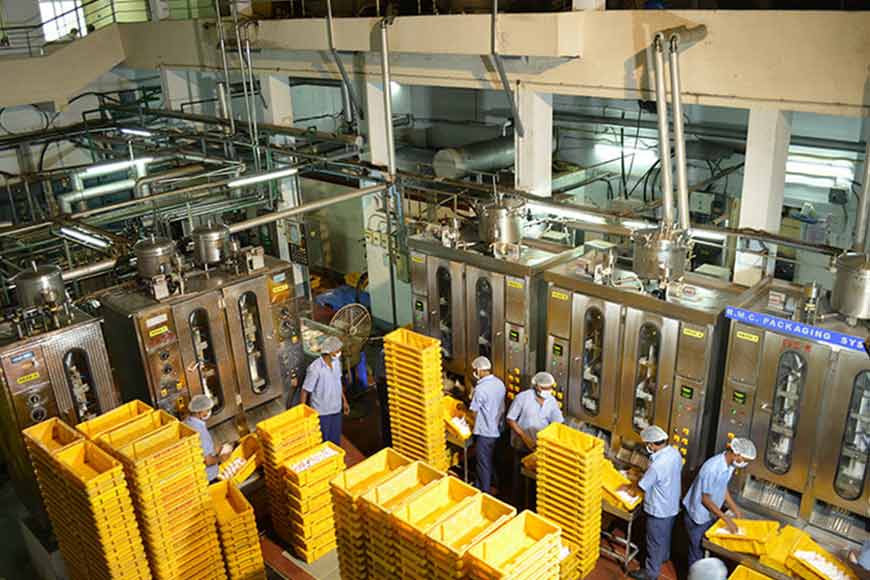 The factory
In 1974, Narayan Majumdar completed his schooling from Phulia Shiksha Niketan and took admission in Ranaghat College for his graduation in Chemistry honours. But within a year, he lost interest in the subject and wanted to give up his studies altogether. He was also worried about the financial condition at home which had worsened with the marriage of his sisters. His father was forced to sell portion of the agricultural plot the family owned to arrange for dowry. He knew he needed a job desperately and earn for his family.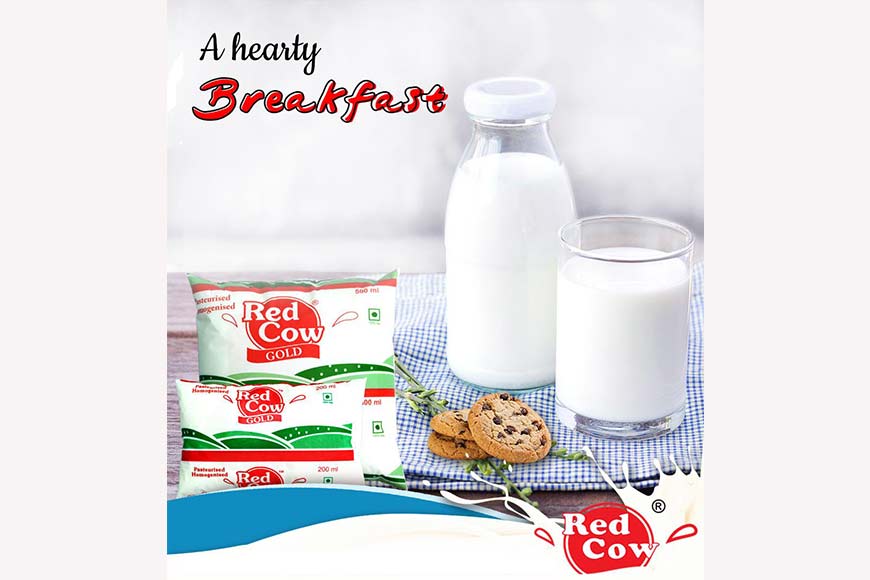 It was at this stage that a livestock officer in his village advised him to do a course in dairy farming as that technical course would help him get a job sooner. Narayan decided to take the plunge. He spoke to his father who agreed and sold part of his plot to raise Rs 12,000, for the course fee. In 1975, he started his B.Tech in Dairy Technology at the National Dairy Institute in Karnal, Haryana. It was a four-year course. To cover his living expenses, he worked as a salesman at a milk parlour from 5am to 7am daily before attending classes.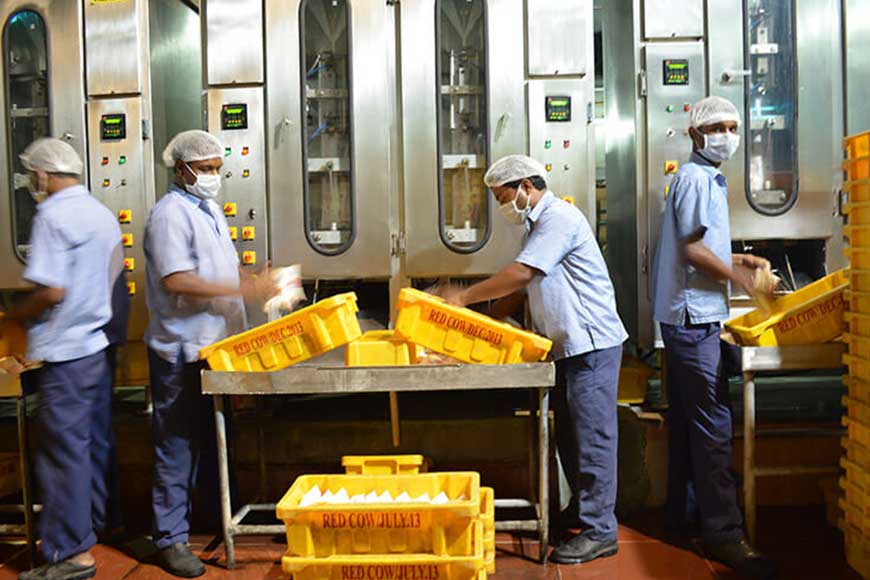 The workers at Red Cow Factory
After completing his course in 1979, Majumdar joined Kwality Walls ice-cream company in Kolkata as a dairy chemist but soon moved to Siliguri to work as dairy supervisor in Himalayan Milk. He worked for a little over a year and then joined Mother Dairy as senior technical superintendent in 1980. In 1982, he got married to Kakali Majumdar and his son, Nandan, was born two years later. In July 1985 Narayan went to work for a Danish dairy in UAE but he quit and returned after a short stint because he was denied a family visa.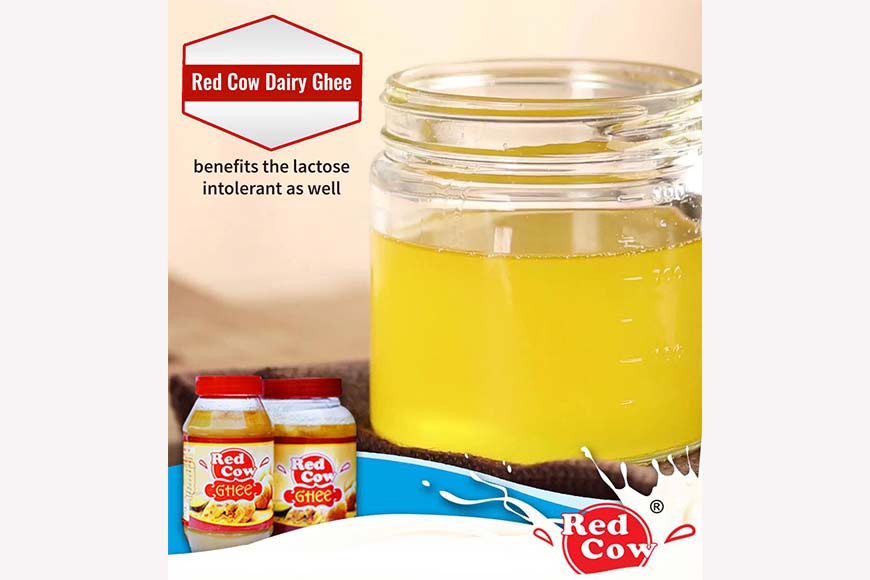 After his return, he joined Thacker Dairy Products Private Limited as technical superintendent and this time he stayed there for 10 years as quality control officer. This job was a turning point for Narayan. The owner of the company encouraged him to start his own business. At his behest, Narayan Majumdar turned entrepreneur. He rode his bicycle from door to door in the village, collecting milk from farmers and supplying it to the same firm where he worked. On the very first day, he collected 320 l of milk. Red Cow Milk Company was thus born.
In the first year, he invested his profit money to expand the collection process and include newer areas. In 1999, he rented his first milk chilling plant in Arambagh, Hooghly district. By 2000, his collection of raw milk had increased to 30,000-35,000 litres. In the same year, he entered into an equal-share partnership with his wife and named the company Red Cow Dairy Partnership Company.
Meanwhile, he purchased land at Udaynarayanpur in Howrah district to set-up his own chilling and pasteurisation plant. After this, there was no looking back. By 2008, his milk procurement had increased to 70,000-80,000 litres every day.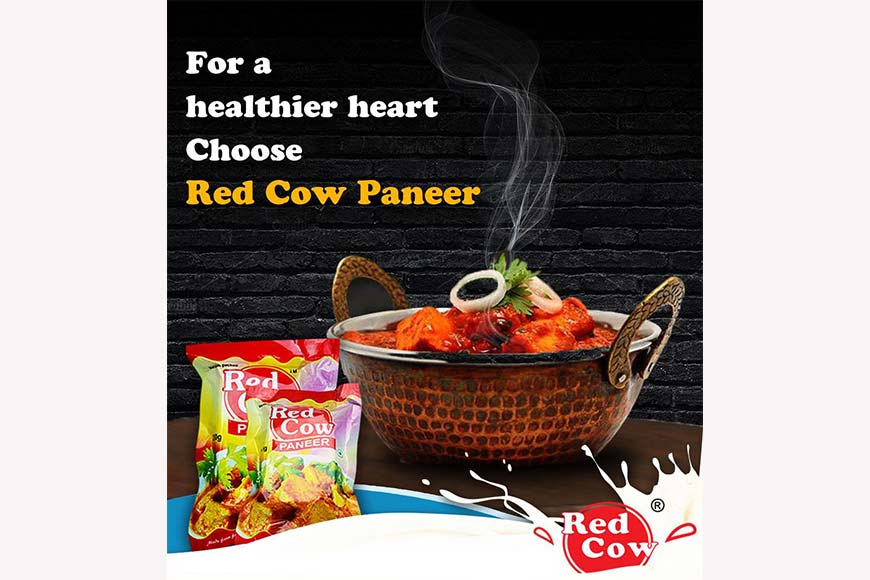 Narayan Majumdar has diversified his product line and include yogurt, clarified butter (ghee), cottage cheese (paneer) and Bengali's favourite rasogolla other than milk. Meanwhile, his son and daughter-in-law also joined the company and he expanded his business further, setting up a full-fledged processing plant in Udaynarayanpur in 2012. In 2016, he built another state-of-the-art plant in Jogra, in Burdwan district, that has a production capacity of 3.5 lakh litres per day. Majumdar plans to add dairy creamer and packaged drinking water to the product line soon.
With his foresight and dexterity, Narayan Majumdar has set up his dairy empire. Red Cow Dairy is at present the largest private sector dairy company in West Bengal, with over 400 employees and 225 distributors across the state. The sexagenarian entrepreneur attributes his success to honesty, sheer hard work and manufacturing quality products.
(Data from Red Cow Dairy site and FB page)
Story Tag:
Entrepreneur, Dairy products, Business