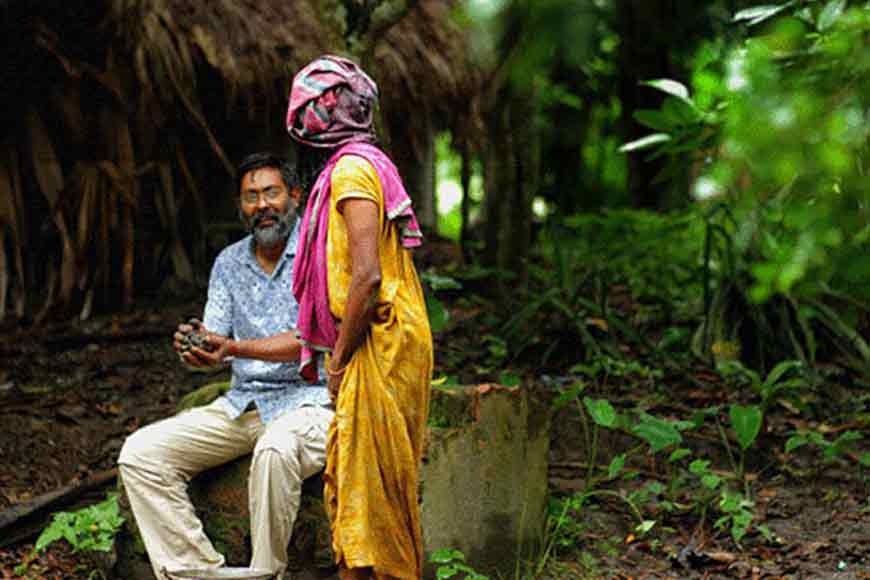 "In all of us there is a hunger, marrow-deep, to know our heritage to know who we are and where we have come from. Without this enriching knowledge, there is hollow yearning. No matter what our attainments in life, there is still a vacuum, emptiness and the most disquieting loneliness.'' -Alex Haley (Roots).
I reside in Calcutta now, but the moment I say reside, the immediate question that strikes me is: 'Where are my roots, my actual home, my place of origin?'I have often heard from senior members of my family that we hail from Barishal district of undivided India and Beukhir was our ancestral village. Being a student of film studies and later due to my professional commitments as feature and ad film-making, I have been to Bangladesh a number of times but somehow, I could never make it to Barishal. But I have heard stories and anecdotes about Barishal's geographical location, its natural resources and how they my ancestors were persecuted and had to desert their homes and hearths and uproot themselves from their motherland.
Stories and lore dipped in nostalgia implant memories of those quaint yet beautiful places like Keertan khola, Ariyal Kha, Sugandha, Kocha, Bishkhali or Poira, once so close and now so far. Those who were forced to relocate, could bring nothing more than memories and this they passed on to the next generation via recapitulation of the good times spent in their ancestral land. Their dialect and rituals kept alive melodious sounds of everyday life. In the same breath, they also spoke of the barbaric brutality they were subjected to for no fault of theirs. Circumstances have compelled them to accept the fact that they are victims of a geo-political rift and they have lost the right to reclaim their motherland. They need to carry visa and passport to visit their own homes.
The deep anguish of Partition and the feeling of rootlessness is vividly depicted in all films directed by Ritwik Ghatak. In Komal Gandhar, for instance, Anusuya (Supriya Chowdhury) suddenly stops at the railway line halt that ends abruptly close to the banks of the Padma river and tells Bhrigu (Abinash Bandopadhyay) remorsefully, 'You know, the other side of the river is East Bengal and somewhere there lies my ancestral home.
In July 2014, I went to Dhaka and contacted film director Russel Ahmed, upcoming photographer Ian and young musician Najmool Huda to accompany me to visit my ancestral home at Beukhir village in Barishal district.
We boarded the steamer from Sadar Ghat at Dhaka and reached Barishal at the crack of dawn. Huge collection of hilsa was being stacked on the banks of Kirtankhola river, perhaps being packed and sent to Dhaka for export. We boarded a micro bus that sailed through a metalled road, piercing through a green corridor. Our destination was Jhalkathi. We joined Najmool as he broke into a song, Gangaburi Gangaburi shono/ Eto sundor namta tomar ke diyechhe balo…(Kafil Ahmed's lyrics and composition).
Before Partition, Beukhir was a prosperous village and majority of Hindus here, were Senguptas and Dasguptas. Keertipasha village under Jhalkathi district of Barishal was a hub of activities and festivities were an integral part of the locals here. Festivals were held regularly in the 14 houses at Beukhir and the entire village participated in the merry-making. Things changed after the communal riots in 1950. Out of sheer desperation and fear, Hindu families were forced to leave their ancestral homes and take shelter in a foreign land, to try and build their fragmented existence. My great grandfather Ushakanta Sengupta left his village with his wife and never ever did he return to his motherland.
My co-travellers excitedly pointed at a river and said, 'Oi dekha jai Dhansiri nodi doorey' (you can see the Dhansiri river).I had a strange feeling and decided to go and watch the river from close quarters. On ourway, we reached Keertipasha, and came across a huge zamindar villa, now most of it lying in a dilapidated state. A portion of the house has been renovated for running a primary school.
The road was gradually getting narrower and slushy and after a certain point, we had to get down from the micro-bus and walk the rest of the stretch. As I moved forward, I could almost visualize the tales my grandmother, uncle, father and auntsoften related coming to life.
It is difficult to specify the time when human settlement began in this land but from the local names of areas, it is evident fishermen were the first settlers. The fishermen were called Jhalo and theirlocality was known as Jhalopara. Many believe the name Jhalkathi was derived from Jhalopara. Poet Bijoy Gupta mentioned the fishermen community as Jhalo in Manosha Mangal Kabya. The name Jhalokathi is also mentioned in a brass tablet originating from the time of Viswaroop Sen. Beukhir is like any other hamlet of Bengal. The tranquil village is full of greenery and its peaceful atmosphere is interrupted by the ripples of the river or the sound of boats splashing oars and passing by.
Our journey was interrupted by a drizzle. We went to the local primary school and asked a lady, 'My grandfather Ushakanta Sengupta was a teacher in this school. Could you please help us locate his house?' We were asked to go farther. By this time my excitement was palpable. Ion was constantly clicking photographs of the sights and sounds around to capture and preserve them for posterity.
Finally, we reached our destination. As I hollered loudly, a little boy emerged from the house. The child's father, Mithu Sengupta, came to meet us. I introduced myself and said, 'My uncle Tapan Sengupta had visited Beukhir a couple of years ago. I am his sibling's son.'He recognized me and treated us royally. Then he pointed towards an earthenmound and a tiny entrance and said, 'This is your house.' My heart was racing as I went a few steps ahead towards the mound. My grandfather had left the village and the country about 55 or 60 years ago and the house was dismantled 25 years ago though the staircase wasstill visible.
I sat on the stairs in a trance. How I wished my father was alive and only if I could bring him here. The next moment I felt this was perhaps better, because my father would have been emotionally traumatized to see the present state of the house. I was almost choking with emotions. I sat down and took some wet soil on my palms.
When I returned to Calcutta, I handed down the small earthen ball to my son Buno. He asked me 'What is this?' I said, 'This is the soil I procured from our ancestral home.' Yes, tucked in Beukhir village in Bangladesh's Barishal district, lies my ancestral home, that was and will forever remain our home.