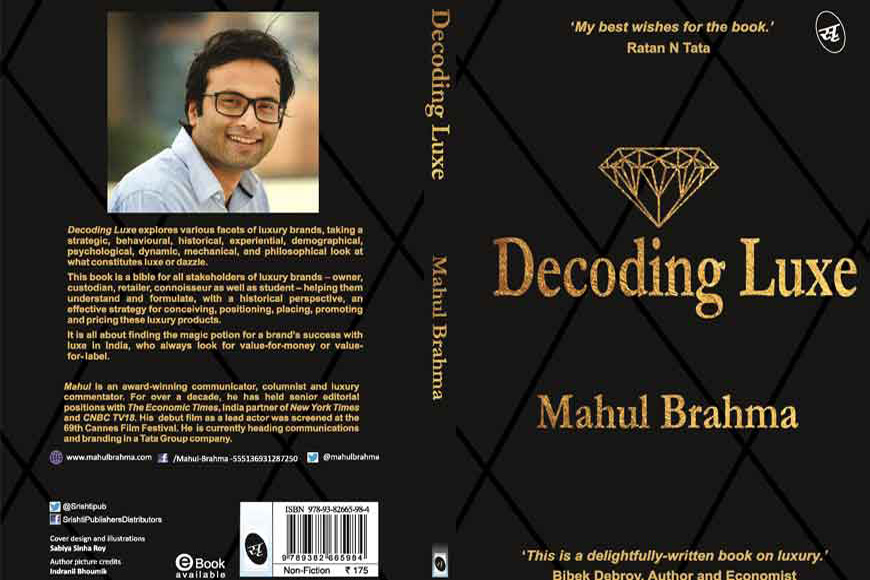 For city boy Mahul Brahma, 'luxury' was synonymous to 'quest,' a journey of self-discovery. A quest that began two decades ago, when he inherited an 'Omega Seamaster' manual-wind mechanical wristwatch from his grandfather. It was precious not just for its brand value as it happened to be an Omega limited edition, but because it was his grandfather's last gift. "I was fascinated with its movements and complications. Even today, I never forget to wind it, every day. But it is since then that I started exploring the world of fine craftsmanship and luxury," says Mahul. Over the years, his quest helped him explore various facets of 'luxury.' While editing for a luxury supplement for New York Times' India partner and writing columns on luxury, he decided to pen down Decoding Luxe. While at the Cannes Film Festival last year, for screening of his debut film, Mahul had been discovering a hidden world of luxury branding.
Mahul Brahma.
In recent years, the line between royalty and middle class has blurred in Kolkata.With the presence of a thriving business community, the city has indeed turned into a growing luxury consumer base. Decoding Luxe mentions the growing luxury consumer base in India, is poised to grow at 25 per cent from 2013 till 2018 and is likely to touch $18-billion mark. "Kolkata has changed a lot in the past few decades and the city has come a long way from conservatism and apathy towards flaunting of the cash-rich business community. Demand for super cars and bikes have gone up. This city is one of the first lot importers of latest models, quite at par with Delhi and Mumbai," feels Mahul.
It is true Kolkata has finally opened to spending on brands. Long queues outside luxury stores during midnight sale events is a testimony to that! Exclusive luxury malls are the best destinations for such brands and Kolkata needs at least one exclusive mall for luxury goods. Previously, there was a lack of avenues to purchase luxury goods in the city. It was either a five-star hotel boutique shop or a travel abroad, that exposed city dwellers to luxury brands. But today the scene is different. With opening of several malls, the city is flaunting luxury in style -- from luxury cars to royal marriages.
Bengal has a rich source of artisans and cottage industries and the challenge is to use this artistic pool in luxury product manufacturing. Mahul believes with its legacy and heritage, Bengal's muslin can be turned into a craze in luxury market globally. Just like Lladró, a Spanish brand dedicated since 1953 to the creation of art porcelain figurines in Valencia,the brand's only factory in the world. It has been marketed so well over ages that the brand has transcended beyond porcelain figurines. "There is no reason why a luxury product made by a craftsman in an obscure hamlet in Venice needs to have a higher luxe factor than a product made by a master craftsman in a remote village in Bengal. The trick is in marketing."