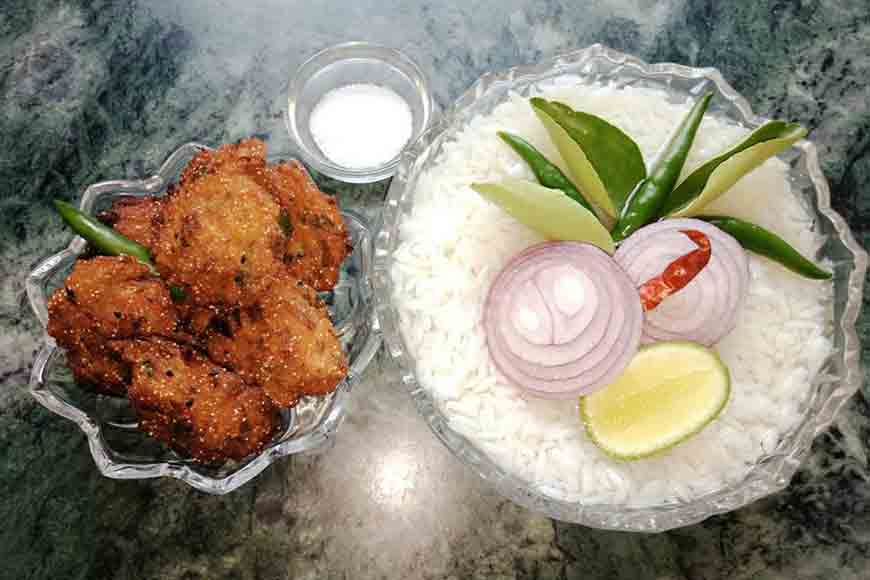 Panta Bhaat with Masoor Dal er bora (Fermented rice with pink lentils fritters), one of the cheapest yet healthy summer dish of Bengal.It is a simple preparation of lightly fermented rice, which cools down the body, during scorching heat of summer months.
If you have left over rice from previous day, soak it in water overnight and have it next morning along with lemon, onions, green chillies, fried red chillies and salt.
Different types of fried items also go well with Panta Bhaat. One of them being Masoor Dal er Bora.
RECIPE:
Pink Lentil Fritters
* 150gms of Masoor Dal soaked in water.
* 2 onions sliced
* 4 green chillies chopped
* 4tsp Posto seeds
* 2 tsp chopped coriander leaves
* 1/2tsp black jeera
* 1/2tsp turmeric powder
* 1tsp sugar
* Salt as required
* 1tsp refined oil
* Mustard oil for deep frying

Procedure
• Drain water from soaked lentils and grind roughly.
• Add onions, green chillies, Posto seeds, coriander leaves, black Jeera, turmeric powder, refined oil,salt and sugar.
• Mix all nicely with the lentil paste.
• Heat oil in a deep bottom pan.
• Take small portions from the mixture and deep fry till golden brown.
• Serve hot, as a snack or with simple Dal Chawal or along with Panta Bhaat.