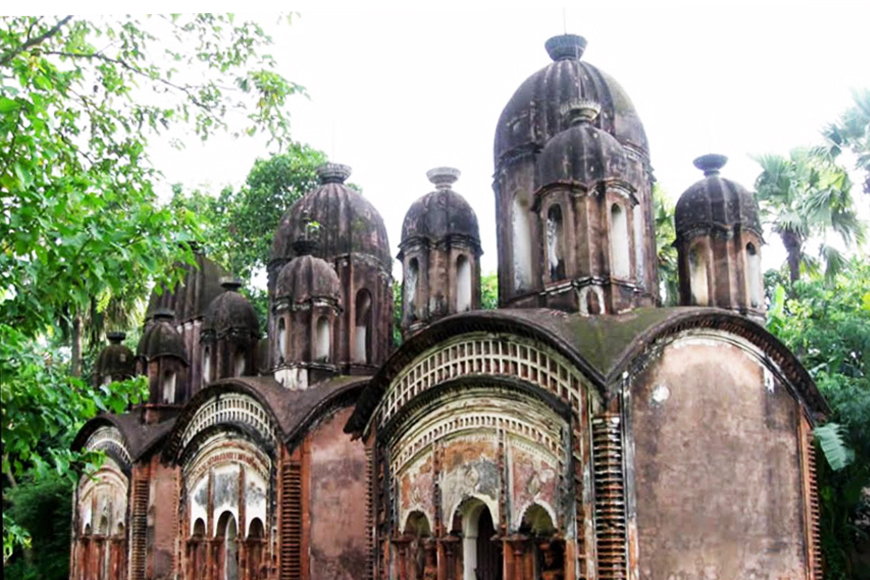 A village comprising almost entirely of temples. And very old ones at that. Welcome to Pathra, in Paschim Medinipur district, possibly unique in the sheer number of temples it boasts of. The sad thing is, many of them have been left at the mercy of the wayward Kangsabati river, though many still stand, particularly 34 temples with orate terracotta artwork. Special among these are the Nabaratna temple, Kachhari Mahal, Rasmancha, Dalan of Kalachand, Durgeswar temple and Pancha Shiva temple.
Pathra is only 14 km from Medinipur town. Some of the temples are up to 200 years old, and its location by the river makes it a popular tourist destination. Most of the temples were built by the Ghoshal (later Majumdar) and Banerjee families. Particular mention needs to be made of Bidyananda Ghoshal in this context. Construction seems to have begun at the beginning of the 18th century, and ended around the early 19th century.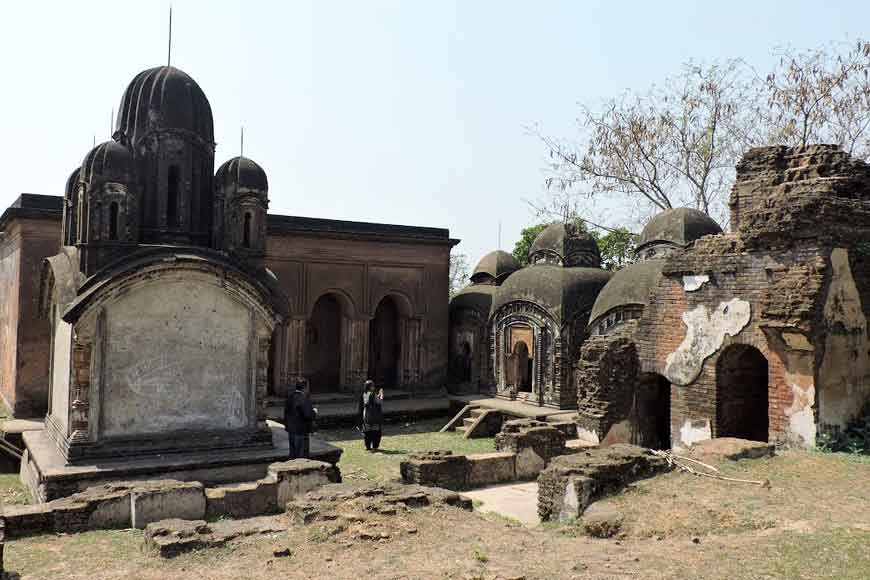 At present, the responsibility of maintaining these temples lies in the hands of the Archaeological Survey of India, and approximately 20 temples have been renovated until now. Of particular help in this regard has been the Pathra Archeological Preservation Committee, a group of passionate and dedicated local enthusiasts who have done much to restore and maintain the fading glory of Bengal's unique architectural heritage.

The 250-year old, 40 feet tall Nabaratna temple also accommodates a small 'atchala' temple on its premises. Located nearby are three other atchala temples and a Pancharatna temple. Behind this cluster is a Durga Dalan. Some distance away is another group of Pancharatna temples. The Shitala temple (also known as 'Burimar than') is also 40 feet tall. Other important temples are Sarbamangala, Kalachand, Das Mahavidya and Hansa. The Rasmancha built in 1832 has nine small towers.
For those unaware of the richness of Bengal's ancient heritage, Pathra is a must visit. You may simply drive down from Kolkata, which will take no more than 3.5 hours, or catch a train once the second wave of the Covid-19 pandemic has passed. For accommodation, look no further than the Mrittika Tourism Property run by the West Bengal Tourism Development Corporation. All WBTDCL properties are thoroughly sanitised and follow all Covid protocol.
For bookings and details of places to visit around Pathra, do contact
West Bengal Tourism Development Corporation Ltd
DG Block, Sector-II, Salt Lake
Kolkata 700091
Phone: (033) 2358 5189, Fax: 2359 8292
Website: https://www.wbtdcl.com/
Email: visitwestbengal@yahoo.co.in, mdwbtdc@gmail.com, dgmrwbtdc@gmail.com