Rajabhatkhawa breeding centre brings back Bengal's vultures from verge of extinction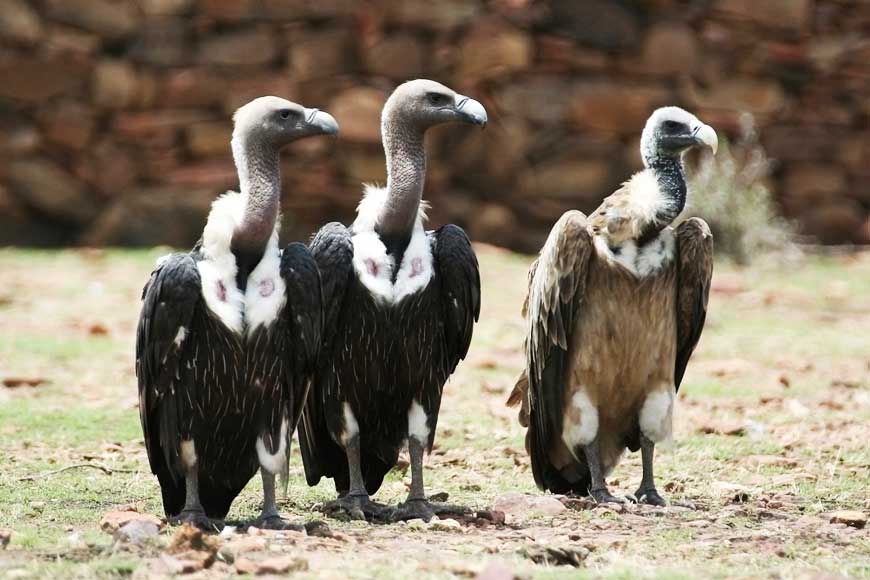 Even a decade back, a considerable population of vultures were often seen soaring high above the cityscape. Children looked at them with wide eyes, those half skinned, almost bald, crooked looking creatures, that were anytime different from the beautiful birds that throng the city. Their forms would scare many, though scientists knew the importance of a vulture population to any ecosystem.
But where have all the vultures gone? Vanished almost from the face of South Bengal. Even in the skyline of North Bengal, the existence of vultures is rare. Bombay Natural History Society, which is the only organization responsible for the conservation of vultures has come up with a study which says that the number of vultures left in Bengal has dwindled at an alarming rate. The total number of vultures now stands at a dismal figure of less than one hundred. Multiple efforts are being made to bring these birds back from the verge of extinction. In 2006, India's second vulture breeding centre came up at Rajabhatkhawa of North Bengal with the primary agenda of bringing vultures back to nature through an artificial method. After many researches, it has been possible to artificially breed several vultures at Rajabhatkhawa Breeding Centre and the vultures born there will be released in phases to nature.
Today, almost 100 vultures of different species like Himalayan Griffon, Long Build, White bird, Slander Build exist in Rajabhatkhawa Breeding Centre. Compared to other species, Himalayan Griffon is more likely to adapt and endure the adversities of nature. Before they are released, they will be equipped with artificial satellite collar so that their activities can be monitored. But they will not be released directly in a free environment. They will be first kept in a bird aviary among other birds. They will thus be able to cope and develop food collecting skills. Gradually, these birds will be released after they are prepared to take on to a natural eco-system.
But the state forest department wants to get adequate information about neighbouring countries like Nepal, Bhutan and Bangladesh where these vultures might roam about as they usually fly within a hundred-kilometer radius. Diclofenac is the primary cause behind the extinction of vultures. Before these vultures are released, it has to be checked whether Diclofenac is banned in these countries. If vultures disappear completely, the entire ecological system would get disrupted. The way Rajabhatkhawa Breeding Centre is making an endeavour to bring these endangered birds back, is truly commendable and shows a ray of new hope.
Story Tag:
Rajabhatkhawa, Vultures of Bengal