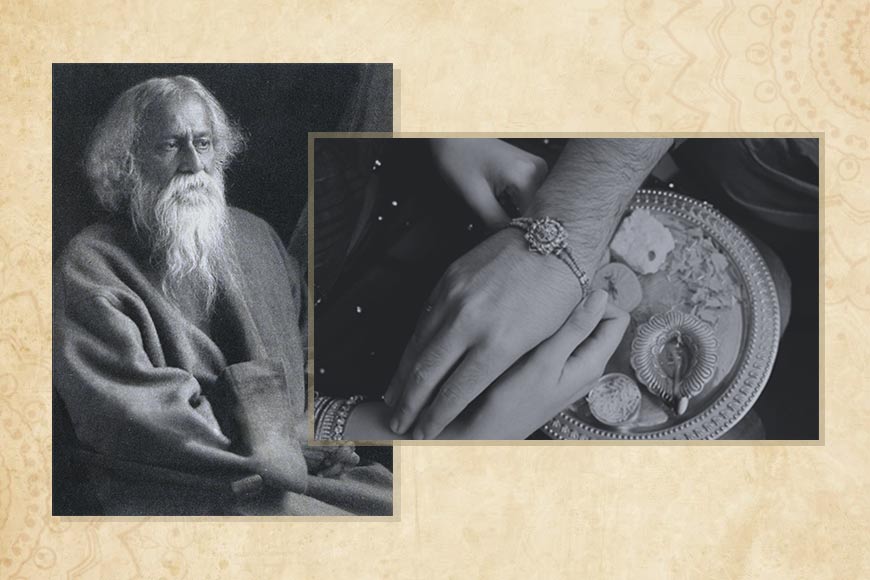 The word 'Rakhi' today will invoke the sentiments of bondage between brother and sister. But the significance of this simple thread can go beyond just a bond of love and friendship. It was used once upon a time by none other than visionary poet Rabindranath Tagore with a purpose. Rather this occasion was perceived differently by Tagore.
Long before 1947, the British had tried to divide Bengal in 1905. They had always believed in a 'Divide and Rule' Policy, as they knew they will be unable to rule this huge nation of India. Bengal was their natural target as this land was once their erstwhile capital (Kolkata) and also the land that produced the largest number of revolutionaries who led the freedom movement. The backbone of this land needed to be broken with a communal divide through Partition. Rabindranath Tagore understood this British ploy and stood up against a communal divide in 1905 and led a different Raksha Bandhan Movement.

Today, when rest of the country will celebrate Raksha Bandhan as a sister-brother festival, in Bengal it will be celebrated as the celebration of religions harmony and brotherhood. Since last many years Hon'ble Chief Minister Mamata Banerjee has been celebrating this festival following what Tagore did more than a century back in 1905.
At the peak of India's nationalist movement, Lord Curzon decided to divide united Bengal (which consisted provinces of Assam, Odisha, and Bangladesh) on religious lines. The plan was to divide the Hindu majority regions of Bengal, Bihar and Odisha from Muslim-dominated areas of Assam and Sylhet (now in Bangladesh). As Lord Curzon pronounced the day of partition, Rabindranath Tagore declared the proposed Partition Day as the National Mourning Day and decided to strengthen the bond between two religious communities. The single thread of Rakhi was used as the bridge. Tagore gave the call to unite Hindus and Muslims and people responded to his call. Thousands of people from Bengal, Assam and Dhaka showed up on the banks of Ganges, tying rakhi to each other. Tagore started a Raksha Bandhan rally after taking a dip in the Holy Ganges, followed by a rally to a mosque, tying rakhis to the clerics too.
Tagore wrote two of his most famous songs during this time. 'Amar sonar Bangla' and 'Banglar mati Banglar jol' and led peace marches singing these songs. That day, Bengal stood united against all odds, forcing the East India Company to call off the partition soon. Raksha Bandhan for Bengal has thus always been on a different note. So will be today with virtual Rakhi tying ceremonies led by the State Government spreading the message of love and peace.
Story Tag:
Rakhi Bandhan, Rabindranath Tagore